Housing Market 2023: When Will the Housing Market Recession End and What's the Impact on the Broader Economy?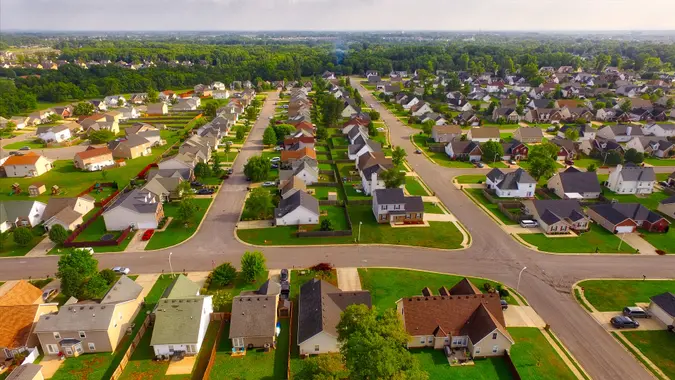 Swarmcatcher / Getty Images/iStockphoto

The U.S. housing market has seen prices drop year-over-year for three months, beginning in February 2023. It was the first housing price drop in 11 years, according to National Association of Realtors data. Home sales also declined by 3.4% between March 2023 and April 2023.
I'm a Real Estate Agent: Here Are the 6 Cities Where You Should Avoid Buying a Home This Summer
See: How To Build Your Savings From Scratch
Experts at Fannie Mae's Economic and Strategic Research (ESR) Group believe that the housing market downturn could lead to a "modest recession" overall in the second half of 2023. If wage-related inflation continues, the Fed is likely to maintain its tight grip on economic policies. "Inflation has been resistant to Fed efforts to drive it down, and we view the risks to our baseline forecast as tilted toward more tightening rather than easing — although, for the moment, the Fed has adopted a wait-and-see approach, said Doug Duncan, Senior Vice President and Chief Economist, Fannie Mae, in a press release.
With mortgage interest rates over 6% right now, according to Forbes, many homeowners aren't willing to sell. This is creating a tight inventory, or what Fannie Mae calls "a lock-in effect." Homeowners have mortgage rates well below today's rates. With the uncertainty in the market, homeowners are holding onto their houses, and exacerbating low inventory challenges, which could slow the decline of prices.
With fewer existing homes on the market, prospective buyers are turning to new homes, according to the ESR Group's report. Overall, that's good for the economy as it shows builder confidence.
Take Our Poll: Are You Planning To Buy or Sell a House This Year?
Housing Market 2023: Prices Are Now So High That Banks Are Losing Money on Mortgages
"Housing remains exhibit number one for why we expect the recession to be modest. It continues to outperform our expectations, and we expect that its relative strength will help kickstart the economy into expanding again in 2024," Duncan noted.
More From GOBankingRates