Housing Market 2023: Which Generation Is Struggling Most To Buy Homes Right Now?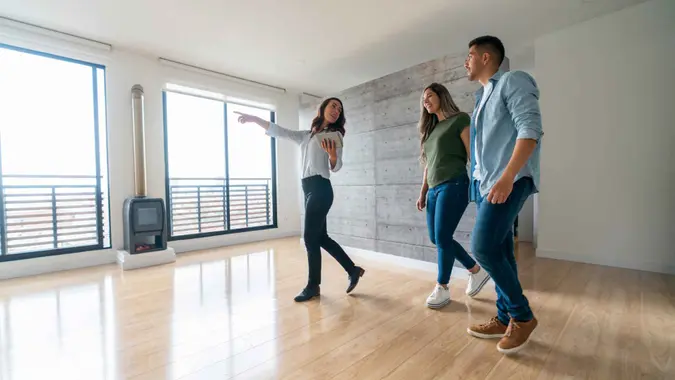 Hispanolistic / Getty Images
Though it's rough out there for any young person trying to buy a home, Millennials are taking the brunt of challenges when it comes to home buying.
According to Samantha Odo, a real estate sales representative and division manager at Precondo, "Millennials, also known as Generation Y, typically refer to individuals born between 1981 and 1996. Numerous studies and reports indicate that millennials are encountering difficulties in entering the housing market for several reasons," she said.
Keep reading to see some of the factors that explain why it's tough for this generation in the current housing market.
High Cost of Housing
One of the primary factors affecting Millennials' ability to buy homes is the rising cost of housing, Odo explained.
"According to a report by the National Association of Realtors, the median home price in the United States increased by 18% from 2019 to 2020," she said. "This steep rise in housing prices has outpaced income growth, making it more challenging for millennials to afford a home."
Tack on a hot housing market over the past couple years, which has driven prices up even more, and you can see how difficult it is for a Millennial to find an affordable home.
Student Loan Debt
Another contributing factor is the high burden of student loan debt.
Odo explained, "A study by the Federal Reserve Bank of New York revealed that student loan debt in the United States reached a staggering $1.7 trillion in 2020. Millennials often carry a substantial amount of student loan debt, which can significantly impact their ability to save for a down payment and qualify for a mortgage."
This financial strain further hinders their path to home ownership. And with a recent Supreme Court decision to overturn President Biden's student loan forgiveness plan, there may not be much help in sight.
Stagnant Wage Growth
Millennials are also feeling the pinch of stagnant wage growth, despite many of them holding good jobs.
"Despite being highly educated and entering the workforce during an era of technological advancements, many Millennials have experienced limited wage growth compared to previous generations," Odo said.
This disparity between income growth and the rising cost of living has made it increasingly difficult for them to save enough for a down payment and meet the financial requirements of home ownership.
Growing Financial Obligations
As if those weren't financial struggles enough, Millennials are often burdened by other financial obligations, such as high rental costs and the rising cost of living, particularly in this day of steep inflation, Odo shared.
"Rent prices have been on the rise in many urban areas, and Millennials find themselves allocating a significant portion of their income towards rent, leaving little room for saving," she continued. "These financial constraints further delay their ability to accumulate a down payment and enter the housing market."
While Odo noted that the challenges faced by Millennials in the housing market can vary depending on location and individual circumstances, these general conditions are putting Millennials in a tough spot when it comes to buying homes.
A Shortage of Homes
In addition to these trying conditions, the pandemic has also resulted in a shortage of homes for sale, causing soaring home prices, according to Kerry Sherin, consumer advocate at Ownerly, a home valuation company. "This has added an additional barrier for Millennials, who are already grappling with significant financial constraints."
Poorer Home Buying Conditions
Conditions for purchasing a home are also less favorable now than they have been in decades, Sherin explained.
"Lenders are becoming increasingly less likely to make smaller mortgage loans, since (Millennials) don't make as much money, which can make it more difficult to obtain a loan for younger, would-be purchasers trying to acquire modest, affordable homes," she said.  "When high student debt, rising property taxes, higher interest rates, and restrictive zoning policies are factored in, many Millennials just do not see home ownership as a viable choice."
Tighter Lending Standards
Tighter lending standards are also preventing Millennials from qualifying for mortgages.
Sherin said, "The requirement for good credit scores and a low debt-to-income ratio is particularly hard on Millennials, with many still building their credit or dealing with the aforementioned student loans."
It's Not Easy for Gen Z, Either
While Millennials may be taking the bigger hit, largely because there are more of them of home buying age, it's also tough out there for Gen Z (those born between 1997 and 2012).
Generation 'Z' is having a challenging time, due to "rapid urbanization, population growth, rising health instability, inflation, and steep interest rates," according to David Tully, a realtor with eXp Realty.
"Compared to preceding generations, their income opportunities have become more competitive and the pay they get isn't enough to lead a fulfilling life, especially with a student loan on top. It barely covers living costs and rent together, leaving no space for saving."
He explained that McKinsey carried out a survey where they found 41% of Gen Z expected to own a home or don't have a home, while some more of them don't plan for one at all.
Gen Z is following in Millennials' footsteps when it comes to the hardships of home buying. "They're encountering more issues all at once than what the other generations had faced during their times," Tully said.
More From GOBankingRates