These Housing Markets Are So Bad That Grant Cardone Wouldn't Touch Them 'With Anybody's Money'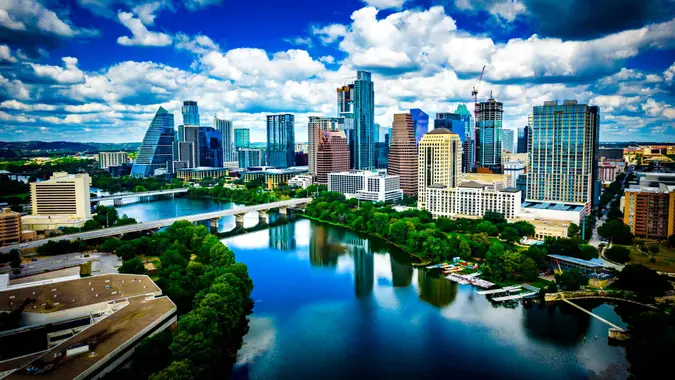 RoschetzkyIstockPhoto / Getty Images
Grant Cardone — an entrepreneur, speaker and real estate investor — recently said he would never purchase property in two particular U.S. housing markets: Austin, Texas, and Seattle.
The way this conversation came about was by Cardone asking an artificial intelligence assistant, AI Smith, the following prompt: "What are the 10 best markets for investing in rental real estate in America?"
When AI Smith responded, Cardone initially seemed to agree with its answer that a good real estate market to invest in is one that has the right blend of population growth, affordability, economic opportunities and possible rental income. But when the AI assistant said Austin was on the list of top places to invest in real estate, Cardone soundly disagreed.
"Austin, Texas, is one of the worst markets to be in right now," Cardone said. "Of all the markets in America, it's probably the most overbuilt."
But that's not the only reason Cardone would never invest in either Austin or Seattle, and why other real estate investors might not want to either. Here are some of the biggest reasons to avoid these areas.
Overbuilt Markets
One of the primary reasons Cardone said he would avoid both Austin and Seattle is due to how overbuilt those cities are. Austin, in particular, experienced a huge influx of people in 2021. In fact, approximately 28,000 remote workers moved to the city that year.
Fast-forward to now and, as Redfin stated, Austin has become a "victim of its own popularity." With so many people relocating to Austin, mortgage prices skyrocketed. Not only that, but mortgage interest rates also went up, making it harder for people to afford financing.
Mass Layoffs in the Tech Market
Another problem that affected Seattle and other cities with an overreliance on the tech job market was mass layoffs. Many major tech companies in Seattle have let staff go on a large scale.
These mass layoffs have led to a reduction in people wanting to rent or purchase property in the affected cities. And as Cardone put it, he "wouldn't touch Seattle with anybody's money."
Impact on Real Estate Investors
In overbuilt markets, real estate investors often find that property values decrease, making commercial property investments a less than sound decision. This change in value is also tied to an excessive number of available properties. Along with this, overbuilt markets tend to suffer from increased vacancy rates, which can also negatively affect profits.
Some investors might turn to other options, such as publicly traded companies, if they want to see more positive returns.
Unstable Prices
The cost of real estate in places like Seattle and Austin has fluctuated greatly in the past year. 
According to data from Redfin, home prices have fallen in Austin this year — down 2% since October 2022. In May 2022, the highest sale price of a home in Austin was $670,000. By October 2023, the median sale price had fallen to $548,800.
The data show a similar trend in Seattle. Home prices in the city hovered around $898,000 in May 2022. By September 2023, they had fallen to $800,000.
For investors, this instability isn't a good sign. For individuals looking to buy property, the exorbitant cost of property makes these cities extremely difficult to afford.
Competition
Another aspect to consider when purchasing real estate is how competitive those markets are. According to Redfin, Seattle homes are highly competitive, with a score of 81. The average home in Seattle sells in as little as 12 days — not a lot of time for more cautious investors or families looking to buy a residential property. Along with this, nearly 28% of homes were sold at about their listed price in September.
The real estate scene in Austin, Texas, tells a different story. The market there has a competitive score of 37 — much lower than Seattle's. However, 14.5% of homes are sold above their listed price. Homes typically sell within 58 days, indicating lower market competition and potentially less demand.
Interest Rates
Last but certainly not least, interest rates are another major concern for people who are thinking about investing in real estate in certain markets, such as in Seattle and Austin.
When it comes to mortgage interest rates, several key factors affect how they fluctuate. This includes the current market, supply and demand, changes to the Federal Reserve's fiscal policies and other economic factors.
In the past year and a half, the Fed has increased interest rates 11 times. While these rate hikes are intended to help cool inflation, they're also problematic for people looking to buy real estate in already expensive cities. This is because high rates lead to more expensive mortgages and can cut into rental profits for those who didn't pay in cash.
Bottom Line
With overbuilt markets, mass layoffs, high sales prices, uncertain competition and rising rates against them, Cardone's idea about skipping Austin and Seattle holds some merit. If you're looking into purchasing property in one of these areas — or in a similar city — do your research first. That way, whether you want something for your own use or for investing purposes, you'll be prepared before you buy.
More From GOBankingRates