How California's Housing Crisis Has Changed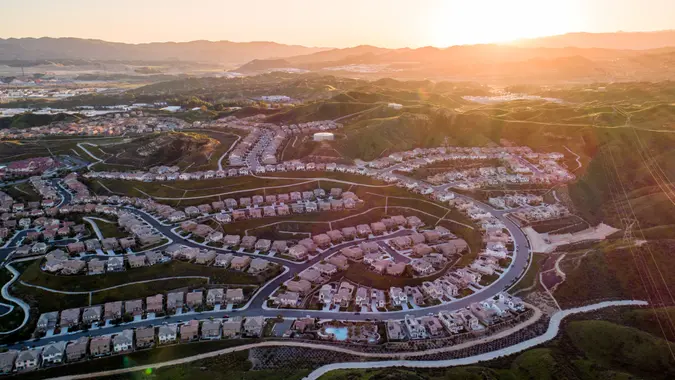 Brian / Getty Images/iStockphoto
California has long faced one of the largest housing deficits in the United States.
In December 2022, CNN reported California had the largest deficit in the nation. A combination of inflation, zoning inequalities and lack of inventory forced many residents to find more affordable housing alternatives — if they could. 
Discover: 8 Places in California Where Home Prices Have Plummeted
More: 3 Things You Must Do When Your Savings Reach $50,000
In 2023, potential homebuyers in California are looking at a different housing market. How has California's housing market changed and what is expected to happen this year?
How the Market Has Changed Since the Pandemic
Ken Sisson is a Realtor and associate broker with Coldwell Banker Realty in Los Angeles. Sisson, who has over two decades of local residential real estate experience, said the term "housing crisis" is broad. While some may say California is experiencing this kind of crisis now, Sisson said the market is nothing like it was throughout 2021 and 2022. 
Take Our Poll: Are You Planning To Buy or Sell a House This Year?
Let's consider the California housing market pre-pandemic. When looking at local MLS statistics at the beginning of 2018 and 2019, Sisson said, there were 55,000 to 60,000 single-family homes on the market — a healthy level that Sisson said was fairly balanced in terms of supply meeting demand.
The number of single-family homes dipped to 47,200 at the start of 2020. Sisson said, "This is about the inventory level which met soon-to-be record-low mortgage rates and an insane level of buyer demand which went along with these rates."
Current MLS inventory levels are nothing near these pre-pandemic numbers. Currently, Sisson said there are 34,000 single-family homes on the market across the entire local MLS. This means California sits at about 72% of its pre-pandemic inventory. 
Mortgage rates also have significantly increased, squashing buyer demand. While the previous housing crisis was related to supply and inventory, Sisson said the current crisis is about affordability.
Will the situation get any worse?
Cara Ameer, an agent with Coldwell Banker, said, "I don't think California is going to be at any more of a housing crisis than we are already."
A More Balanced Housing Market Is Ahead
Today, we are in what Sisson said is a local seller's market. In the near term, it is more likely that buyers will not see a housing crisis. Instead, the housing market will start to become more balanced. 
"Prices are not sharply rising, but are more leveling off and/or adjusting based on a property's condition and location," Ameer said. "There have been price reductions which normally would not have happened last year. Sellers are more negotiable versus last year and people can reasonably negotiate and ask for some concessions such as the seller paying to buy the interest rate down or have a concession towards closing costs."
Californians are well-advised to look at data for local markets and neighborhoods, as Sisson said the overall market doesn't necessarily indicate what your local neighborhood statistics or market look like. 
"The whole topic is hyper local," Sisson said. "Inventory may increase significantly in one neighborhood and decrease in another."
Sisson said the coming months should see seasonal demand as supply starts building. 
"If inflationary pressures subside in the second half of 2023," he said, "we should see mortgage rates come down from where they are currently."
More From GOBankingRates