How Does the Housing Market Look Heading Into Fall?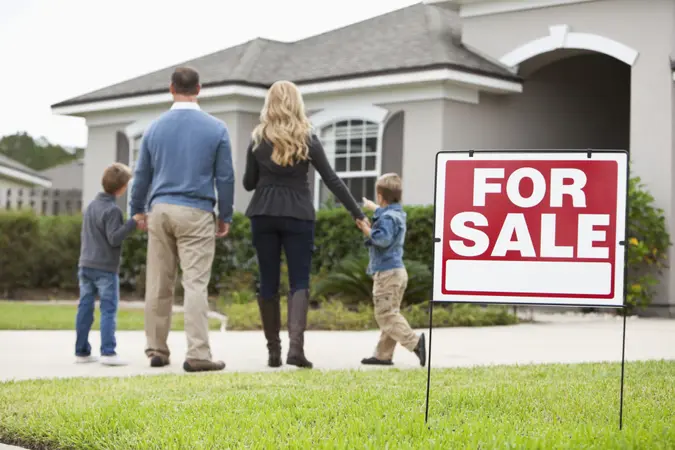 kali9 / Getty Images
A year ago, prospective home sellers just needed to put the "for sale" sign in the yard, and buyers seemingly came running in droves, continuing the hot housing market that started in 2020 as Americans sought to leave dense cities during the pandemic and settle in places where they could have a bit more space. With limited inventory, bidding wars ensued throughout the pandemic and beyond, driving sales prices well among the asking price in many cases.
But things have changed, with mortgage interest rates up and an economy teetering on the brink of recession. In its August 2022 housing report, Zillow forecasts home values would increase by just 2.4% through the end of July 2023, a plunge from the current rate of 16%. Zillow also projects the sale of 5.3 million homes in 2022, down 14.1% from 2021, and said July saw weaker-than-expected numbers in pending home sales and mortgage applications.
So is the Fall 2022 housing market still ripe for sellers to make a quick sale and a big profit? Has a crack opened that will allow first-time buyers to jump into the housing market that they've been priced out of? Will mortgage rates – the higher the interest, the higher the monthly payment – make homes unaffordable for many?
The answers depend on who you ask and where you are looking to buy a home. Experts agree, however, that the fall housing market is in flux.
"The real estate market has been on a roller coaster ride over the past few years, and it seems like everyone is trying to predict where it will go next," said Boyd Rudy, an associate broker with Dwellings Michigan. "Some experts believe that the market has cooled off enough that buyers will no longer face bidding wars and that first-time buyers will have a better chance at landing their first home. Others believe that there is still more heat in the market, and that interest rates will continue to rise. Despite all of the predictions, one thing is certain: the real estate market is still highly volatile, and anyone looking to buy or sell a home should proceed with caution."
Keep reading to find out more about the market.
Rising Inventory
Fall traditionally sees a slowdown in demand, with the spring and summer selling seasons over as families want to be in place before the start of the school year. This year, that's combined with what is being called a "rebalancing" of the market.
Jeb Smith, an agent with Coldwell Banker Realty in Huntington Beach, Calif., said he's seeing more homes for buyers to choose from.
"As of today, we are shifting back to more 'normal' times as inventory has risen back to 2020 levels in many markets along with less buyer demand out there, meaning buyers are having to do less of the crazy stuff they were having to do during the pandemic to get their offer accepted," he said. "We are now past the busiest point in real estate, the spring selling season, which means that both demand should continue to decline due to the time of year, giving homebuyers more opportunities with less competition and more homes to choose from as we transition through the rest of 2022."
Alex Capozzolo, the co-founder of Brotherly Love Real Estate in Philadelphia, said buyers should benefit.
"July witnessed a 31% increase in the inventory of homes to buy," he said. "Inventory levels continue to rise, thereby providing homebuyers who are still looking for a home with more options and slight price reductions as sellers are also adjusting to the market changes."
The Impact of Mortgage Rates
But that rising inventory also result from interest rates that have risen this year because of actions taken by the Federal Reserve Board to try to stem inflation. Average rates for a 30-year, fixed-rate mortgage reached 5.52% in June, then ticked down to 5.22% in August, according to Freddie Mac. The previous two Augusts, the rate was just below 3%, fueling the buying frenzy, and rates haven't been this high since 2008.
"From a housing market perspective, continued mortgage rate increases will continue softening buyer demand," said Nick Taylor, the vice president and head of real estate at Better.com, a digital homeownership company. "As buyer demand softens, months' supply of housing inventory commonly increases and negotiation leverage increases for buyers. Since the start of Covid, low interest rates drove strong buyer activity, which increased seller's leverage and increased home prices. We should see leverage continue its shift from sellers to buyers if the Federal Reserve continues increasing rates."
Beware the Local Market
We can talk in generalities about inventory and mortgage rates. But, in some parts of the country, local real estate professionals continue to see a hot market that trends for the sellers, even if it isn't as red-hot as it was a year ago.
Bill Gassett, the founder of Maximum Real Estate Exposure in Hopkinton, Massachusetts, said his area west of Boston remains a seller's market.
"Real estate markets across the country differ greatly right now from place to place. Some have seen a significant downturn in activity while others are still flourishing," he said.
"In the Metrowest area outside of Massachusetts inventory is still super low. There are pockets within the market in various town where there still can be bidding wars. Just a couple weeks ago, I had a home with 18 offers."
That proves there isn't a one-size-fits-answer about the fall housing market. Wherever you live, and whether you're a buyer or a seller, it will benefit you to keep your eyes and ears open, as well as to seek the help of a licensed real estate professional, and stay prepared to react quickly if you're planning a move.
More From GOBankingRates