I'm a Real Estate Agent: Here's How You Can Invest $50,000 in the Best US States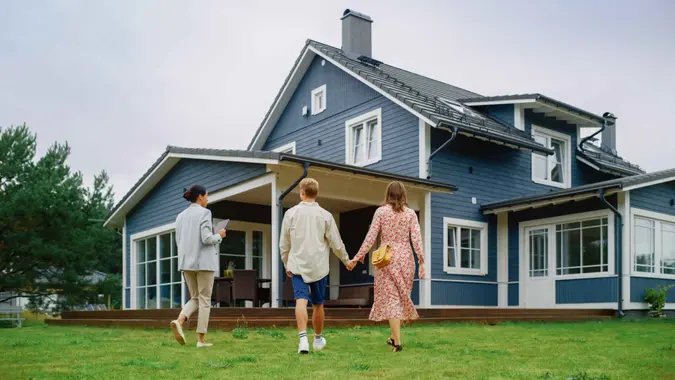 gorodenkoff / iStock.com
The Federal Reserve reported that the average sales price for a home is $513,400. Consequently, prospective homeowners seeking a conventional home loan may need to pay 20% — over $100K — as a down payment for an average home.
However, there are still opportunities to enter the real estate market with a lower investment. Chris Fikkert, broker and owner of Bottega Real Estate in Las Vegas, NV, is a former mortgage banker, current real estate agent, and property investor. He shares how you can invest $50,000 on a property despite high property values.
Is It a Good Time To Invest in Real Estate?
When asked if he would invest $50,000 in real estate right now, Fikkert had a positive outlook. "I'm very optimistic about the market right now and think it's a great time to buy," he said. "I understand that many colleagues and 'experts' may feel different but my reasoning is based on past experience."
Fikkert saw a cooling down in the hot real estate market in May of 2022 once interest rates increased. However, he finds that the cooldown benefits cash-rich homeowners searching for properties and believes there is still room for opportunity, especially for long-term investors. 
"After the mortgage crisis in 2007-2010, I still come across people that wish they would have bought then," says Fikkert. The lowest average sales price during the crisis was $257,000 in the first quarter of 2009, based on the Fed. Despite the downturn at the time, home values have doubled in nearly 15 years.
How a Real Estate Agent Would Invest $50,000 in Real Estate Today
Based on Fikkert's faith in the U.S. real estate market, he offers three suggestions for investing $50,000 in real estate today.
1. Consider Relocation
Many U.S. cities are too expensive for the average homebuyer at this time. However, you could get more value for your money if you're willing to relocate or oversee a rental property long-distance. GOBankingRates' 50 best places to buy a house for under $250K include: 
Cedar Rapids, IA — average home value of $187,941
El Paso, TX — average home value of $190,159
High Point, NC — average home value of $206,176
Pensacola, FL — average home value of $234,795
Tyler, TX — average home value of $222,562
Keep in mind that townhomes and condos typically have lower sales prices than homes, potentially making such a property a cheaper alternative to purchasing a house. However, condos and townhomes are often part of a homeowners association (HOA), which typically charges monthly HOA fees to cover maintenance to shared or common areas.
2. Look at New-Build Incentives 
According to Fikkert, new builds are a great area to get started. "Recently, a client went under contract with a new build," he said. "The builder bought the rate down to 6.25% and contributed $5k to closing costs, making the payment tolerable with the idea of refinancing in the future," he shared. As for the property's future, "We have the unit rented and my client stands to make a monthly profit," Fikkert says.
3. Take Advantage of Favorable Changes In Purchasing Multi-Family Properties
Fannie Mae recently lowered down payments to 5% on owner-occupied two, three and four-unit properties. "The new announcement means your $50K can buy you a $1 million rental-income property," explains Fikkert. Or you can save part of the $50K, say, 1% of your property's value, for annual maintenance expenses such as repairs, landscaping and more. 
Best of all, you could live in one unit while renting the others, potentially having others pay your living expenses.
Other Ways to Invest $50,000 in Real Estate
If you'd rather invest in real estate without becoming a property owner or landlord, there are other ways to leverage your cash into properties. However, such investments come with risks, making it essential to research beforehand.
1. Real Estate Investment Trusts (REITs)
REITs are publicly traded companies operating commercial and/or residential property rentals. A REIT works as a large-scale landlord. However, it's regulated and must pay at least 90% of its profits back to investors as dividends.
Some of the best REITs include:
Crown Castle Inc. (CCI) — 6.36% dividend yield 
Public Storage (PSA) — 4.74% dividend yield 
Realty Income Corp. (O) — 6.04% dividend yield
2. Real Estate Crowdfunding
Crowdfunding may be the answer if you'd like to be a hard-money lender in real estate. Crowdfunding apps and sites pair investors willing to lend cash with property developers and other real estate professionals. An investor doesn't have to own, finance or manage properties.
CrowdStreet and Realty Mogul are a couple of popular platforms to check out. Investors can generally invest as little as $1,000 and earn annual returns between 2% and 20%.
3. Land Banking
Land banking means putting your cash into buying vacant land instead of depositing funds into a bank account. Your bank pays nominal interest, so your funds compound over time. The goal of land banking is somewhat similar — you aim to hold the land until it's appreciated in value. 
Land banking can be valuable but you need a solid grasp of land values and a long-term vision.
Takeaway
Although interest rates and property values make investing in real estate with little cash more difficult, there are still opportunities to get started with $50K or less. Fikkert believes there is no better time than today: "The bottom is hard to predict, but I think the opportunity is knocking at the door."
Fikkert may be one of many professionals who see value in the current market. "I'm constantly bombarded with investor calls looking for properties and I see the start of a lot of opportunity in the real estate sector moving past the second quarter of 2024," he says. It may be a good time to get out of debt, shore up your savings, build a sizable cash fund, and look for opportunities that could pay off in the long run.
More From GOBankingRates