6 Ways To Get a Down Payment That You Might Not Have Tried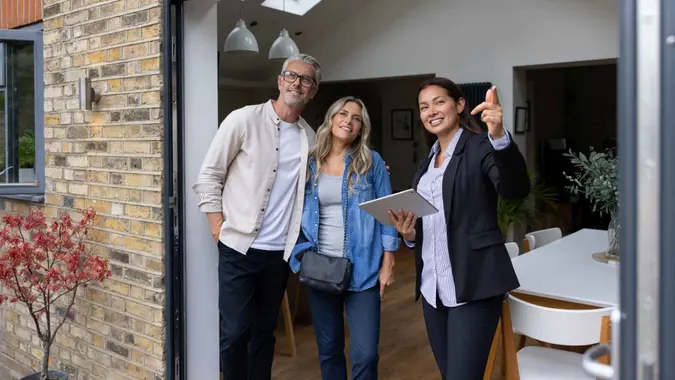 andresr / Getty Images
Saving up for a down payment is one of the most challenging parts — if not the most challenging part — of buying a home. It's also time-consuming, taking anywhere from 2.56 years in the least-expensive market to more than 12 years in the priciest market to save up a 20% down payment on a median-priced house, according to a study from RealtyHop. But a little creativity can help you shave years off the time it takes to come up with the funds.
See: 3 Things You Must Do When Your Savings Reach $50,000
6 Ways To Get a Down Payment
These ideas for getting down payment money could let you buy a home sooner than you thought.
1. Down Payment Assistance Programs
State and local government programs provide grants and loans to help buyers with their down payment. Maryland, for example, offers a special home loan that includes a 30-year fixed-rate mortgage plus an additional, interest-free deferred loan for the down payment and closing costs.
Some lenders also have programs. One from Chase provides $2,500 to $5,000 that goes toward mortgage points and Chase fees first, and then non-Chase fees or the down payment.
Down payment assistance programs often have income restrictions, and many are for first-time buyers only. However, programs often define a "first-time buyer" as one who has not owned a home in the last three years.
2. Tap Into Your IRA or 401(k)
First-time homebuyers can withdraw up to $10,000 from their individual retirement account to buy or build their first home. You'll pay personal income taxes on the amount you withdraw, but the IRS won't impose an early-withdrawal penalty, even if you're younger than 59 ½ years old.
There is no such exception for 401(k) withdrawals, but if your employer's plan allows it, you can borrow up to 50% of the funds you've contributed to your account. You have five years to repay the loan or else pay an early-withdrawal penalty and income tax on the withdrawal, but the interest you pay on a 401(k) loan goes right back into your account, which helps make up for lost gains.
3. Leverage Your Employer's Employee Assistance Plan
Your employer can help you with the down payment on a primary residence, whether by granting you the funds or offering them as a fully repayable, forgivable or deferred-payment loan. The money can come directly from your employer or from a credit union it's affiliated with. But if you're using a conventional loan, the employer must already have an employee assistance plan in place — it can't simply gift the funds to you as a special favor or bonus.
4. Ask Your Family To Gift You the Funds
Most mortgage loans allow homebuyers to use gifted funds for their down payment. The type of loan you have determines whom the gifts can come from. Conventional loans, for example, allow gifts from immediate family members, domestic partners and relatives who have shared a household with you. FHA loans have more lenient rules that allow gifts from non-immediate family members, charitable organizations and employers. VA and USDA loans allow gifts from almost anyone, including the seller.
5. Negotiate a Seller Concession
If you have limited cash and need to choose between making a down payment and paying closing costs, a seller concession, also called a seller assist, lets you roll your closing costs into your mortgage loan. You then can use your cash for the down payment.
It's called a seller concession because the seller has to sign off on it — the closing costs come from their sale proceeds, which reduces the amount they net from the sale. However, buyers who ask for a seller concession typically add the amount to their offer price, so the seller receives the full agreed-upon sale price, which makes them much more likely to agree to the concession.
6. Take a Second Job or Side Hustle
Taking a second job is the second-most popular way for Gen Z and millennials to raise money to buy a home, behind saving directly from paychecks, according to a recent study by Qualtrics for Redfin. No matter what your age, a side hustle could put you on the fast track to self-financing your down payment. If you start far enough in advance — one to two years, in most cases — the income can also help you qualify for the mortgage loan.
Do You Have To Put 20% Down on a House?
No. Most of the major loan types allow a much lower down payment than 20%.
The minimums are as follows:
Conventional conforming loan: 3% for special programs available to certain borrowers; otherwise, 5%
VA loan: No down payment required
FHA loan: 3.5% with a credit score of 580 or above; otherwise, 10%
USDA loan: No down payment required
Jumbo loans do often require a down payment of 20% or more. The size of jumbo loans makes them risky for banks. Buyers having a significant investment of their own funds reduces the likelihood that they'll default on the loan.
How Much Down Payment Is Normal for a House?
The average down payment is 13%, according to Realtor.com data for the first quarter of 2023. However, the youngest buyers and first-time buyers average 8% and 6%, respectively, The Mortgage Reports noted.
That said, an average down payment is not the specific percentage a particular buyer is likely to put down. Most buyers round their down payment up or down to the nearest 5%. So, if you want to buy a $400,000 house and you have $44,000 to put down, you'll likely put down $40,000, which would be 10%, and save the rest for closing costs or other uses. If, on the other hand, you had $35,000, you might adjust your budget downward or make a smaller down payment of $20,000, or 5% down, and save the remaining $15,000 for closing costs and other uses.
How Much Should I Put Down?
How much you should put down depends on your current financial situation and your financial goals for the future. A lower down payment frees up cash you can use for closing or to make repairs or build emergency savings. On the downside, you'll have more debt and more expenses — lenders charge higher rates when the down payment is low, and you might have to pay mortgage insurance as well.
Our in-house research team and on-site financial experts work together to create content that's accurate, impartial, and up to date. We fact-check every single statistic, quote and fact using trusted primary resources to make sure the information we provide is correct. You can learn more about GOBankingRates' processes and standards in our editorial policy.