How Much House Can I Afford?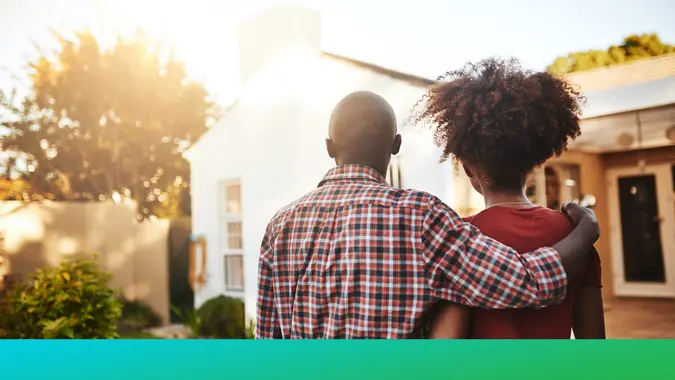 Peopleimages / Getty Images
How much money you can spend on a house will depend largely on how much you have for down payment, how high a monthly payment your lender will allow you to carry, and the current home interest rates. You'll need to ask yourself a few other questions in order to get through the first steps of the home-buying process, as well, including:
What kind of house can I afford?
How much mortgage can I afford?
As you start looking at houses, review your answers to these common questions and share them with your realtor and your mortgage lender. Once you have your answers to these questions and others, concentrate on making your new home purchase affordable.
How Much House Can I Afford?
To figure out "how much house can you afford," financial experts advise monthly debts should exceed no more than 36 percent of your monthly income. This figure is determined by dividing your monthly debt payments — like student loan and car loan debt — and your monthly mortgage payments by your gross monthly income.
You'll want your new home to fit your family physically and financially. Just because a lender says you qualify for a huge monthly mortgage doesn't mean you should buy the biggest house you can. If you choose a home that you can easily afford, then you're likely to have less stress every month when it's time to make your payment. If you choose a truly affordable house, you'll be less likely to make late payments or, worse, default on your mortgage. A smaller house will also save you money when it comes time to furnish and clean it.
How Much Mortgage Can I Afford?
During your loan prequalification process, you will need to present your pay stubs, tax returns and three months' worth of bank statements to potential lenders. To figure out the maximum payment you'll be allowed to carry, your lender will take your debt-to-income ratio into account, which compares your total debt to your total assets.
To calculate your debt-to-income ratio, add all your monthly debt payments and divide them by your gross monthly income. In most cases, the highest acceptable debt-to-income ratio you can have to qualify for a mortgage is 43 percent.
What Type of Mortgage Can I Afford?
As a rule, you want to get the least expensive mortgage payment. The more money you put down, the less expensive your monthly payments will be. If you can't afford a large down payment, you still have options.
If you get a VA loan, for example, you can put zero money down, and if you get an FHA loan, which is guaranteed by the government, you can put down as little as 3.5 percent. If you qualify as a low- to moderate-income buyer, you might get approved for a Fanny Mae HomeReady mortgage, which enables you to put 3 percent down and get cancelable mortgage insurance.
Related: Apply for a Mortgage Loan Today
In addition, some credit unions offer low- or no-down-payment mortgages. For instance, Navy Credit Federal Credit Union offers first-time homebuyers a program that includes no down payment, possible waiver of private mortgage insurance, and up to $5,050 cash back when they close through the free, national real estate assistance program RealtyPlus. Some lenders will ask for a down payment as high as 20 percent, so shop around.
As you compare lenders, look for ones that offer low fixed-rate mortgages or competitive adjustable-rate mortgages. Home interest rates typically increase as the amount of the down payment decreases, but other factors could affect the rate you qualify for as well, such as your credit score.
Read: Step-by-Step Guide for First-Time Homebuyers
How Expensive of a House Can I Afford?
To answer this question, determine your resources for the down payment — if you're a first-time homebuyer, you might not be aware that some mortgages enable you to use a gift from relatives for a down payment. Once you figure out exactly how much money you have to put down, your lender will calculate your monthly maximum payment by analyzing your annual income and housing expenses.
Housing expenses include your principal and interest, homeowner's insurance, property taxes, homeowner association fees if applicable, and any other special property assessment fees. If your down payment is less than 20 percent, you might have to pay for private mortgage insurance, as well.
Related: How to Get Rid of Private Mortgage Insurance
What Kind of House Can I Afford?
Think about what type of house you can buy that you and your family will love. Be creative but realistic. The more you plan before you buy your new home, the happier and more comfortable you'll be in it.
Separate the house features your want from the ones your family needs to make house shopping and decision making easier. The house you can afford might not have every amenity you dream of, but it can have a mixture of what you need and want if you know what you're looking for while you look at home listings. Prioritize mortgage affordability to increase your chances of achieving long-term financial success.