How Much Is My House Worth? Your Guide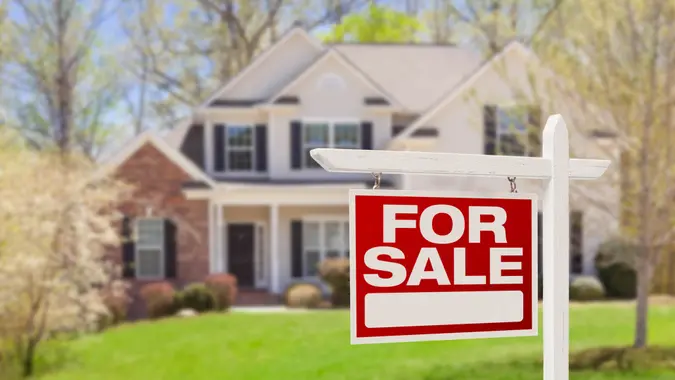 Feverpitched / Getty Images/iStockphoto
Whether you're selling your home or trying to get home insurance, you might be wondering how much your house is worth. Getting a good answer is important, as it'll help save you time and money. Keep reading to learn about steps you can take to get a better understanding of your home's value.
5 Proven Ways To Determine How Much My House Is Worth
Accurately knowing your home's value sets you up for success when selling or refinancing your home, or even when negotiating property taxes. Here are five proven methods to find out how much your home is actually worth.
1. Learn More About Your Home and Local Market
When you own a home, it's hard to see it objectively. Small details that you might overlook could be very important to potential buyers. Someone who's looking to purchase your house might be very picky about:
The neighborhood
Proximity to schools, hospitals and shopping centers
Accessibility
Safety
Curb appeal
Square footage
Additions
When trying to come up with your home's value, you need to be prepared to accept which of those characteristics could affect your home's value negatively so that you can work on them. Keep in mind that the final price tag can also depend on some factors that are entirely out of your control, like mortgage interest rates, seasonality and the market value of houses in your area.
If you're actively trying to sell your home, you can benefit from doing some quick online research. Comparing and contrasting similar listings can help you determine how to value your own property.
2. Use an Online Value Estimator
Nowadays, there are numerous valuation tools available online. In fact, real estate marketplaces like Zillow, Redfin and Trulia offer this service. These tools navigate through public records and pretty much automate the research process for you. Most of these platforms base their results on:
Your type of home
The year it was built
The number of rooms in it
The square footage of the home and lot
The number of parking spots
Historical information on how much previous owners have paid for the property
Keep in mind that, while helpful, online home value estimators are not always fully accurate. They can only be as reliable as the amount of information available for these sites to explore.
3. Have a Look at Your Local Auditor's Website
This tip is great if you want to learn the assessed value of your home. County and municipal auditors assess the value of residential properties, usually for property tax purposes. Lucky for you, this is data you can easily find online. Understanding how much your house is worth from a tax perspective gives you objective information to compare with other properties in the market.
Yet a taxable value estimate may not always reflect important market factors that could affect sale price. Moreover, assessed value vastly differs from market value in some areas, so keep that in mind as you complement this information with the rest of your research.
4. Use the Federal Housing Finance Agency's House Price Index Calculator
If you want to understand property price trends in your area over a certain period, then using the FHFA's house price index calculator might be beneficial. This tool examines historical mortgage information to predict what houses in your area will be worth based on the average appreciation and depreciation rates.
This tool cannot estimate the market value of a specific property. Yet by extracting and analyzing data from numerous home sales, the calculator can offer valuable insight into house price fluctuations. This way, homeowners can contrast the affordability of a certain neighborhood over time and gain perspective on the local market.
5. If All Else Fails, Hire a Professional
A licensed expert's input can save you tons of time when trying to calculate your home's value. Hiring the services of a professional appraiser is an excellent alternative for those who want an objective opinion before making any important house-selling decisions.
Appraisers consider the characteristics of a property that might influence its fair market value. Just keep in mind that a professional appraisal can cost you anywhere from $400 to $500.
Home Value FAQ
Here are some of the most common questions homeowners ask when trying to calculate their home's value.
What factors determine a home's value?

As noted by Zillow, home values are typically based on comparables and several key factors, including the following:

– Location
– Property taxes
– Interest rates
– Home maintenance

What is fair market value?

Fair market value is used in real estate to describe a home price that both the buyer and seller think is fair, or what a home is likely to actually sell for on the market.

What is appraised value?

The appraised value of a home is how much a professional valuator thinks it's worth. It's typically calculated by licensed professionals.

What is assessed value?

This is the assigned monetary value of your house used by local assessors to determine property taxes.
The Importance of Knowing Your Home's Value
Not understanding your home's value could cause you many headaches in the long run. For example, it may lead you to oversell or undersell your property. The latter could cost you thousands of dollars, while an overpriced home might give you a hard time finding potential buyers. Having a close estimate of your home's actual value is the best way of coming up with a more accurate price without so much back and forth.
Good To Know

Your home's value is highly relevant when you make important decisions regarding home insurance, property taxes, refinancing, private mortgage insurance, etc. Since home values fluctuate depending on many factors, you should calculate yours every other year. You don't need to get a professional estimate every time — unless, of course, you're selling or refinancing.
Our in-house research team and on-site financial experts work together to create content that's accurate, impartial, and up to date. We fact-check every single statistic, quote and fact using trusted primary resources to make sure the information we provide is correct. You can learn more about GOBankingRates' processes and standards in our editorial policy.