How to Buy a House: 10 Essential Steps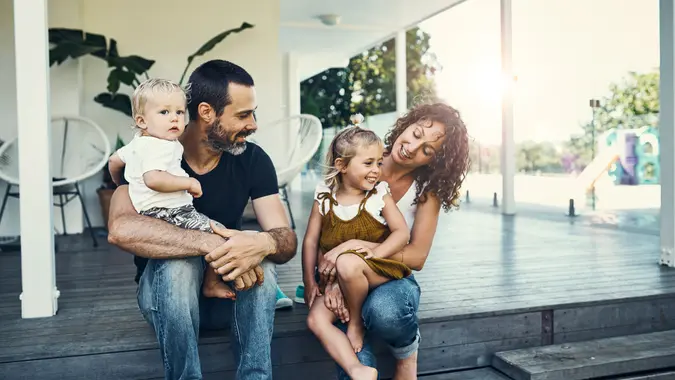 pixdeluxe / iStock.com
Buying your first house is an exciting life milestone — but it takes some time and preparation to go from aspiring homeowner to getting the keys to your new place. Fortunately, if you know exactly what to expect during the process of buying a house, you can be prepared for every step along the way.
Here are the steps you need to take to buy a house.
Buying a Home: 10 Essential Steps
Wondering how to buy a home? Although the homebuying process can seem overwhelming, it's manageable if you take it one step at a time. These are the 10 steps to buying a home:
Set a timeline with goals and deliverables.
Get your credit report.
If your credit score is below 600, repair your score before applying for a mortgage.
Focus on saving.
Get approved for a mortgage.
Select a real estate agent.
Start house hunting.
Submit an offer.
Inspect and appraise the home.
Close on your new home.
What do you need to buy a house? Keep reading to find out how to be prepared for each step.
Related: 8 Startling Facts That Blindside Homebuyers
1. Set a Timeline With Goals and Deliverables
"Buying a home is not a magical overnight process," said Herndon Davis, residential mortgage loan originator and real estate agent at Mortgage Real Estate Services. "It sometimes takes borrowers months, if not years, to get to a point financially and in creditworthiness to qualify to buy a home."
Set a timeline for completing each step of the homebuying process — from getting your finances in order to making an offer on a home — and try to stick to it. "If you need to adjust then do so, but always keep progressively moving toward the goal of homeownership," said Davis.
2. Get Your Credit Report
The best mortgage rates are reserved for people with good credit scores, so it's important to know where you stand before starting the loan application process. Request a copy of your credit report, and make sure there are no errors that could be hurting your score.
3. If Your Credit Score Is Below 600, Repair Your Score Before Applying for a Mortgage
A credit score of 579 or below is considered "very poor credit," but Davis recommends focusing on credit repair if your score is anything below 600.
"Seek credit repair assistance from either a company or expert who specializes in getting borrowers credit-worthy for a home purchase," he said. "Although technically, a borrower can obtain an FHA-backed mortgage with a minimum 580 credit score, the interest rate is going to be a lot higher when your score is low. It makes better financial sense to work to increase one's credit score first, before applying."
4. Focus on Saving
"Outside of issues with their credit score, probably the biggest hurdle homebuyers have is not having enough money for a down payment and closing costs," said Davis.
He recommends saving 6.5 percent of the sales price of a home you wish to buy. "This represents a 3.5 percent FHA down payment and an estimated 3 percent for closing costs," said Davis. "For example, a $150,000 home purchase would require the borrower to save at least $9,750."
You should also be prepared for additional costs, such as inspections, appraisals and moving fees, said Rae Dolan, a professionally licensed real estate specialist at SellingKaty.com.
Prepare: 40 Things Every 40+ Should Know About Buying a Home
5. Get Approved for a Mortgage
Once your credit score has reached 600 or higher and you have enough to cover a down payment, closing costs and additional expenses, it's time to find a mortgage lender. Before meeting with a mortgage loan officer, make sure you have gathered all the necessary documents.
"The borrower should come prepared to present the mortgage officer with a checklist of financial information such as pay stubs, bank statements, W2s/1099s, tax returns and other related items," said Davis. "The loan officer will calculate the borrower's debt-to-income ratio and determine how much house the borrower can afford. The borrower will then be preapproved for that amount or less."
Getting preapproved is an important step to take before finding a real estate agent and beginning the actual search for a home. "Preapproval is a must," said Dolan. "Real estate agents prefer buyers that have preapproval for multiple reasons. One reason is that if you end up in a multiple offer situation and the buyers you're competing with have preapproval and you don't, it puts you at a disadvantage. Sellers want to know the offer they accept has the highest likelihood of going through as possible."
Dolan also notes that it's important to distinguish between being preapproved and being pre-qualified for a mortgage loan. "Pre-qualification essentially means the mortgage company is saying you should be able to qualify for a loan for a certain amount based on the limited — and typically un-vetted — information you provided them," she said. "Preapproval means that the mortgage company has collected detailed information, vetted that information and is saying they fully intend to approve you for a loan. Buyers want to be armed with preapproval — especially in a hot market."
Check This: 5 Tips for Buying a Second Home
6. Select a Real Estate Agent
Find a real estate agent you can trust by asking friends or family members for a referral. Or, do some online research to find an agent who will be a good fit for you and your needs. "Knowledge is power in the search for a home," said Ralph DiBugnara, president of Home Qualified, a digital resource for buyers, sellers and realtors. "Conducting online research is a great way to gather information and find the best consultants for you. Zillow and Trulia are helpful resources for finding local real estate agents. They both provide in-depth reviews that make it easy to pick the best representative for you."
7. Start House Hunting
"At this stage, you should draw up a list of 'must-haves' and 'like-to-haves,'" said Davis. These factors include the home's proximity to your job, your children's schools, public transportation, church or family. Other things to take into the consideration are the size of the home, its age, its condition and the neighborhood.
Keep in mind that certain things about a home can be changed — like ugly green bathroom tile — but others cannot, such as the home's overall layout and the quality of the neighborhood that it's in. Don't be distracted by things that can be improved, and stay focused on the big picture.
Learn: How Long Does It Take to Buy a House?
8. Submit an Offer
Once you've found a home that checks off all of your "must-haves" and some or all of your "like-to-haves," it's time to submit an offer. Work with your real estate agent to submit a solid offer. And in the case of a bidding war, try to remain calm.
Once your offer is accepted, you will have to sign a purchase agreement. This agreement will include information such as the purchase price, lender information, down payment amount and closing date.
9. Inspect and Appraise the Home
A professional home inspection will check for any structural issues or expensive repairs that will be needed that you might not have noticed. The appraisal determines the value of the property, which is necessary to receive your mortgage loan. Dolan also recommends getting a homeowners insurance quote during the option period.
"A home might have unexpectedly high insurance based on its elevation, distance from a fire department or other factors," she said. "You don't want to be locked into buying a home and then find out the homeowners insurance rates are three times what you expected them to be. You'll also want to be sure to do any needed inspections during the option period. Depending on the findings, this might spur the need to renegotiate the sales price with the seller."
10. Close on Your New Home
Once the inspection and appraisal are complete, and you've come to a final purchase agreement with the seller, you can close on your new home. This will be an exciting time, but do note that there are additional costs you should be prepared for including:
Closing costs
Property taxes
Homeowners insurance
Homeowners association fees (if applicable)
It's important to be patient during this time, as the time it takes to close on a home is about 50 days, according to HousingWire.
Click through to read about how to buy a home if you're single.
More on Homes and Money
We make money easy. Get weekly email updates, including expert advice to help you Live Richer™.