How To Buy a House Out of State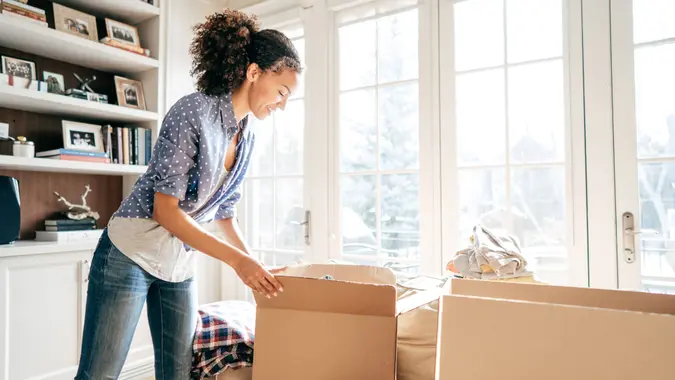 kate_sept2004 / Getty Images
Buying a new home at any time can be difficult enough, even when it's in the same state where you already live — it's probably the biggest, most expensive purchase most people will make in a lifetime, after all. However, buying a new home out of state poses a number of different challenges that are important to think through in advance. From understanding the market in the new state to making sure you have the right kind of financing partner to help negotiate interstate issues, out-of-state purchasing takes more forethought and preparation to do it right. Here are several tips that can help streamline the process and save you money while doing it.
Small Business Spotlight: Don't Miss Out on Nominating Your Favorite Small Business To Be Featured on GOBankingRates — Ends May 31
Prepare Financing in Advance
Preapproval is the first step in getting your financing ready to purchase a new home. If you're selling a home, you may be depending on equity to make your down payment, and different states will have different requirements and rules for how much you need to put down and how much you can finance. Don't wait to figure this information out. Additionally, by learning how much you're approved for, you can determine the maximum monthly mortgage payments. Get this part together before you even start looking for homes so that you can confidently choose the right home for your family and your budget.
Be Aware: 12 Things To Consider Before Buying a Bigger Home
Hire a Buyer's Agent
Real estate agents are all the same, right? Wrong! There are buyer's agents and seller's agents, and when you're looking to buy, you need the former. A buyer's agent is only representing your interests and should have no conflicting interest with any sellers. This means they're more likely to help you find the best possible deal and be transparent in laying out all the information you need to know.
Discover: 10 Hidden Costs of Buying a House
Take a 'Look' at Prospective Homes
How you go about searching for homes out-of-state will depend upon your ability to travel. If it's safe and convenient for you to visit the neighborhoods you're interested in, do it. If it's not, you'll have to rely upon pictures and videos posted by real estate agents and sellers, as well as research about what sorts of amenities and services, schools and features are available in the town you're checking out. Ask sellers and real estate agents if it's possible to get a virtual tour, as well — the more you can see up front, the better. You can also use tools like AARP's Livability Index and Livability.com, which score towns' livability based on criteria such as crime rates, school scores, types of services offered and more. Though it's up to your own personal preference, Bob Vila recommends you visit the house you've decided to buy before you make an offer, so you don't end up with buyer's remorse.
Work With a National Bank and Title Company
When it comes to financing, not every bank has locations in all states, and many small banks will not offer financing on a home in another state. You may need to look to national banks, such as Wells Fargo or Bank of America, to provide your financing across state lines, as they are more likely to have offices in every state and town. Or, you can research banks in the areas where you hope to move. The same is true of your title company — the company that provides insurance for the title of your property — at some point, that's the physical office you'll need to visit to sign escrow papers, so pick one you trust.
Learn: 17 Dumb Home-Buying Mistakes That Hurt Your Wallet
Do Paperwork Digitally
There's a lot of paperwork involved in buying a house — from making the offer to signing escrow papers — and a good portion of this can be done digitally, without everyone having to be in the same physical place. Find out from your bank, your title company and your real estate agent which parts of the process can be simplified from paper to digital to save travel time for trips that are absolutely necessary.
Get To Know the Market
If you've lived in a state like California, for example, where home prices are among the highest in the nation, buying a home in Tennessee, let's say, will be a vastly different experience because home prices and rates are significantly different. Familiarize yourself with what properties similar to the size and style you're looking for are selling for in your ideal neighborhoods so that you know what is "normal" and whether a home price is realistic for the area.
More: The Best Place to Buy a Home in Every State
Research Real Estate Laws
Just like prices vary from state to state, so do real estate laws and regulations. Quicken Loans recommends you familiarize yourself with "zoning laws, building codes, property lines and even fencing" because you may want to make home or land improvements on the property down the road; you'd hate to find out after you already bought your house that you can't build that granny unit, or that your neighbors actually own the fence between you.
Be prepared, be smart and plan in advance, and your dream home in another state will be another step closer.
More From GOBankingRates
Last updated: May 20, 2021