8 Ways To Invest In Real Estate With No Money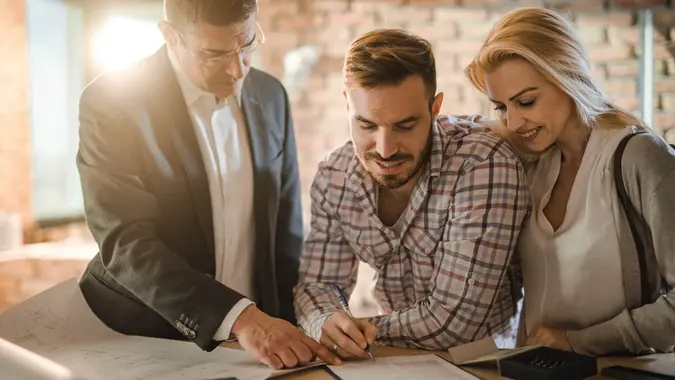 skynesher / Getty Images
Despite what real estate influencers say on social media, it's not easy to invest in real estate when you have no cash to put down, especially if you're a novice investor. But some strategies are available to just about anyone, especially if you already own a home. And others might be viable if you're willing to do some legwork and have a higher tolerance for risk. Keep reading to learn how to invest in real estate with no money.
How To Invest In Real Estate With No Money: 8 Ways
If you're ready to buy some property, but don't have the cash at hand, you might have to get a bit creative. Here are eight ways that you can start investing in real estate right now.
1. Real Estate Investment Trust
REIT companies own or finance income-producing real estate across various property sectors. REITs offer everyday real estate investors the opportunity to realize dividend-based income and returns. You can invest in a REIT's real estate portfolio by purchasing individual REIT stocks or by investing in an exchange-traded fund or mutual fund that invests in a basket REITs.
As a REIT stockholder, you earn a share of the produced income without directly buying, financing or managing the property.
2. VA Loan
If you're an eligible veteran, you can use a VA loan to finance 100% of the purchase of an income-producing property. But there is a catch — the property will only qualify for VA financing if it's your primary residence. That means you'll need a home with at least two, and up to four, units. You then live in one unit and rent the others out. If you'd rather not manage residential tenants and don't mind living next to a business, you could rent out up to 25% of the home's square footage as a business unit.
3. Home Equity Loan
When property values are high, tapping into home equity could be a viable real estate investment option for you if you have no upfront money available. With more equity in your home, you can capitalize on two options. One is to do a cash-out refinance, where you take out a new first mortgage for more than you need to repay your existing mortgage loan. If, for example, you have a $100,000 mortgage but have $200,000 in equity, you can do a cash-out refinance for $160,000, assuming the lender limits the loan to 80% of the home's value. You use $100,000 to pay off the existing loan and have $60,000 to put toward an investment property.
The other option is to keep the first loan and take out a home equity loan or line of credit. Be sure to shop around for lenders that allow borrowers to use home-equity loans to finance investment property.
4. Seller Financing
Before jumping into seller financing, be aware of the financial and legal risks. With seller financing, the seller becomes your direct lender. If you don't qualify for a traditional mortgage loan, you might look into financing a loan through the home's seller.
You can negotiate your loan agreement, and the financing process is usually quicker than the traditional financial institution method. The seller-financed agreement is also known as a land contract or contract for deed.
5. Hard Money Loan
Hard money loans are also called bridge loans, short-term asset-backed bridge loans and asset-based loans. They are used for short-term financing of mortgage loans. You can't get a hard money loan from a bank or credit union. Only private and individual lenders offer real estate hard money loans.
Securing a hard money loan is often an easier and quicker way to invest in real estate than going through the traditional institution financing and approval process. Plus, your credit history is not an issue because hard money loans are asset-based — they use the real estate as collateral.
Interest rates for hard money loans can run 15% or more, so investors typically use them to flip houses — quickly renovate and then sell the properties for profit. Prior experience increases your chances of being approved for the loan.
6. Option-to-Purchase Agreement
If you're currently a tenant, you can enter into an option-to-purchase agreement with the property owner. This contract gives you the right to purchase the property in the future. The tenant and landlord agree that a portion of the monthly rent payment is applied toward the principle of the property over the specified time according to the rent-to-own agreement. These agreements can be risky for tenants, so it's best to hire your own attorney to write or review the contract.
7. Private Money Loan
When you have no money and want to invest in real estate, a private money loan can speed up the process. The catch is that the interest on private money loans is high, just like with a hard money loan, so private money is best for short-term loans.
One way around the high cost is to borrow from family and friends, who might be willing to loan you money at a lower rate.
8. Wholesaling
Real estate investors can earn quick profits from real estate wholesaling without ever owning property. This strategy involves selling contracts for the purchase of real estate rather than the real estate itself. The wholesaler makes an offer on the home — typically, a distressed property the wholesaler can get for well under market value. After the seller accepts the offer, the wholesaler sells the sales contract to an investor. The investor then takes over the transaction and ultimately closes the sale.
Should You Invest With No Money?
When you want to invest in real estate with no money, many strategies are quite risky. What's more, you could have a difficult time finding someone to finance your purchase if you're investing in real estate for the first time. When you have limited funds to work with, your safest bet is to invest in a REIT mutual fund or ETF. That way, you can invest a little bit at a time, as you can afford it — REIT shares range from less than $1 to over $700 as of June 20. And there's no risk of losing your home or other assets.
Otherwise, start saving now for a down payment. Not only will you have an easier time getting additional funding if you have "skin in the game," but you'll also have instant equity to protect your own investment.
FAQ
Here are the answers to some of the most frequently asked questions about investing in real estate.
How can I invest in real estate without spending money?

Here are a couple options for investing in real estate when you have no money:

VA loan
Home equity loan
Option-to-purchase agreement
Hard money loan
Private money loan
Seller financing

How can you start investing in real estate with as little as $500?

You can get started in real estate investing by looking into REIT mutual funds or ETFs. As of June 20, REIT shares range from less than $1 to over $700. With $500 to invest, you could pick up quite a few shares.

How do you invest in real estate as a beginner?

You can get started in real estate investing by renting out one of your rooms, investing in REITs or getting involved in rental properties.
Daria Uhlig contributed to the reporting for this article.
Information is accurate as of June 20, 2023. 
Our in-house research team and on-site financial experts work together to create content that's accurate, impartial, and up to date. We fact-check every single statistic, quote and fact using trusted primary resources to make sure the information we provide is correct. You can learn more about GOBankingRates' processes and standards in our editorial policy.