How To Save for a House While Renting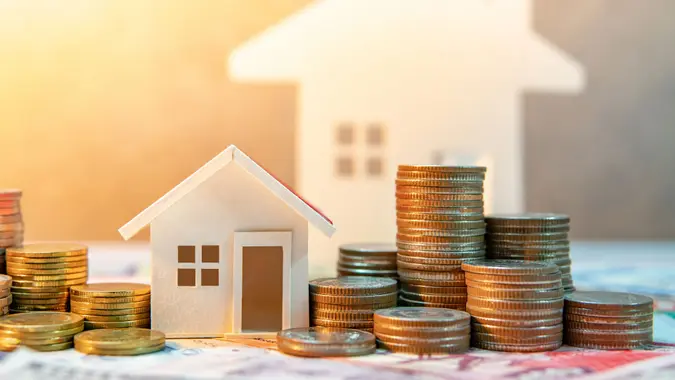 Zephyr18 / Getty Images/iStockphoto
If you're currently renting, but want to someday buy a home, you know that saving up a down payment is an important first step. Unfortunately, everyday life and its many expenses can make it hard to know how to save for a house — especially when you're paying rent every month. The trick is to balance paying your rent and saving money at the same time.
After using up so much of your income on rent after car payments, groceries and other recurring bills have been paid, saving money can seem impossible. But by cutting down on monthly expenses and putting focused financial strategies in place, you can get closer to homeownership more quickly than you might have thought before. 
GOBankingRates surveyed more than 1,000 Americans ages 18 and older from across the country between Aug. 14 and Aug. 16, 2023, and found out more about how much people are currently spending on rent, among other topics. Then to figure out how people can save for a house while renting, real estate experts weighed in with some helpful tips on how to do so.
Use a Budgeting App
According to our GOBankingRates survey, 14% of all respondents who are renters between the ages of 25 and 34 are spending $1,001-$1,250 a month on rent. While rent must be paid, there are ways to plan out your expenses so that your whole budget is not spent on housing each month.
Right now there are plenty of free or low-cost budgeting apps that can help you toward your goal of buying a home. Take advantage of them, said Samantha Odo, real estate sales representative and Montreal division manager at PreCondo.
"…tools like Mint or You Need a Budget (YNAB) can help you keep tabs on your spending and set targets for saving," Odo said. "And don't forget about your credit score – having a score above 700 can mean better mortgage rates, which could save you a bundle down the line."
Start a Savings Account Just for a House
You might be saving, but is it for a house? If not, it might be time to open an account where funds are deposited just for a downpayment.
"To make it easier for you to track just how much you're putting away for the future purchase, open a separate savings account dedicated to your house fund," said Michael Branson, CEO of All Reverse Mortgage.
Only 5% of those surveyed by GOBankingRates between the ages of 35 and 44 were able to save $10,000 or more in the last year. Yet doing so gives them a leg up when it comes time to purchase a house.
"This also makes it easier for you to monitor and adjust your spending and saving habits in general," Branson said. "To speed up the progress, you can look into setting up automatic deposits, lock-in investments and other financial instruments that can help you reach your goals faster. If you have some room for risks, you can also look into investing in stocks, bonds, and real estate to help grow your savings."
Bill Yourself
Treat your down payment goal as importantly as you treat other bills, like rent, utilities or life insurance. In other words, create a bill for yourself and pay yourself every month, on time, suggested Kevin Gallegos, a vice president with Freedom Financial Network, which helps people meet financial goals.
"Take advantage of automatic deduction plans you set up," Gallegos said. "Some financial institutions let you arrange automatic withdrawal from your checking account to a savings account." If your bank does not provide this service, there are apps, such as Digit, that do this for you.
Be Mindful of Inflation
"Life these days has become more expensive, especially in cities," Branson said. "Convenience now comes with a price, with every transaction demanding a premium of sorts. As you become more financially able, the tendency is to upgrade your lifestyle and start living beyond what you can actually afford."
GOBankingRates found that almost 54% of respondents between the ages of 25-34 reported having trouble paying their utility bills — including gas, electric, heat, internet, etc. — in the last six to 12 months.
"To avoid this, be mindful of how much money you're spending on non-essential items," Branson said. "Ordering takeout dinner twice a week may seem affordable now, but that adds up over time. Retail therapy shopping and other unnecessary purchases can also impede your savings goals. If you badly need a shopping fix, look into using coupons and discount codes or check out the clearance section for discounted items. Shopping for preloved items is also a great way to save money."
Find New Ways To Invest and Save
"While you're renting, think about putting your money into different types of investments," Odo said. This is important as 21% of our survey respondents between the ages of 54 and 65 reported having no savings or investments at all, just as many are on the cusp of retirement.
"Mutual funds, ETFs, or even a Roth IRA could earn you more money over time. These could make your money grow faster and give your home fund a boost. A mix of these investments can not only increase your wealth but also show lenders you're on top of your game."
Generate Additional Income
"Aside from your day job, look into additional ways to earn some extra money," Branson said. Over half of all respondents in our GOBankingRates surveys, across all age demos, said that they would start their own business if all the elements lined up. Branson said why wait for the perfect circumstances?
"You can start a side hustle doing freelance work, start a business, or look into investing in the stock market. Some seasonal jobs also offer good pay and flexible hours. All the money you earn from these extra activities can go straight to your savings account as they'll help you get closer to achieving your financial goal of owning a home."
Redeem Credit Card Rewards for Cash
Sure, a quick weekend trip to San Francisco courtesy of some free air miles could be fun. But if you have the option to cash out reward points and stick them in your down payment fund, do it, Gallegos said.
A second-best option is to cash them in for gift cards to offset your spending. "Some credit cards even double the value of your rewards at specific retailers," Gallegos said. Using cash rewards from your credit cards can be a good solution for how to save for a house deposit while renting.
Withhold Less
Are you getting a huge tax refund every year? That might mean that you are letting the IRS hold onto your money every paycheck — interest-free. So, you might want to have less of your paycheck withheld every month and put that money toward your down payment fund. For instance, a $2,400 refund translates to $200 a month toward your down payment.
Start Clipping Coupons
You don't have to go so far as to turn into a star on "Extreme Couponing," but taking advantage of coupons and coupon codes can really save you money. And these days, sites like Coupon Sherpa, Coupons.com, DealNews and others make using coupons easier than ever through your computer or smartphone.
Turn Your Home Into a Vacation Rental
Thanks to sites like Airbnb, many people who are renting a home are also earning money renting out a room, or the entire place, while they're traveling. It's pretty easy to do and could be that boost you need every month to make your dream of buying a home a reality. To get started, visit the Airbnb site to get information on hosting.
Other Savings Options To Save For a Down Payment
Many people qualify for federal assistance mortgage loans from the Federal Housing Administration or Housing and Urban Development, government groups that help lower-income home buyers raise money for down payments and mortgages.
Terence Loose contributed to the reporting for this article.
More From GOBankingRates