I'm a Real Estate Agent: 9 Ways People Increase the Value of Their Home in Less Than a Year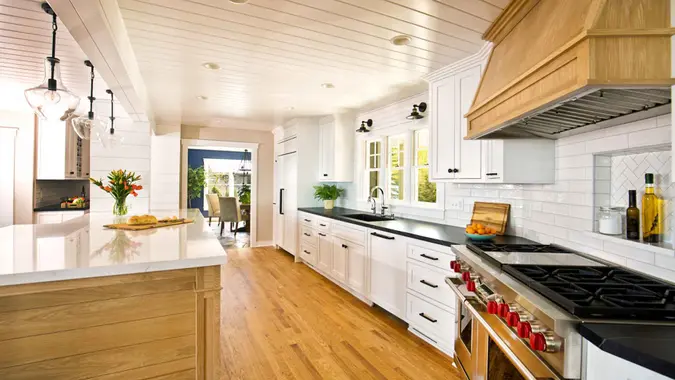 YinYang / Getty Images
Selling a home involves many factors, from luck and timing to the bells and whistles that make each home unique and coveted by buyers. Every seller wants to get the best possible price for their home, but not everyone wants to invest tons of money or time into getting the house ready for that. Given that home prices have also been declining and may continue to do so into 2024, it is imperative for sellers to do whatever they can to increase their home value quickly.
GOBankingRates spoke to two real estate agents — Joshua Martin, licensed realtor and founder of Atticus Home Buyers, and Warner Quiroga, licensed realtor and founder and CEO of Prestige Home Buyers — about nine ways to increase the value of your home in less than a year.
Improve Curb Appeal
First impressions make a big difference when it comes to a home's value. Martin suggests you pay attention to curb appeal and "enhance your home's exterior by adding fresh paint, updating landscaping and repairing any visible damage. A well-maintained exterior creates a positive first impression." Most of these changes don't require a lot of financial investment, either.
Quioga suggests that simple things like "mowing the lawn, trimming bushes and trees and adding some colorful plants can make a big difference." 
Consider a Kitchen Upgrade
If you are going to renovate, when it comes to picking the right room to update to impart the most value, Martin urges homeowners to consider small but meaningful kitchen renovations like updating countertops, installing new appliances or adding a fresh coat of paint. Kitchens are often the room where families gather and entertainment happens. "These improvements can significantly boost your home's value," he said.
Invest In a Bathroom Makeover
After kitchens, bathrooms are the next-most important room to focus on, and simple updates can go a long way. "Upgrade fixtures, replace outdated tiles and improve lighting to give your bathroom a modern and inviting feel," Martin said. And don't forget to fix any plumbing issues.
Increase Energy Efficiency
You can add value to your home just by improving its energy efficiency, Martin explained. "Install energy-efficient windows, upgrade insulation and invest in energy-saving appliances." This gives you the triple whammy of lowering utility bills, greening your home and increasing its value all in one.
Create an Open Floor Plan
The open floor plan is still preferred by many buyers, Martin said, because it lends a sense of spaciousness. "If possible, remove non-load-bearing walls to create an open and spacious layout. This can make your home feel more contemporary and appealing."
Smart Home Features
Technology has come a long way at enhancing living spaces and houses that adopt it can command higher prices. "Incorporate smart technology like a programmable thermostat, smart lighting or a security system," Martin advised. These features add convenience and appeal to potential buyers.
Of course, every home and every market is unique, so it's not a bad idea to consult with a professional to determine the best upgrades for your specific property. "By making small strategic upgrades, you can enhance your home's value and attract potential buyers in less than a year," Martin said.
Add Extra Space
If you want to make your house bigger but don't want to go through the hassle and expense of big additions, look to unused or underutilized areas in your home such as a basement or attic, Quiroga said. "Consider renovating these spaces to add more livable square footage. This can greatly increase the value of your home, as well as make it more attractive to potential buyers."
Improve Storage
Storage space is a major selling point for many homebuyers, especially in a smaller home or one with existing limited storage, Quiroga pointed out. "Consider adding shelves, cabinets or closet organizers to maximize storage space in your home." 
Keep Up With Maintenance
You don't have to make big renovations on your house to increase its value if you're making sure you do regular maintenance and upkeep of your home, which are crucial for maintaining its value. "This includes things like fixing leaky faucets, repairing any damage and keeping your home clean and well-maintained," Quiroga said.
Neglecting maintenance can lead to a decrease in your home's value over time. No buyer wants to spend a ton of money only to come in and have to engage in a bunch of extra fixes.
More From GOBankingRates