I'm a Real Estate Investor: This Is the Property That Made Me Rich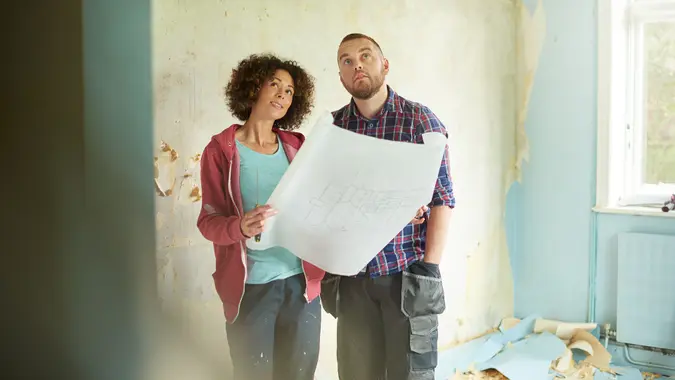 sturti / Getty Images/iStockphoto
You may have heard that there's decent money to be made in real estate. There are real estate investors who believe that flipping is the way to go, while others prefer to rely on short-term rentals. To learn more about getting rich through real estate, GOBankingRates contacted real estate investors to learn about properties that made them rich. 
There are many ways to make money from real estate, but these three investors have different strategies that have helped them build significant wealth.
Property No. 1: Industrial Building Space
Upfront cost: $2.85 million
Additional cost: $100,000 in legal expenses from the city suing them
Profit: $5.75 million
Location: Hamilton, Ontario
Derek Conorton doesn't often get involved in house flipping, but he found himself in a unique situation with a commercial property in Hamilton, Ontario. Conorton bought an industrial building space that brought him a $5.75 million profit. The intent was to buy this industrial space, put a real estate investing business there and to flip both, eventually. The company they sold to just ended up buying the space. The building was purchased for $2.85 million and sold for $8.6 million three and half years later.
Conorton stressed the importance of paying tax professionals. Conorton had to deal with legal issues as the City of Hamilton brought 21 charges against them for allegedly opening and operating illegally. They were able to beat all of the charges, but it took $100,000 in legal fees to do so.
​"At first, I was reluctant to spend money on the professionals who had experience in this space, until I nearly made a million-dollar tax mistake," Conorton said. "It was then that I smartened up, because losing a million dollars is far worse than spending $15,000 on professionals to assist in constructing a solid deal."
Property No. 2: Hoarder House
Upfront cost: $140,000
Additional cost: $80,000
Profit: The home is worth $425,000 in unrealized gains. 
Location: Dallas, Texas
Tom Brickman of House Money purchased a hoarder house that he worked on for an extended period to restore so that he could rent it out. Brickman spent $80,000 on a new roof, kitchen renovation, two bathrooms and HVAC work. This figure doesn't include the time involved and mortgage interest expenses. The property is now worth $425,000 and is bringing in money as a rental.
While Tom doesn't plan on selling the property anytime soon, because the unit is bringing in decent money, the appreciation is significant, and he could earn an amazing return on his investment if he were to sell today.
Property No. 3: Risky Real Estate
Upfront cost: $200,000
Additional cost: $50,000 for property and closing fees; $12,000 for the debt servicing
Profit: $118,000
Location: Central Massachusetts 
Cody Berman took a risk on a property that brought in $118,000 in profit after five months of complete rehab. The property was sold for $380,000 when all of the work was completed.
What did the rehab on the property involve?
New floors
New kitchen cabinets
New paint
Both bathrooms redone
Fixed up the electrical
Completed the basement
How did Berman even find this property? 
"Nobody else wanted to touch the property because of a potential encroachment," Berman explained. "We saw an opportunity, paid $3,000 for a survey and found out there was no encroachment. Taking this risk allowed us to get the property far below market value."
Berman took on this risk knowing that he could've had some struggles along the way. "In the worst case scenario, we were prepared to pay the neighbor for an easement, which would have cut into our profits, but the deal would still have huge profit potential."
Lessons Learned From Real Estate Investing
The real estate investors shared these lessons that they learned from their investments.
The Process Can Be Intimidating
Brickman expressed how emotionally draining it was to deal with the hoarder house and how it's easy to get intimidated by all of the work involved.
"As I emptied [the house], I had to find and return three items to the seller," Brickman said, describing the struggle of cleaning out the property. "It was draining. I could tell it started two months after his wife died. I could feel his sadness as I emptied it. I don't think I would do another hoarder house."
Opportunities Aren't Always Clear To See
"Problems are opportunities," noted Berman, who took on a major risk with his real estate investment. "People don't like doing hard things. If you can be the one to figure out the problem, you'll be the one taking home the profits."
From the outside, it may seem like a foolish idea to invest in a hoarder house or to take a big risk on commercial property, but you're going to have to take some calculated risks if you want to get rich in real estate.
Building Relationships Is Crucial
"I ruined a lot of deals and left a lot of money on the table by focusing more on the transactions than the relationships involved," Conorton reflected on his real estate journey. "Some of my most profitable deals in real estate investing have come from strong relationships built over time, and these relationships have even resulted in multiple highly profitable deals."
This means that you're going to want to make connections with tax professionals, home contractors, real estate agents and other professionals who are involved in real estate. You're also going to have to take the time to develop these relationships, since real estate is rarely a short-term game.
Closing Thoughts
As you can see from these three examples of properties, there's money to be made in real estate if you're willing to take risks. The key word here is risk. You can't ignore the risks that these real estate investors took, from dealing with legal expenses to gutting an entire hoarder house.
It's essential that you understand what you're getting into if you want to try your hand at real estate investing.
More From GOBankingRates