Fixing Up Your Space? These DIY Geniuses Could Save You Thousands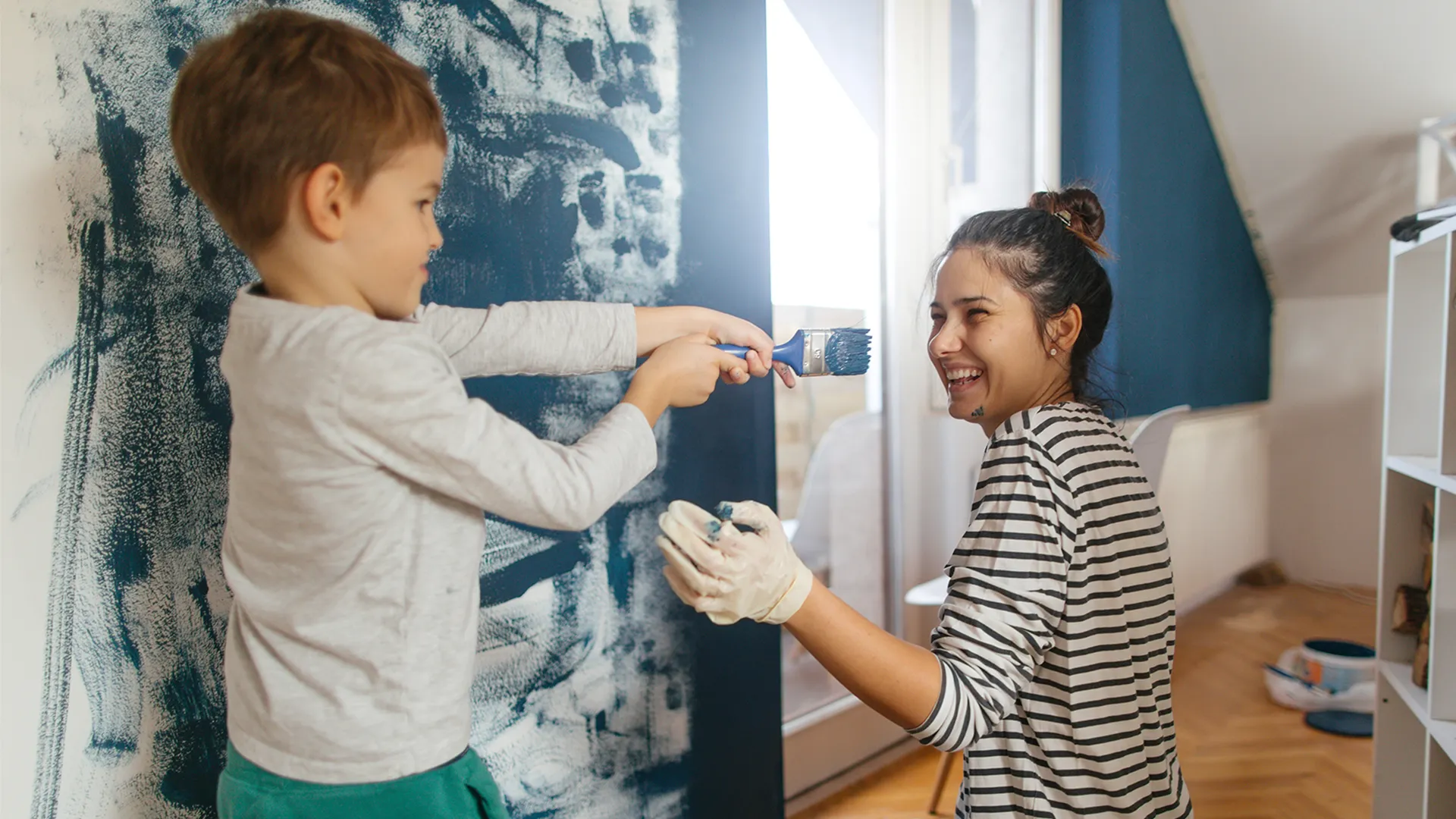 Whether you want to fix up your home to give it a fresh look or to make it more appealing to resell down the line, it's tempting to hire out contractors to do the job without getting your hands dirty first. But this can be a waste of money, especially with easier home improvements that don't require specialized skills.
GOBankingRates spoke with real estate experts to find out which home improvement projects you can save thousands on by doing yourself. Find out how you can make these money-saving DIY home projects a part of your plan for resetting your finances in 2019.
Pave a Walkway
Not only will paving a walkway increase your home's value — it also looks beautiful and is extremely functional. When the project is complete, you'll have an inviting walkway for your family and your guests.
Cost to Do It Yourself
Pavers can be heavy, so if you go the DIY route, enlist a helper or have your materials delivered, said Joe Raboine, residential business manager at Belgard Design Studio. Don't take this project on unless you're absolutely sure you can handle the heavy lifting — otherwise, you might have to use the money you saved to pay for expensive medical bills.
Install a Fire Pit
Pro cost: $1,400 to $5,000
Building a fire pit as a DIY project versus having it installed by a professional comes with some different benefits, said Raboine. A fire pit built by a professional can look very impressive, delivering a good return on your investment.
Apply For a Personal Loan
Cost to Do It Yourself
On the other hand, if you install a fire pit yourself, you can create a portable model that can be moved when not in use.
Add a Retaining Wall
Pro cost: $5,100 to $12,000
If you have a sloped yard that is difficult to mow, installing a retaining wall could be an investment that pays. Highly functional, this update can offer hillside stabilization and prevent landslides.
Also visually appealing, a retaining wall can make it possible to create a beautiful landscape design that is otherwise impossible on a steep surface. A retaining wall can be made from a variety of materials — like brick, concrete and stone — depending on its purpose.
Cost to Do It Yourself
DIY cost: $1,200 to $5,095
You can save thousands by building your own retaining wall — but before you start this project, make sure there are no local building codes or homeowner's association regulations that will make building a retaining wall illegal.
If you go the DIY route, take the time to plan your layout, and determine how much of your chosen material you will need to buy. In addition to needing brick, concrete or stone for the actual wall, you will need a shovel, saw, chisel, drilling hammer, landscape fabric, a gravel/drainage aggregate, construction adhesive and a paver base, according to Lowe's.
Once you have your wall planned out, you can work on preparing the foundation and building the actual wall.
Apply For a Personal Loan
Build a Fence
If privacy is an issue in your neighborhood, building a fence can be one of the best remodeling projects — one your neighbors will appreciate, too. HomeAdvisor recommends opting for a 6-foot fence, as it's the most popular height, but be sure to look into building codes for your area so you can pass your home inspection.
Cost to Do It Yourself
DIY cost: Price per linear foot — metal/chain: $7, wood: $12, vinyl: $17, aluminum: $26
The size of your property and material used to build the fence will largely determine its cost.
Add Built-In Shelves
Pro cost: $2,000 to $5,000
A space with lots of handy built-in storage nooks can increase the functionality of your home, and can also be an added bonus for prospective buyers when it comes time to sell.
If you're not handy enough to do this yourself but still want to install this upgrade, expect to pay between $2,000 and $5,000 for materials and labor on built-in cabinetry, entertainment nooks and bookcases.
Cost to Do It Yourself
You can save a lot if you DIY, with your only cost being materials, which should amount to about $500 or less.
Add a Subway Tile Backsplash
Jonathan Faccone, a real estate developer and investor at Halo Homebuyers, recommends adding a ceramic or glass subway tile backsplash to update the whole look of your kitchen.
"I love this option because it's very cost-effective, it's an easy design pattern to execute — which makes it less labor-intensive — and buyers always love the fresh designer look of subway tile," he said. "Big-box stores sell a variety of ceramic and glass backsplashes for around $3 to $5 a square foot, so you'll likely only spend $200 to $300 on materials."
However, getting this job done professionally can bring the cost of this project up to $1,000, he said.
Apply For a Personal Loan
Cost to Do It Yourself
Adding a subway tile backsplash isn't a large time investment, and it's a fairly simple upgrade to take on yourself.
"You can pretty easily take it on as a DIY project, which should take about one to two days," said Faccone.
Refresh Your Walls
Painting is one way to update the look and feel of your home, and add personality to a room with minimal effort.
Hiring a professional would cost roughly $2,000 for a 2,000-square-foot home, and an additional $400 if the paint isn't included, said Justin Stanford, a realtor with Keller Williams Realty.
Cost to Do It Yourself
"Painting your own home instead of paying a painter can save lots of money," said Stanford. "While it's not necessary that one be a skilled painter, careful prep work will make the job much easier. Things like taping off the baseboards and windows, as well as placing drop cloths, will allow you to paint faster with much less mess to worry about."
Stanford said you should expect to pay about $600 for paint, paint rollers, brushes, an edging paint tool, painter's tape and drop cloths.
"You can save even more money on paint by buying five-gallon buckets (around $140 each) instead of single gallons ($35 each)," he added.
Add Curb Appeal With Landscaping
Attractive landscape design can increase your home's value by up to 20%, according to Bob Villa. But how much you invest will depend on whether you hire a professional, or take on this project yourself.
"A professional landscaper will easily charge $150 to $200," said Stanford.
Cost to Do It Yourself
In only a few simple steps, you can make the front of your home look more appealing.
"First, trim and shape all plants, bushes and shrubs," said Stanford. "The only cost for this step is a $20 to $30 pruner. Add pops of color with small, ground cover plants. You can buy these plants at a nursery for $7 to $10 each. A $20 shovel to dig holes is also needed. By simply cleaning up a few areas and adding color, you can transform your front yard. Aside from investment of time, your total cost can range $60 to $80, depending on the number of plants."
Apply For a Personal Loan
Rearrange Your Furniture
"You can frequently alter the appearance and feel of a space dramatically by merely rearranging the furniture," said interior designer Amira Johnson of Emerald Doors.
If you do want to hire professionals to move the furniture within your home, you should expect to pay at least $200 for two hours of service, according to HomeAdvisor.
Cost to Do It Yourself
Johnson said that making minor changes to a room's layout can make a major difference in how it looks.
"For instance, if the first thing you see when you walk into your living space is the back of the sofa, that large piece of furniture cubes visitors," she said. "Just moving the couch into the opposite wall can create a new focus, improve traffic circulation and make the room appear more inviting, all at the same moment. And best of all, it costs absolutely nothing."
With this free DIY project, make sure you can lift heavy objects or that you have someone who can to help you.
Repaint Your Front Door
"Painting a front door can have a substantial impact on a home's sale price," said Johnson. "While cool, neutral colors such as tan and light blue are favorites, we're seeing a notable change in home design where pops of color, particularly in darker hues of blue, grey and even black, are becoming ever more popular."
If you hire a pro for this project, expect to pay $100 to $300 on average — although ornate entries with sidelights can make the cost double, according to HomeAdvisor.
Cost to Do It Yourself
You'll need approximately one quart of paint to paint a single exterior door, according to the DIY Network. Be sure to purchase paint that is intended for outdoor use and can withstand the elements. The Home Depot sells paint specifically for front doors for about $40 a quart.
Apply For a Personal Loan
Wallpaper an Accent Wall
"Wallpaper comes in a huge variety of patterns, some of them far too complex to reproduce with paint. It also makes a durable surface that can be easier to clean than a painted wall," said Johnson. "When you're on a budget, papering a whole room usually isn't your best option, but wallpaper can have a place in a budget renovation. You can make a significant impact with just a small amount of paper by using it to emphasize a small area."
The type of wallpaper you use and the amount you use will affect the final cost, but it typically costs between $283 and $722 to have wallpaper installed by a professional, according to HomeAdvisor.
Cost to Do It Yourself
To keep costs low, stick to a wall that you can cover with a single roll of wallpaper. The cost per roll will depend on the material: vinyl-coated wallpaper costs an average of $40 per roll, coated-fabric wallpaper costs as much as $80 per roll, paper-backed vinyl wallpaper costs an average of $45 per roll and fabric-backed vinyl wallpaper costs an average of $45 to $75 per roll, according to HomeAdvisor.
Dan Ketchum contributed to the reporting for this article.
Disclaimer: Prices included in this story are estimates, and actual costs might vary.