I'm a Real Estate Agent: These 4 Interior Design Choices Are Hurting Your Home's Value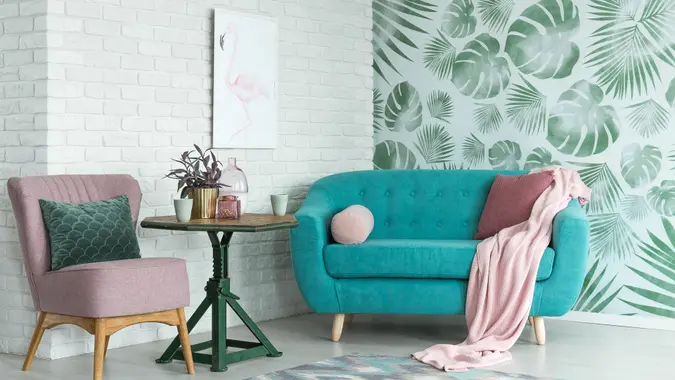 KatarzynaBialasiewicz / Getty Images/iStockphoto
If you are a homeowner with a flair for flair, you might think you're adding to your home's value with every new eccentric choice. Flashy wallpaper with outlandish designs. Ornate lighting fixtures with funky bulbs. Shag carpet that harkens back to another era. After all, adding these fun little touch-ups and style choices will only add to the overall value of the house once it becomes time to put it on the market…right?
Interior design choices play a significant role in the value of a home, even if it's just a perceived value by the market. Big design choices inside your house could potentially draw in new buyers. They could also sour them from making an offer, which has the potential to start a chain reaction of lower offers than you'd like on your home.
Therefore, it is important to be as mindful as possible of design elements that may not align with the tastes and preferences of the general public. What you might find unique and charming, a broader audience will find unappealing. Personalization can make a house feel like a home, but striking a balance that allows buyers to envision their own style in the space is critical.
Before you go any further with home decor and interior design updates, take a step back and get some advice from someone who has been in the real estate game for a while. Michael Branson is the CEO of All Reverse Mortgage, with over 40 years of experience in the real estate industry. Branson shared some examples from his career of interior designs that didn't add to the price of the home he was trying to sell, but instead, hurt the overall value. He also shares some tips for how you can upgrade your home with idiosyncrasies that won't sink it on the market.
Here are four interior design choices that are likely hurting your home's value, according to a real estate expert.
Crazy Wall Designs
"While vibrant and unique wall colors might reflect your personal style, it's essential to remember that not every potential buyer will share your taste," said Branson. 
"Wild or crazy-colored walls can often deter buyers as it might require them to invest additional time, effort, and money into repainting," he explained. "A neon green or bright pink wall can also make it difficult for potential buyers to imagine themselves living in the space, thus reducing the appeal of your home. Therefore, if you're planning to sell, consider neutralizing any bold color choices to create a versatile palette that can cater to a wider array of buyer preferences."
Outdated Fixtures and Finishes 
"Another interior design choice that can negatively impact your home's value is outdated fixtures and finishes," shared Branson. "Old, worn-out light fixtures, faucets, and hardware can make a space feel dated and unappealing to potential buyers. These small details may seem insignificant, but they play a significant role in creating a cohesive and updated look for your home."
He recommends that "if you're planning to sell, consider updating these fixtures and finishes to give your home a more modern and appealing feel."
Cluttered or Overcrowded Spaces 
"While it's essential to showcase the potential of your home through furniture and decor, it's equally important not to overdo it," noted Branson. "Cluttered or overcrowded spaces can make a room feel smaller and more chaotic, making it seem unwelcoming and uninviting to potential buyers."
"So, instead, opt for a minimalistic approach when staging your home," he suggested. "Clear out any unnecessary furniture or decor pieces and create open, airy spaces that allow potential buyers to envision themselves living in the space comfortably."
Lack of Natural Light 
"Natural light is highly sought after in homes as it can make a space feel brighter, bigger, and more inviting. So, if your home lacks natural light, it can significantly impact its value and appeal to potential buyers," Branson said.
"To make the most of the natural light in your home, consider removing heavy drapes or blinds and replacing them with lighter options that allow more light to filter through. You can also strategically place mirrors around the house to reflect natural light and create a brighter atmosphere," he recommended.
More From GOBankingRates