Is Buying a House in the Next 5 Years Realistic?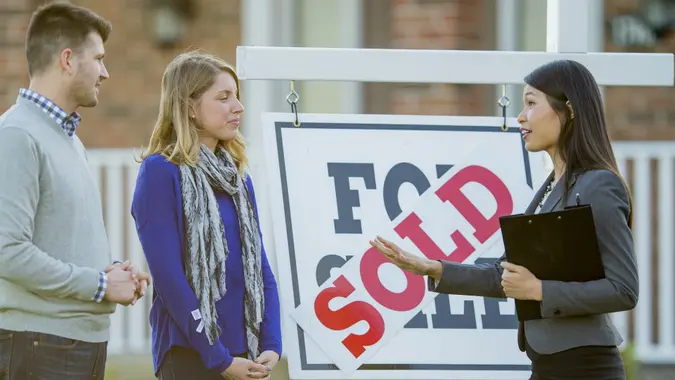 FatCamera / iStock.com
Owning a home has been part of the "American dream" for many. But with stubborn inflation, a difficult housing market, short supply and soaring rates, this dream has been placed on hold for many would-be homeowners.
Yet, becoming a homeowner remains a goal for some Americans: A new GOBankingRates survey found that 26% of them want to buy a home in the next five years.
While it's difficult to predict how the housing and economic landscape will look in a few years, the path to homeownership and ensuring you're financially ready will still entail a lot of planning, as there are several factors you should take into consideration before making the jump. But with a longer timeline to prepare, would-be homeowners can also address — and fix — what is hindering their dream.
The top reasons Americans cited for holding them back from buying houses now are high mortgage rates and not being able to find a house they like in their price range.
So, against this backdrop, is buying a home in the next five years realistic?
It Doesn't Have To Be Your Forever Home
"We should remember that buying a home is almost always an expensive endeavor," said Bobbi Rebell, founder of Financial Wellness Strategies and author of "Launching Financial Grownups: Live Your Richest Life by Helping Your (Almost) Adult Kids Be Everyday Money Smart."
"It is human nature that the house we really want is always just a smidge out of our reach. Think carefully about what you might be willing to compromise if you really want that house. Think of it as your realistic-right-now home rather than your forever home. Buy something you can live with now, and maybe fix up or trade up from later."
Take Our Poll: Are You Planning To Buy or Sell a House This Year?
Pay Down Your Debt
While experts agree that buying a home in the next five years is feasible, there are many steps prospective buyers should take in the meantime.
First, you should be 100% focused on paying down your debt, building an emergency fund and increasing your down payment, said Jay Zigmont, Ph.D., CFP, founder of Childfree Wealth. Paying down your debt is not only going to put you in a better place to buy a house, but it also will increase your credit score, he said.
"The challenge is that no one knows what the housing market is going to look like in two to five years," Zigmont said. "If mortgage rates keep rising, eventually house prices will have to settle and/or come down for housing to be affordable. The problem is that in many areas there is very little supply, which raises rates."
In addition, he noted, people who have locked in low mortgage rates are going to be reluctant to move until mortgage rates and prices settle, which could be a while.
"Remember, renting is not a bad thing," he said. "My wife and I just put our house up for sale and are planning on renting for the foreseeable future. Renting allows more flexibility and can get you out of the homebuying fever."
Save for a Down Payment and Other Costs
Another step to get there in a few years is by starting to save for a down payment. As the GOBankingRates survey found, 19.6% of Americans said this was holding them back.
Yet, there are also several other associated costs that are often overlooked.
"Many first-time homebuyers are so focused on saving up for their down payment that they overlook the other expenses that come along with the process," said Kendall Meade, certified financial planner at SoFi.
For example, closing costs can be anywhere between 3% and 5% of the purchase price, and there are other expenses, such as inspections, that will need to be paid for out of pocket.
"Saving an additional 1% of the purchase price can help you prepare to pay these costs," Meade said, adding that there may be other expenses such as moving and furniture.
As a rule of thumb, financial advisors recommend that buyers spend no more than 28% of their gross monthly income on housing expenses, which include mortgage payments, property taxes and home insurance — known as the front-end debt-to-income (DTI) ratio, explained Andrew Latham, certified financial planner and director of content of SuperMoney.com. 
Improve Your Credit Score
Finally, the longer timeline to achieve this goal can enable you to improve your credit score — a crucial aspect of homebuying. This is one of the top factors hindering homebuying, as 18% of Americans said their credit scores were too low, according to the GOBankingRates survey.
"Buying a house is a significant financial commitment," Latham said. "And prospective buyers should start by working on their credit scores, as a higher score can lead to better mortgage rates."
As CNBC explained, while it's possible to get a mortgage with a credit score of 669 or lower, you'll probably be stuck with a higher interest rate.
"A few extra percentage points can cost you thousands of dollars over the life of the loan and decrease your buying power," according to CNBC.
It's also important to know that a conventional loan requires a minimum credit score of 620, while government-backed loans typically have more lenient credit score requirements, according to Rocket Mortgage. If you have a credit score lower than 500, it might be difficult to get a mortgage and you probably will need to focus on increasing your score first.
More From GOBankingRates