11 Key Signs Your Home Will Hold Its Value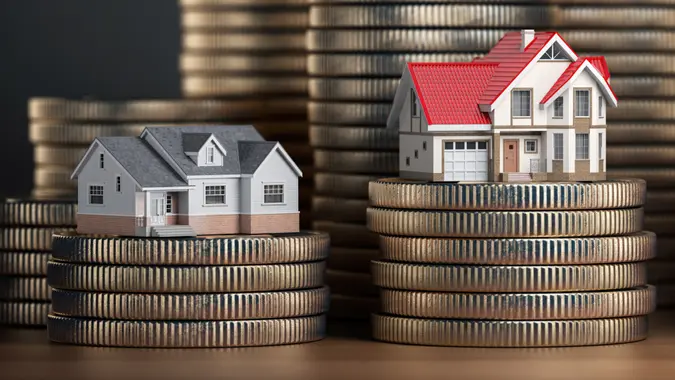 Bet_Noire / Getty Images/iStockphoto
According to a recent Zillow report, the average home value in the United States rose by 6.3% in 2022 and is expected to continue increasing for the foreseeable future.
This is great news for any current homeowners thinking about putting their property on the market.
But property prices being on the rise doesn't mean every home will benefit from this trend. Quite a few factors can affect whether a specific property will either increase, decrease or hold its current value in the market.
Here are the top signs that your home will keep its value.
Properties in the Neighborhood Are Selling Quickly
"The No. 1 sign your home will keep or increase in value is the speed at which other similar nearby properties are selling," said Mark Severino, a real estate investor in Dallas and owner of Best Texas House Buyers, LLC.
If other homes in the area don't remain on the market very long, this is a good sign for your property.
"Low days on market statistics show buyer demand," Severino said. "People wanting to buy houses in your area keep property values high."
There's Decreasing Inventory In Your Area
"One key sign that your home will keep its current value is that inventory in your area is low and it continues to go down," said Sebastian Jania, the owner of Ontario Property Buyers, a real estate solutions and investment company.
When there's a limited supply of something, that often equates to increased demand. This can lead to increased property values or, at the very least, it can be a sign that your home isn't going to lose value any time soon.
Your House Feels Like a Home
Something many prospective buyers look for when shopping around for a home is aesthetic appeal. If your property looks and feels like a home, there's a higher chance they'll want to buy it — and it is likely that your home is going to at least maintain its current value.
"Most homebuyers are looking for just that: a home," Severino said. "Therefore, the purchase is based on emotion, which is highly persuaded by first impressions. Small improvements like paint and lighting have an exponential return when selling a house."
You've Been Keeping Up With the Maintenance
A home that looks outdated and needs significant repairs or renovations might drop in value or sell for a lower price. But if you've been keeping up with the essential maintenance and repairs on your home, chances are it'll at least hold steady.
It's important to keep up with "things such as maintenance, yard work and … modern styles on the interior," Jania said.
If you want to boost the value, Jania suggested doing some strategic renovations inside the house and improving its curb appeal.
Other Homes In the Area Are Maintaining Their Value
"An important factor to consider is the value of neighboring homes," said Joshua Findlater, managing director of Landlord Vision. "If the houses in your neighborhood are also holding their value or even increasing in worth, it's likely that your home will follow suit. A stable and appreciating market is generally indicative of a property's ability to maintain its value over time."
Your Home Has Trendy or Modern Features
While you can't control everything about where you live — such as the quality of the educational facilities or the crime rate — you can help ensure your home holds its value.
Matt Lucido, founder at Yardsworth, said, "Staying on top of what is trendy for homeowners will ensure your home keeps its value. This includes energy-efficient home features, functional systems (plumbing, HVAC, etc.) and the condition of the interior of your home. The upkeep of flooring, walls, fixtures, etc., will all help."
You Have a Finished Home With Lots of Living Space
Having a finished home with a significant amount of usable living space can help maintain or even increase the property's value.
"This could involve finishing a basement, converting an attic into a bedroom or even adding an extension if feasible," Findlater said. "By increasing the square footage of your home, you not only enhance its functionality but also increase its market value."
Your Area Is Experiencing High Growth or Demand
According to Jania, another sign that your home will maintain its current value is "that there are fundamental catalysts that keep your area in high demand, such as immigration or job growth."
If you live in a city or neighborhood with significant growth, you're likely to see an influx of people moving to the area. With more people comes an increase in demand for housing — and stable (or higher) property values.
Your Home's Roof Maintains Its Structural Integrity
"When considering the factors that influence a property's value, many tend to focus on the visual aspects like curb appeal and the house's aesthetics," said Austin Glanzer, owner of 717 Home Buyers. "While these elements indeed contribute to value, there's a deeper layer at play. Often, the key to maintaining your home's value aligned with market rates lies not in the visible, but the concealed aspects and the overall quality of living within your space."
One such area is the roof's structural integrity.
"Amidst the allure of interior aesthetics, the structural integrity of your home's roof is paramount," Glanzer added. "Even if your roof doesn't require major repairs, obtaining a roof certification can be a valuable move. This certification assures potential buyers that your roof is well-maintained and free from hidden issues that might diminish the property's value."
You're in a Desirable Location
"Location is the most important component to value, especially if there is a unique component like water frontage, view, lot size, etc.," said Erin Sykes, chief economist and real estate wealth advisor at Nest Seekers International.
"A neighborhood that is located in an appreciating, growing location with obvious infrastructure improvement[s] will give you the best opportunity for return on investment."
Your Home Has What Buyers Value
When it comes to determining what buyers value, there's no one-size-fits-all answer. However, if your property has what's currently in demand, it's more likely to hold or increase in value.
"Research the conforming homes in your neighborhood," Sykes said. "What do buyers value most in that location? A backyard? Pool? Oversized kitchen? Finished closets? Take buyer preferences into consideration and tailor your sale to match these expectations."
More From GOBankingRates