6 Key Signs Your Neighborhood Is in Decline (And When To Sell Your House Before It's Too Late)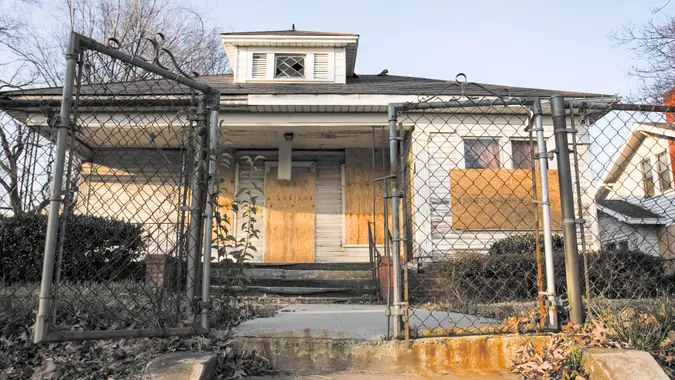 Skyhobo / Getty Images
The moment you move into a new neighborhood, it can start to feel like home — the perfect place to raise your family. But as time passes, you may notice signs of decline in your neighborhood that could be warning signs for homeowners. From increasing crime rates and decreases in property values to businesses shutting down and broken streetlights, these are all indicators that your once-idyllic neighborhood might not be what it used to be. And worse still, it might be time for you to consider selling before things get even worse.
Here are 6 telltale signs indicating it's time to get out of your neighborhood.
Properties Aren't Maintained
Have you started noticing a trend of your neighbors not keeping up with basic maintenance around their homes? Does the lawn go weeks without being mowed? Have they stopped planting flowers in the spring? While the homes around you might have once done an excellent job maintaining everything, that might not be the case anymore.
This is a major red flag, since they may no longer care and want to move. It can also have a severe impact on the value of your home.
Increased Number of Police Cars
Have you noticed an increased number of police cars driving around your neighborhood? This could indicate that crime is rising, and they're trying to prevent additional problems.
​​"Property crimes like vandalism and theft, as well as violent offenses, signal a decline in law and order, eroding the sense of safety and security among residents," said Teddi Schill, founder of Raleigh Area Property Group.
Property Values Are Dropping
If you've ever spent time on Zillow, you've probably checked out the Zestimate for your house and others in your neighborhood. While this number isn't always accurate, it will give you a good idea of what's happening to nearby home values. If you notice that values are staying flat or decreasing, yet the rest of your city is experiencing price appreciation, this could be a bad sign.
"A decline in property values is a more subtle, yet equally concerning, sign of neighborhood decline," said Schill. "As the overall desirability of the area diminishes, so does the value of homes, making it difficult for residents to sell or refinance their properties."
Keeping track of property values isn't very difficult, but it takes a little work. Pick a couple of houses on each block around your own. Every month, write down what its estimated value is. This will help you understand the direction in which things are moving.
Drop in Home Ownership and Rise in Rentals
If more and more homes in your neighborhood are becoming rental properties, this can be a negative sign for the neighborhood as a whole. Renters don't always look at their homes like an owner does. They don't have anything invested in the home. Renters tend to do less maintenance and upkeep to the home while living there. This can have a negative overall impact on the homes around it.
It's also important to notice if there have been recent foreclosures in the neighborhood. Most people who face foreclosure stop maintaining their homes like they might have previously. Foreclosures will also reduce property values due to lower comparables.
Long Vacancies
If a home in your neighborhood has been on the market for quite some time, it can mean a couple of different things: Something is wrong with the home, or people are hesitant to move into the neighborhood. The longer a home is for sale, the harder it will be to sell for a desired price. The result will be lower property values for everyone in the neighborhood.
Exodus of Businesses
If businesses struggle to stay open and begin moving out of the area, this can be a bad sign. While some instances can be due to other factors, it's something to watch.
"A noticeable exodus of businesses, particularly those that cater to families and contribute to a vibrant community atmosphere, clearly indicates that your neighborhood is losing its appeal," said Schill. "Empty storefronts and boarded-up businesses paint a bleak picture of a neighborhood on the downward spiral."
The Bottom Line
Everyone wants to live in a highly desirable neighborhood where we feel safe and have access to amenities like shopping malls, grocery stores and entertainment. However, it might be time to think about moving if you start noticing red flags.
"If you notice two or more red flags in your neighborhood, it's time to take action," said Schill. "Engage with your neighbors, raise concerns with local authorities and actively participate in community revitalization efforts. Remember, a neighborhood's fate lies in the hands of its residents."
More From GOBankingRates