5 Key Signs You're Ready To Buy Your Next Home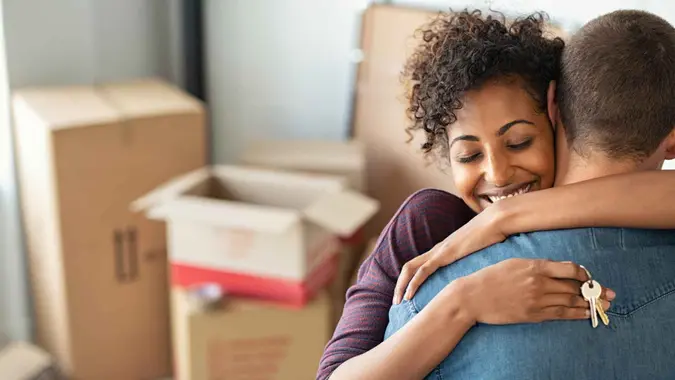 Ridofranz / Getty Images/iStockphoto
Whether you're downsizing, upgrading or relocating, moving to a new home from one you already own is much more complex than buying a house for the first time. The fundamental requirements don't change — good credit, proof of income, bank approval, etc. — but playing the role of both seller and buyer brings a whole new set of considerations.
Here are the signs that you know you're ready to sell your house and buy a new one.
Sign No. 1: You've Answered 6 Critical Questions
Mila Sheina, real estate broker and team manager at The Spring Team of REAL Broker Ontario Ltd., specializes in upsizing. She's developed a four-step process for determining if her clients are prepared to buy their next homes. The first step is to assess their emotional and lifestyle readiness.
"To discern this, I ask my clients the following questions," she said.
"Is selling your home a genuine necessity?"
"Are you nearing retirement?"
"Do you have a clear post-sale investment plan?"
"How is your current living situation? Are you facing conflicts with your partner over lack of space?"
"Are you unhappy with your current commute and looking to be closer to work?"
"Is your child's education a concern, prompting a desire for a better school zone?"
"These questions offer insight into their motivations, aiding us in tailoring the search for their next home more effectively," Sheina said. "While the market does play a role, I like to remind my clients that this should be a lifestyle decision — unless the primary driving factor is financial returns."
Sign No. 2: You Know the 4 Possible Scenarios and How They Could Affect Your Move
Once she determines her clients are ready to move and are moving for the right reasons, Sheina ensures they understand the four ways the transition can play out and how those scenarios can affect them, depending on whether they're upsizing or downsizing.
The first scenario is selling and buying in a hot market.
"This is typically unfavorable for upsizing due to the growing difference in home prices, or delta, between the homes," Sheina said. "It's reversed when downsizing."
The second is selling in a hot market and buying in a slower market, which Sheina calls "generally favorable."
The third is selling and buying in a slow market.
"That's favorable for upsizers due to the delta, as in the first scenario," Sheina said. "Reverse for downsizers."
Fourth is selling in a slow market and buying in a hot market, which seldom provides a good outcome in any situation.
You can't be ready until you understand these possible outcomes — but not because you'd be wise to try to play them in your favor.
"Timing the market isn't advisable," Sheina said. "But aligning our strategy with the market trends is prudent."
Sign No. 3: You've Assessed Your Financial Readiness
Sheina's next step is to evaluate her client's level of financial preparedness, which is a two-step process.
The first order of business is to find out how much of their home they own outright.
"Calculate home equity by subtracting the remaining mortgage from the current home value," said Sheina, who recommends consulting a realtor for that step.
The second task is to determine affordability.
"This involves experimenting with down payments and purchase prices to arrive at a monthly carrying cost," said Sheina, who created her own affordability calculator. "Base your budgeting decision on the carrying costs figure."
Sign No. 4: You've Conducted a Thorough Market Analysis
The last part is to make sure your location of choice matches your budget.
"Now equipped with their home's value, remaining funds post-sale and a comfortable monthly budget in today's market, they are poised for the final step," Sheina said. "Examine recent sales within your preferred area and budget from the past 30 to 60 days. Adjust depending on market activity. If you can identify at least five suitable sales within this timeframe, it's a sign you are ready. Otherwise, you should consider waiting or re-evaluating your preferred location, budget or expectations."
Sign No. 5: You Have a Plan for Managing the Interim
The residential purgatory between selling your current house and moving into your new one can temporarily stick you with two mortgages and nowhere to live. You're not ready until you have a plan for managing this difficult, extended and potentially expensive time.
Strategic Timing for Selling and Buying Concurrently
One strategy is to align the sale of your current home with the purchase of your next one. It's never easy and often isn't possible.
"This requires careful market analysis to determine when the demand for homes in your area is high, potentially leading to a quicker sale at a favorable price," said Ritika Asrani, head broker and sole owner of St Maarten Real Estate. "Coordinating this with the purchase of your new home can help minimize the time you spend in temporary housing and reduce the need for multiple moves."
Bridge Loans and Contingency Clauses
Nailing the perfect timing needed to make concurrent transactions work is no easy feat. If that's not an option, consider bridge loans and contingency clauses.
"A bridge loan can provide short-term financing to cover the period between selling and buying, helping you avoid the pressure of synchronizing both transactions perfectly," Asrani said. "Additionally, contingency clauses in your purchase offer can give you the flexibility to proceed with the purchase only if you successfully sell your current home within a specified timeframe."
Lease-Back Arrangements and Seller Rent-Backs
In some scenarios, it could make sense to negotiate a lease-back arrangement with the buyers of your current home.
"This means you'll temporarily lease your sold property from the new owners, allowing you more time to find and close on your new home without rushing," Asrani said. "On the flip side, as a buyer, you could explore the option of a seller rent-back, where you allow the sellers of the home you're purchasing to stay for a short time after closing, giving you a smoother transition period."
More From GOBankingRates