I'm a Licensed Realtor: 5 Shady Bait and Switch Tactics from Homesellers To Avoid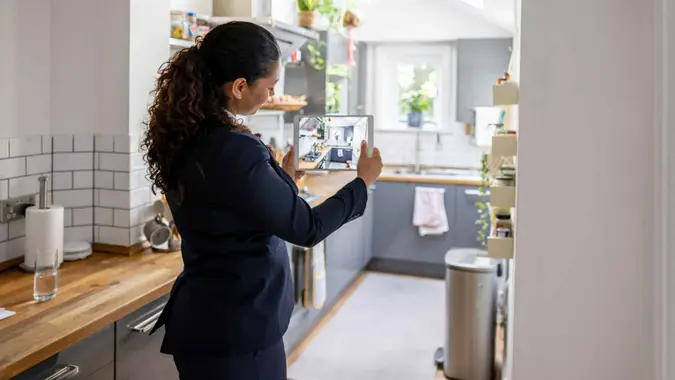 andresr / Getty Images
If you're in the market for purchasing a home, you've likely done plenty of research on everything from mortgage options to negotiation tips on trying to close a property. There's plenty of time required to learn about the real estate market so that you're aware of what you're getting into.
There's one topic that you may not have studied, and this is the idea of home sellers who use shady bait-and-switch tactics to try to close the deal. As exciting as it is to try to purchase that dream home, you don't want to become a victim of one of these tactics because they could cost you thousands of dollars in the future while leaving you frustrated. 
What shady bait-and-switch tactics do home sellers use that you should try to avoid?
Not Disclosing Information About Issues
"Sellers will often try to strategically forget certain information about issues that they feel would hurt the chances of selling the home," commented Chris Craddock, an experienced real estate agent.
A common tactic from home sellers is that they'll neglect to share key details about necessary repairs. However, that isn't all that isn't disclosed. 
The issues that don't get disclosed can be any of the following:
A problem with the roof.
Bad neighbors or trouble in the neighborhood. 
A new burst of crime in the community. 
Future changes in the community that could decrease the property value. 
What makes this even worse is that during bidding wars, many homebuyers will forego home inspections, so they may not find out about these issues until it's too late. 
How can you avoid this tactic?
The best course of action is to always opt for the home inspection before making an offer or closing the deal. You also want to take the time to go through real estate websites and databases to provide you with more information about the community. You can explore Redfin, join local Facebook groups, and try to find a realtor with local expertise. 
This leads us to the next point.
Material Latent Defects
"There are sometimes serious defects that the seller will cover up," shared Craddock when discussing the concept of material latent defects. What makes matters worse is that these defects may not be spotted through a basic home inspection, and they could be expensive to repair in the future.
Craddock referred to issues like leaks and mold that could be hidden during a basic home inspection but become costly in the future. 
How can you avoid this tactic? 
"You can try to contact an insurance agent to check if any claims were filed on the house before you buy it," noted Craddock. "If they had a flood and went through their insurance, the company will register it. This could indicate that there are potential issues with mold and other damage that isn't visible during a walk-through."
Craddock also suggested trying to talk to the neighbors to get the house's history and the community's overall vibe. You never know when a quick conversation could help you avoid potential headaches down the road.
Even though sellers know they have to disclose defects legally, there will still be scenarios where someone tries to omit essential information. The good news is that you still have a few options for protecting yourself. 
Pretending That Features Come With the Deal
"Some sellers may pretend like that feature comes with the home, or they may even verbally acknowledge it," Craddock noted about high-ticket appliances and random items that don't come with the deal.
"If you realize on closing or on the move-in date that the item isn't there anymore, this won't help you because it's too late most of the time."
Some home sellers will have high-end items around during the viewing that they imply will come with the deal, but they don't. Craddock listed some popular examples, including a hot tub, an entertainment set, or even an expensive piece of furniture. 
How can you avoid this tactic? 
Craddock said, "You have to ensure that you have confirmed in writing that the item you want is included with the deal."
It's important to remember that homes are often staged to look better for the presentation. If you want to ensure that the deal comes with an item, you must get it in writing. You don't want to move into a home for the hot tub only to find out it wasn't a part of the deal. 
"You could go the extra step and get the serial number written into the deal," Craddock further elaborated. It depends on how contingent your home purchase is on this item being included in the agreement.
Listing a Higher Square Footage
While it's possible to make a mistake when measuring a home, a common shady tactic involves purposely exaggerating the square footage of a unit.
The square footage is a key detail because it impacts your insurance rates and mortgage. Some home sellers won't use the accurate square footage to close the property. 
How can you avoid this tactic?
There are various options for finding the accurate square footage of a home. You can perform a property records search with a site like Zillow, or you could contact the county property appraiser. You could also measure it yourself or have someone do it for you so that you have the correct information. 
Not Getting Everything In Writing
"If you don't have it in writing, it doesn't count," according to Craddock, who has seen his fair share of issues on closing dates.
This is the final tactic because getting everything in writing is essential when closing on a property. Some sellers will use the shady tactic of verbally agreeing to multiple concessions without any plans of following through. They get away with this by not writing the verbal agreements into the contract. 
How can you avoid this tactic?
It's vital that you have every detail written into the contract by working with a trusted real estate lawyer. 
Closing Thoughts
While you could have a legal case if you can prove any of these shady bait-and-switch tactics from a home seller, you'll likely want to avoid the entire scenario by spotting these shady tactics in advance.
Since purchasing a property is likely to be the largest purchase of your life, it's crucial that you take the time to educate yourself on possible nefarious tactics.
More From GOBankingRates