Housing Market 2023: 14 Signs You Should Walk Away From a Real Estate Deal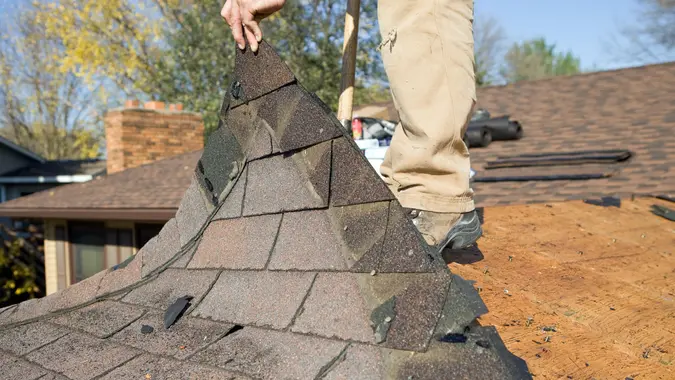 BanksPhotos / Getty Images/iStockphoto
Housing inventories have been dwindling since the summer, reducing inventory of available homes for sale. This can create pressure in buyers and lead to feelings of desperation to buy now.
However, making decisions about possibly the biggest purchase you'll ever make should never be done from a place of desperation. Before you bite on a home or simply jump at what's available, consider the following 14 warning signs of real estate deals you should walk away from.
Structural Issues
If there are any indications of foundational problems, "including cracks in the walls or floors, doors that don't close properly, or uneven flooring," these should be taken seriously, according to Lenka Fridrich, a real estate agent and owner of  Italica Homes. "These issues can be incredibly costly to fix and might render the home unsafe." It might just be better to walk away.
Mold or Water Damage
Mold and water damage not only pose health risks, but can also be expensive to remediate, Fridrich said. To find evidence of these hidden menaces, look for "discoloration, musty odors, or evidence of past flooding." Too much of this can be a deal breaker.
Aging Roof
Roofs have a finite lifespan, Fridrich said. So, "If the home's roof is nearing the end of its useful life or showing signs of significant wear, you could be looking at a hefty replacement cost sooner than expected." This added cost may not make it worth your while to purchase the home.
Outdated Electrical or Plumbing Systems
"Old electrical panels or plumbing materials like lead or galvanized pipes can be both a safety hazard and a major expense to upgrade," Fridrich said. You'll have to ask yourself if it's worth the expense, but for many people the additional cost is just too great.
Undisclosed Property Defects
Sellers are legally obligated to disclose any known defects or issues with the property, according to Joshua Martin, Realtor and owner and Founder of Atticus Home Buyers. "If a buyer discovers undisclosed problems during inspections, it may be a red flag and a reason to reconsider the purchase," he said.
Unresolved Legal or Permit Issues
Buyers should also ensure that the property has all necessary permits and is in compliance with local regulations, Martin said. "Unresolved legal or permit issues can lead to complications and potential expenses down the line." This is where your real estate agent comes in handy — they should be able to tell you if everything is above board.
Title Issues
Any disputes over property boundaries, liens against the property, or unclear ownership should be clear red flags, Fridrich urged. "A clean title ensures that you're buying the property without any attached legal baggage."
Unreasonable Seller Demands
Negotiations should be fair and reasonable, Martin said. "If sellers are making unrealistic demands or unwilling to negotiate on significant issues, it may be a sign that the transaction won't proceed smoothly."
Pest or Termite Infestations
If you discover creepy crawlies like termites or rodents, you may want to turn right back around. Fridrich said, "Active infestations can cause structural damage and may also be an indication of underlying issues like water damage."
Major Renovation Needs
If the house requires extensive renovations to be habitable or to bring it up to current standards, you need to be sure you're prepared for the time, money and stress that entails. For many people this is a deal breaker — they want a house they can move right into.
Environmental or Climate Concerns
Being located in a flood zone, near a landfill, or in areas known for natural disasters might lead to higher insurance premiums and potential risks to safety and property value, Fridrich warned. For example, in California, some insurance companies are saying they will no longer insure some homes in areas prone to wildfires.
On a related note, while many homebuyers focus on the general climate of an area, it's essential to delve into microclimate details, said Ritika Asrani, real estate agent and owner of Century21 St Maarten Real Estate. "Certain neighborhoods may have peculiar weather patterns influenced by geographical features. For instance, a property nestled between hills might experience more intense frost during winters or unique wind patterns. Understanding these microclimate nuances can impact not just your comfort but also maintenance costs over time."
Unrealistic Price
If you find a home where the price is sky-high with no room for negotiation, Willie Smith, a real estate professional with Smith and Associate Real Estate Solutions, suggested it's best to move on from this situation. "It's like paying for a sports car when you're shopping for a sedan."
Low Appraisal
When a home's appraisal value comes in below the purchase price, it's a clear indication you might be overpaying, said Josh Hudson, licensed real estate agent with Wainwright Real Estate. Not only might this reveal the price isn't right, but it can also affect your financing options, Hudson said.
Deal Too Good To Be True
Alternately, if the location is a prime spot but the price is less than the price in the market, you might have a problem, according to Kelly Sollinger, owner of Georgia Fair Offer. It can be a total scam or there is a story (that will give you tons of headaches) behind the property. Do your research to ensure that the transaction is secure before you decide to buy.
More From GOBankingRates