A Look at the Direction of Home Interest Rates in 2021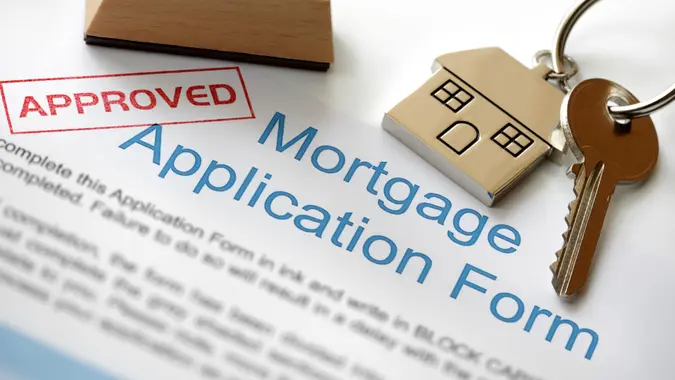 BrianAJackson / Getty Images
If you're thinking of purchasing a new home or refinancing your existing one, you're likely keeping a close watch on home interest rates. The COVID-19 pandemic caused mortgage rates to reach record lows, but things are looking up — for lenders, that is.
Support Small: Don't Miss Out on Nominating Your Favorite Small Business To Be Featured on GOBankingRates — Ends May 31
GOBankingRates analyzed the Federal Reserve Bank of St. Louis' weekly average mortgage rates for both a 15-year fixed-rate mortgage and a 30-year fixed-rate mortgage from Jan. 1 through April 29, 2021. The data revealed a slow, but sure rise in rates.
Specifically, the average weekly 15-year fixed-rate mortgage was 2.16%, as of Jan. 7, rising to 2.31% on April 29. During the same time period, the average weekly 30-year fixed-rate mortgage increased from 2.65% to 2.98%.
Discover: All You Need To Know About the Economy and Your Money
Despite the slight increase, Jess Kennedy, co-founder and COO at Beeline, an online mortgage lender, said there's no need to panic.
"As we see many states exploring this 'new normal' many might think that the housing market, and therefore rates, will jump up again," she said. "While it's more likely that low rates will stick around — which is good news for a lot of us and backed by recent murmurings from the Federal Reserve — there's still a few bumps in the road that might have you looking to lock a rate now."
Despite the relatively low-interest rates, Kennedy warned that buyers should be aware of the limited housing inventory that is causing home prices to rise.
However, Michael Foguth, founder of Foguth Financial Group, based in Brighton, Michigan, said not to let a competitive housing market dissuade your search.
In the News: IRS to Send Supplemental Stimulus Payments to 2020 Tax Filers
"It is absolutely a good time to take advantage of the current interest rates," he said. "Anytime you can lock in a historically low rate for as long as possible, the better off you'll be."
"Yes, home prices may be at all-time highs, however, borrowing is at all-time lows," he said. "These will offset themselves, making it a great time to purchase a home and lock in a low interest rate for 30 years."
Not only can low rates make it an ideal time to purchase a new home — it can also be the perfect opportunity to refinance your existing property.
Lauren Anastasio, a certified financial planner at SoFi, said since mortgage rates are still close to all-time lows, it can be a good idea to refinance your home. However, she warned refinancing isn't necessarily the best move for every homeowner, so take the time to make sure it's right for you.
Find Out: 10 Best Cryptocurrencies To Invest in for 2021
"Oftentimes, it may only make sense to refinance if you plan to stay in your home for a longer period of time and are confident in your current financial position," she said. "If however, you think a relocation or upgrade to a larger home is in your near future, you'll likely want to stick with your current mortgage and save on the closing costs."
Anastasio said other factors, including your current financial position and credit history, should also weigh into your refinancing decision.
"Regardless of where interest rates are, you need to carefully consider where you are financially before thinking about refinancing," she said.
For example, she said it can take years to recoup the expenses associated with refinancing, so if you're planning on moving in the next few years, you might not actually save any money at all.
"A good practice while considering a refinance is to calculate how many months it will take to cover the costs of refinancing so that you can determine how much time you'll need to stay
in your home in order to benefit from this decision," she said. "If the cost of refinancing and taking out the new loan outweighs the potential savings, refinancing may not be the right choice for you."
Read: 3 Alarming Ways Women Are Lagging Behind Men When It Comes to Their Finances
Anastasio recommended asking your lender for a break-even analysis to help you determine how many months it will take to recoup the expenses associated with refinancing.
To get the best rate, she said it's important to weigh your options and shop around to find the best lender for refinancing.
"Going with your existing mortgage servicer may not be the best deal available to you," she said. "Compare interest rates, loan fees, loan repayment terms, and other benefits of at least a couple of lenders to find the loan that fits your needs and budget."
Anastasio said it's also important to make sure your credit score is in a good place, as this is a key factor in determining your new mortgage rate and the cost of your PMI — if applicable. She also advised against taking out any other new credit until you've completed the refinancing process.
"Additionally, it can be beneficial to see what your home is currently worth," she said. "If the value skyrocketed since you purchased your place, this will help you secure a better rate, as well as give you additional options."
Modern Money Etiquette: Should You Pay a Friend Who Does You a Professional Favor?
Ultimately, she said refinancing your mortgage is very similar to the process you went through to purchase your home, so be prepared to put all your financial data on the table.
Current mortgage rates can make the idea of buying a home or refinancing your existing property quite attractive. In some cases, this will be a great financial move for your future, but that isn't always the case, so try not to let the low rates distract from what's best for your unique situation.
More From GOBankingRates
Last updated: May 11, 2021