Majority of Millennials Want To Buy a House Within 5 Years — How To Prepare Now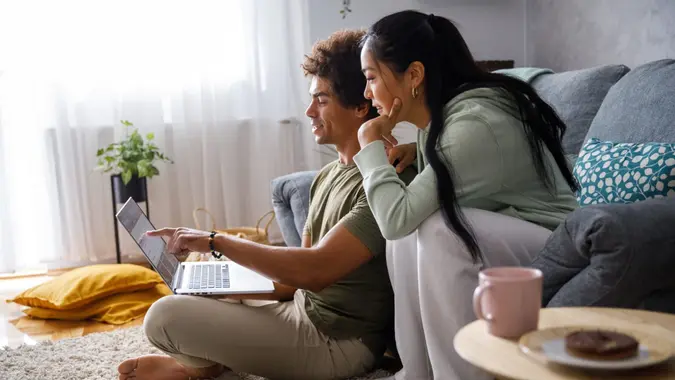 fotostorm / Getty Images
Buying a home might seem like a daunting task for some millennials, as this generation is facing multiple financial obstacles. Many — who already have been through a recession — are also burdened by student debt, facing soaring rates and inflationary pressures, often while starting their families.
Yet, against this backdrop, a new GOBankingRates survey found that 30% of younger millennials (25- to 34-year-old bracket) and 29% of older millennials (35 to 44) want to buy a house in the next five years.
Experts agree that while this is absolutely feasible, there are a few steps millennials can take to start preparing now, as well as factors to consider, in order to avoid ending further financially hampered.
"First, I recommend all prospective first-time buyers start with research. Look into what you can afford to buy and what you can afford to maintain in monthly spending," said J.R. Russell, head of consumer direct lending at Citi.
This can entail thinking about where you want to live and factoring in priorities such as school districts, taxes, whether or not you want a new build, your commute time and other factors that might impact your day-to-day life.
"Then, take a close look at your financial situation including income, savings, credit score, and financial obligations — present and future," Russell said. "Bring this information to experts such as your banker, your realtor, or your financial advisor who can help you understand how to best structure your savings and prepare for this big — and exciting — purchase."
Reduce Debt Now
One important tip to prepare is to reduce current debts first and foremost, as they are eating a percentage of income every month through interest.
While for some they may not seem like a priority, these debts actually reduce how much of a mortgage a bank or credit union is willing to give someone, said Sebastian Jania, owner of Ontario Property Buyers.
"By focusing on reducing this, a mortgage payment will have a smaller impact on your bottom line in the future when the time for home ownership comes," Jania said.  
Student loans are of course top of mind and are the biggest factor keeping millennials out of the housing market, according to Peter C. Earle, economist and former trader, American Institute for Economic Research.
"At present the forestalling effect of debt is likely to be augmented by mortgage availability, where credit tightening due to the Fed's inflation fight and the collapse of a few regional banks this year are at work," Earle said.
Improve Your Credit Score
Millennials should make sure their credit scores are where they need to be to qualify for the best mortgage terms and rates — which is especially true in the current environment, said Christina Roman, a millennial herself, and consumer education and advocacy manager with Experian.
"If you plan to buy a home soon, there are steps you can take now to prepare your credit history. Credit can be a financial tool when used responsibly to increase your chances of qualifying for the best rates and terms when you're ready to apply for a mortgage," Roman said.
Indeed, a new Citi survey on homeownership found that 25% of Americans would be hesitant to begin the process of buying a first home because of low or no credit score.
In turn, Roman recommends getting a copy of your credit report and credit scores three to six months ahead of applying for credit so you can see the risk factors that are most affecting your score.
In addition, she said that before applying for a mortgage, you should limit any activity that may give lenders the perception that you are "higher risk," such as missing payments, increasing your credit card balances or applying for many new accounts in a short period of time.
"It's also a good idea to get prequalified and preapproved for a mortgage when you are ready to start house hunting — knowing what you can afford and what you are likely to qualify for is key to navigating the home ownership process," she added.
Other notable findings of the GOBankingRate survey include that when asked what's holding them down, millennials cited too high of mortgage rates as their top reason, with 34% for the 25-34 age bracket and 36% for the 35-44 group.
Another reason is not finding a house in their price range — 29% and 28%, respectively — as well as their monthly income being too low.
Citi's Russell said he can't stress enough how beneficial it is to lean on experts throughout this process as there are programs to help potential buyers with credit challenges, and there are options for buyers with a limited down payment to get into a home, such as down payment or closing cost assistance programs, many of which are funded locally by nonprofit organizations, municipalities or lenders.
"There's way more assistance available than people think — so take advantage of that," he said.
More From GOBankingRates