The Do's and Don'ts of Buying a Vacation Home With Family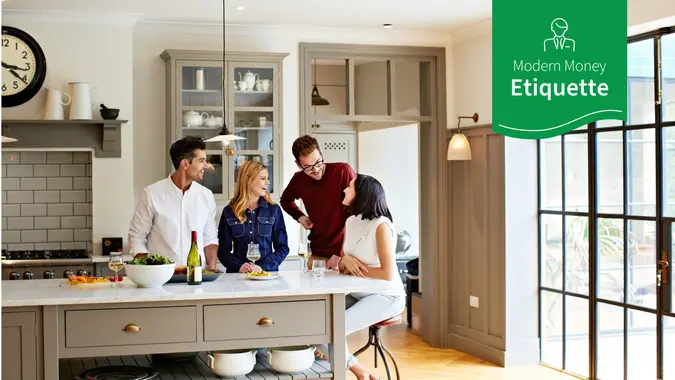 kupicoo / iStock.com
You enjoy getting out of town and relaxing in a certain spot — and so does at least part of your extended family. Whether you're converging on a certain beach town or a cozy mountain village, it's so special to everyone, you're thinking about putting down roots.
Read More: Why Buying Property in These Vacation Destinations Could Be a Great Investment
Take a Look: How Much It Costs To Buy a Home in These Popular Winter Vacation Destinations
This can be a great idea for many reasons, including saving money on lodging. The average daily rate for U.S. hotel rooms from Dec. 26, 2021, through Jan. 1, 2022, was $157.91, according to hotel analytics company STR.
Depending on where you're vacationing and the level of luxury you prefer, there's a good chance your family is paying more than this — and not building equity. Therefore, you're thinking about buying a vacation property with your extended family, so you can reap all the benefits of home when you're away.
Purchasing a vacation property is a major life event and an even bigger deal when you're sharing it with family. Therefore, it's important to really think this through before taking action.
"Buying a joint vacation home with family — siblings, cousins, etc. — is the perfect example of something that sounds amazing in theory and can be disastrous in reality," said Jodi RR Smith, president of Mannersmith Etiquette Consulting, based in Marblehead, Massachusetts. "There are many critical factors to consider and speak frankly about, before even touring open houses."
Important: How To Best Handle These 4 Messy Money Matters That Happen With Family
Steps To Take If You Want To Buy a Vacation Home With Family
First, Smith said you'll need to discuss money matters. This includes the budget, the amount each group will contribute, whose name will be on the deed and what happens if one group eventually wants out or someone passes.
Next, comes the wish list, Smith said. All buyers will need to agree on issues like the type of house, desired number of bedrooms and a plan of action if the house isn't move-in ready — i.e., who is doing the upgrades and who is paying for them.
After that, she said it's time to tackle the sticky stuff. This might include topics like access to the home — Is everyone allowed to be there all the time or will you need to create a reservation system? How will holiday weekends be handled? — a decision on how bedrooms will be allotted, a guest policy, rules on smoking and guidelines for pets staying on the premises.
In this situation, Smith said the tiniest details are up for scrutiny, so everything needs to be discussed. Topics like who cleans the home and how often — and who pays, if you hire a cleaning service — how the kitchen will be stocked, who will be responsible for shared linens and quiet hours if younger guests are visiting should be covered, she said.
"The more of these questions you can answer clearly in advance, the better the chances of everyone enjoying the property and maintaining the relationships," she said. "As the answers to these questions are developed, they should be written down and agreed [to] with signatures."
See: How To Be a Financially Gracious Houseguest When Staying With Friends or Family
She recommended reviewing the agreement periodically to ensure everyone is still happy and address any issues that may arise.
"To best protect everyone involved, it is a good idea to have an attorney — who is not a member of the family — assist with the sale and agreements," she said.
Jennifer Porter, a Seattle-based etiquette expert and customer care coach, has personally been in this position, so she knows firsthand what works and what doesn't.
She echoed Smith's idea of scheduling an annual meeting for all of the home's owners to get together in person or virtually.
"Be sure to give everyone fair 'air time,'" she said.
She also agreed on the importance of putting everything in writing.
"That includes purchase and sale agreements, scheduling, guest and pet policy, as well as chore charts and expectations about how the property will be used," she said. "It is essential to spell out all the details in advance so that everyone's expectations are met."
As for scheduling, she recommended following a "draft-style" process where the first person or family that chooses the first weeks in a calendar year goes last the next year.
"Try your best to stick with the plan and don't play favorites or do favors for some family members, but not others," she said.
Assuming all members are equal partners, Porter recommended setting up a family framework for equal access and input in all financial and scheduling matters. If issues arise, she advised finding a neutral third party to serve as a mediator.
"Consider writing in buy-out clauses that are reviewed annually or otherwise to allow family members to easily evaluate the value they are receiving [and/or] adding to the property and experience for others," she said. "Designate a family manager and pay them an annual [or] bi-annual management fee from an operations fund."
Most importantly, she emphasized the need to communicate with your fellow owners and never let concerns fester.
"The objective is to enjoy life and each other in a special place to make lifelong memories," she said. "Work hard to preserve these gifts and relationships."
Buying a vacation home with family can be stressful, but it can also be an amazing bonding experience. Set plenty of ground rules in advance to make it more of the latter, so the home will be a magical place cherished for generations.
More From GOBankingRates