30-Year Fixed Mortgage Rates Fall Below 6% — Here Are 6 Ways To Lock In the Lowest Option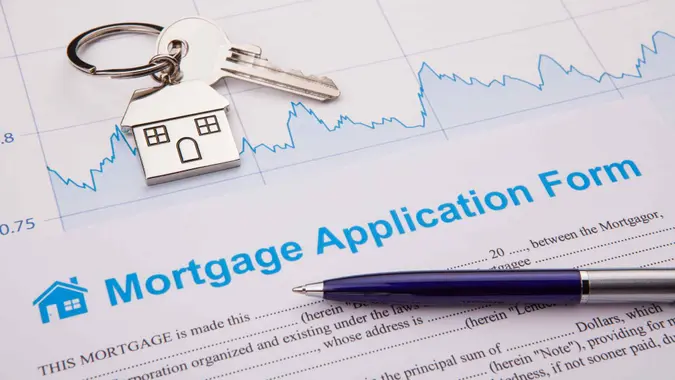 phototechno / Getty Images/iStockphoto
Mortgage rates dropped below 6% for all key terms this week, Fox Business reported, based on data compiled by Credible. Notably, a 30-year fixed rate mortgage dropped from 6.125% to 5.875%. Twenty-year fixed rate mortgage interest rates are at 5.75%, also down from 6.125%, as of April 4.
With interest rates fluctuating, it's important to lock in a low rate while you can. That means being prepared with all paperwork in place, including a mortgage pre-approval.
Here are six steps to take to get the lowest interest rate of recent months.
Get Your Credit in Tip-Top Shape
In addition to the prime interest rate, your credit score is the biggest factor in determining your mortgage interest rate. Prior to applying for a home loan, check your credit reports with all three major credit bureaus.
You can get one free credit report per year from TransUnion, Experian and Equifax by visiting AnnualCreditReport.com.
Don't Make Any Large Purchases on Credit
Your debt to available credit ratio — the balance on your credit cards compared to the amount of credit you have — makes up 30% of your FICO credit score.
While it can be tempting to use your credit cards while you're shopping for a home in order to leave cash in the bank, it's not a wise move. Similarly, make sure you don't miss any credit card or bill payments. On-time payments make up 35% of your credit score.
Don't Make Any Drastic Career Changes
Mortgage lenders will want to look at your employment history before they approve your loan. If you're thinking of quitting your job to start a business or even changing jobs, try to wait until you've closed on your home.
Compare Lenders and Terms
Homebuyers can save an average of $3,000 over the life of their home loan by shopping around, according to research from Freddie Mac. If you take the time to get five mortgage quotes, you have a better chance of finding the lowest rate.
If you only get two rate quotes, you could still save $1,500. Don't settle for the first quote you get.
Take Our Poll: Would You Move for a Job That Paid You a $10,000 Signing Bonus?
Accept the Offer Quickly
Once you've been pre-approved, lock in the rate as fast as possible before interest rates rise. Most lenders allow you to lock in rates for 30 days while you find the home of your dreams and go to closing.
Consider a Mortgage Rate Buydown
If your interest rate is still higher than you prefer to pay, you can purchase discount points to "buy down" your interest rate. By paying 1% of your loan amount upfront at closing, your interest rate goes down by 0.25%. This can be a smart strategy if you have money available at closing and want to reduce your monthly payments — and save money over the life of your loan.
More From GOBankingRates