What To Expect With Property Values in 2022 — And How You Should Respond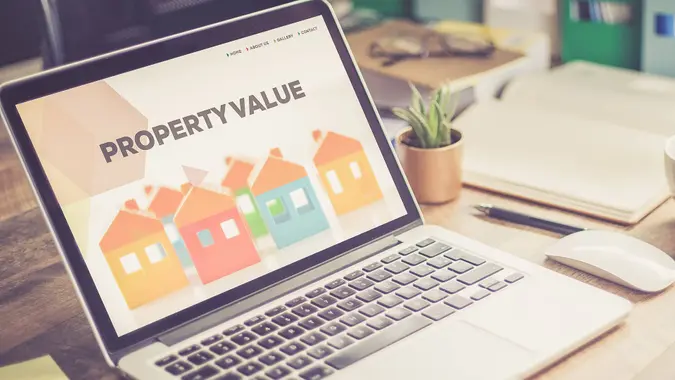 cnythzl / iStock.com
Experts believe the hot real estate market may begin to cool somewhat this year, in part due to interest rate hikes. That will lead to a leveling off in prices, nationally at least. Of course, markets can vary quite a bit at the local level, but the general theme is that prices will not rise quite as quickly as they have been.
Check Out: 20 Most Affordable Places To Live That Have Great Weather, Too
Tips: 25 Tricks To Sell Your House for a Bigger Profit
Real estate is complicated though, and there is a lot to think about. If you have multiple properties, you might wonder if you should consider selling one of them right now. So, let's explore that question and more to help you decide what to do with your property in 2022.
Demand Will Remain Strong
Experts don't expect the demand for homes to slow down anytime soon. Instead, they believe it will continue into 2022, albeit with slower growth in value. "We expect 2022 to remain a seller's market, though home prices probably won't be going up quite so quickly," said Martin Orefice, CEO of Rent to Own Labs.
Prepare: Renovations To Make — and Skip — Before Selling Your Home
Another expert, Donald Olhausen, real estate agent for Realty ONE Group Pacific in San Diego, agrees that there will be a slow down in prices despite strong demand. "Look for prices to remain elevated throughout 2022, with a deceleration in the pace in appreciation," Olhausen said. He believes competition will remain fierce despite multiple rate hikes ahead in 2022. He said there will be a shortage of rental units on the market which, coupled with strong demand, will lead to above-average returns for rentals.
Is Now the Time To Sell?
Some experts will recommend selling in certain cases, but the general sentiment is you shouldn't be in a rush to sell. If you have excess properties you need to unload, this may be a good time to do that, but experts believe demand will remain strong for at least several months into 2022.
However, it depends on your situation, said Danielle Hale, chief economist at Realtor.com. "If you're considering a move, know that we expect housing market conditions to be pretty favorable for sellers in 2022," Hale said. "At the same time, the housing market remains undersupplied and thus relatively competitive for buyers. If you have to buy and sell at the same time, you'll benefit from the fast-paced seller's market, but that could cause a challenge for buying your next home."
What Adds More Value to Your Home: Indoor or Outdoor Upgrades?
Hale said that some homeowners are choosing not to sell their homes in the next year because they believe they won't be able to find a home in their desired price range. Realtor.com forecasts a price increase of 2.9% over the next year. Given that prices are already quite high in many markets, that's a tough pill to swallow for some buyers.
What If I Own Multiple Properties?
If you own multiple properties, you could be tempted to sell one of them. However, whether that's the right move depends upon how you are currently using the property and what (if any) plans you have for it for 2022. As mentioned earlier, rental units are expected to provide strong returns over the next year, so it may be a good idea to hold onto properties you are currently renting.
"If you own multiple properties, selling one (or more of them) that is not your primary residence could be a way to take advantage of the seller's market," Hale said. "However, keep in mind that you'll then lose the benefits of owning that home." Hale highlights the benefits of having a vacation home that can make for a nice getaway in the summer or a rental home that can provide some extra income. "With rents expected to increase another 7.1% on average in the next year, real estate owners are expected to do well," Hale said.
Related: How Much You Can Make From Renting Your Home on Airbnb in 2022
How Much Does Location Matter?
Location is always a big factor in determining real estate values, whether it's high prices on the coasts or differences between rural and urban markets. Danielle Hale highlighted the fact that there are differences due to different economic and demographic trends at the local level. She said that urban areas have always maintained a price premium of about 7%.
But Hale also highlighted how the pandemic has expedited trends that were already in motion before the pandemic. "The pandemic accelerated a pre-pandemic trend of greater interest in the suburbs for the space and affordability that they offer." She continued, "As workplace flexibility creates opportunities for many to work from home for extended periods and fast-rising prices and mortgage rates challenge homebuyers' budgets, we expect the suburbs to remain an attractive option, and thus to see faster price growth relative to urban areas."
More From GOBankingRates