2023 Homebuying Update: These Are the Pros and Cons of Buying This Year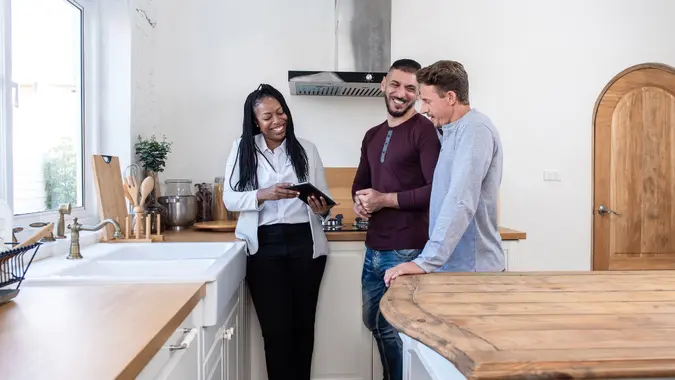 Kritchanut / Getty Images
If one of your goals for 2023 is buying a home, you may be curious to know if this is expected to be a good year or a bad year for homebuyers. And while you can't time the market or predict what your own homebuying experience will look like, it's useful to be aware of some of the larger homebuyer trends that are expected over the next few months.
Here's a look at some of the pros and cons of buying a home in 2023.
Pros of Buying a Home in 2023
This year will likely be less of a hot market than the previous year, which comes with a number of advantages for buyers.
More Choices
"One of the advantages that homebuyers will have at the start of 2023 is there will be more homes on the market for them to choose from," said Clare Trapasso, executive news editor at Realtor.com.
Less Competition
Trapasso expects that buyers will also face less competition from other buyers in 2023.
"Most won't face as many heated bidding wars or as wild offers over the asking price," she said. "Buyers will have more time to shop around and make up their minds about a home — they don't need to decide on the spot."
However, this won't be the case for all buyers.
"The caveat is that there will still be plenty of competition for attractively priced, move-in-ready homes in desirable neighborhoods," Trapasso said. "Buyers seeking these homes may still find themselves in bidding wars."
More Room for Negotiation
In a sellers' market, many buyers had to make concessions they normally wouldn't make to close the deal. In 2023, Trapasso said buyers will have more of an opportunity to negotiate with sellers.
"Buyers don't need to waive inspections or appraisal contingencies, and can ask for costly repairs to reduce the home price, or even buy down their mortgage rate for the first few years of their loan," she said.
Buyers may especially have the upper hand when it comes to new construction homes.
"If a home has been sitting on the market for a while, they can make a lowball offer," Trapasso said. "They can ask for costly repairs or new finishes or amenities if it's a newly constructed home.
"Many buyers are now asking sellers and builders to contribute to their closing costs and/or provide 2-1 buydowns," she continued. "This is when a seller pays to lower the buyer's mortgage rate by two percentage points in the first year of the loan, one percentage point in the second year, and then the rate reverts to what it was when the loan was made for the rest of its 30-year, fixed-rate term. This gives borrowers a bit of a break at the beginning of their loan. However, they should make sure they can still afford the higher mortgage payments, as there is no guarantee that mortgage rates will fall in the next two years."
Cons of Buying a Home in 2023
While there are certainly advantages to buying a home in 2023, there are still a number of challenges buyers may encounter.
High Home Prices
"Buying a home in 2023 is expected to be very expensive," Trapasso said. "Home prices are still expected to rise nationally — Realtor.com predicts a 5.4% rise."
Pricey Mortgages
"High mortgage rates will make it difficult for many buyers on tight budgets to afford to become homeowners, or trade up or down into new homes," Trapasso said. "Those purchasing homes will have monthly mortgage payments that may be double, a little more or less, what they would have paid if they had purchased the same house just two years ago."
Due to high mortgage rates, Trapasso recommends saving as much as possible for a down payment.
"If they're able to put down 20% of the price of the home, they can avoid costly private mortgage insurance (PMI)," she said. "They should also clean up their credit scores. The higher their scores, the lower their mortgage interest rate."
Another way for buyers to potentially lower costs is to buy points on their mortgage.
"They can pay a certain amount to their lender when they close to buy down their mortgage rate, usually by about a quarter of a percentage point," Trapasso said. "That could save them some big money over time, depending on the size of the loan and how long they plan to stay there."
Additionally, borrowers may want to look into adjustable-rate mortgages.
"But they need to realize these loans can be risky," Trapasso said. "They offer lower mortgage rates for the first five, seven or 10 years of a loan. If mortgage rates fall, they can pay to refinance their loan and lock in those lower rates. But if mortgage rates rise, they could be on the hook for larger future payments."
Trapasso also recommends shopping around for your mortgage loan.
"Buyers should never accept their first offer from a lender," she said. "They may be able to find a loan with a lower interest rate and lower fees elsewhere. And if they receive a better offer, their preferred lender may even match it."
More From GOBankingRates