Buying a Foreclosed Home: What You Need To Know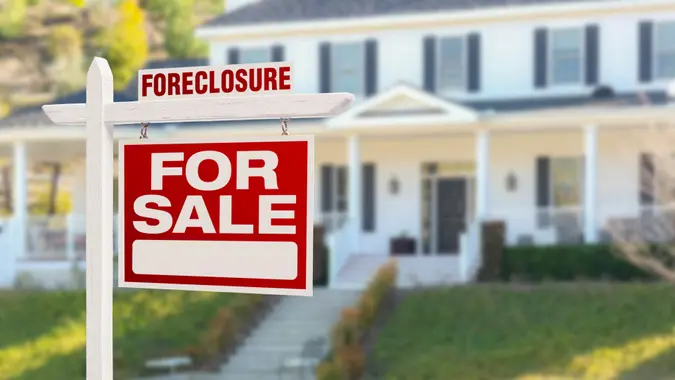 Feverpitched / Getty Images/iStockphoto
When you're in the market to buy a house, you might be able to save some money by buying a home that's been foreclosed. Although many people have lost their jobs during the coronavirus crisis, the number of foreclosed homes for sale has plummeted. This is due to the halts on foreclosures and evictions by the federal and state governments initiated by the CARES Act.
However, many people are seriously behind on mortgage payments, and there will probably be a sudden spike in foreclosures soon.
What To Know Before Buying a Foreclosure
When a bank forecloses on a property, it wants to resell the property as soon as possible. This makes it a highly motivated seller with no personal attachment to the property. It will probably be willing to work with you on price, which is not always the case when a homeowner is selling their property. You can often get foreclosures for less than market value.
However, a foreclosure might not be the terrific bargain you think it is. Some may have fallen into disrepair and require a lot of expensive repairs.
You can find foreclosed homes in your area by doing a quick Google search. You could do it yourself, but consider hiring a real estate agent. They will look out for your best interests and might be able to save you a lot of time and hassle.
Types of Foreclosures
There are different types of foreclosures and therefore different approaches to buying them.
Short Sales
A short sale occurs when a homeowner is in dire financial straits and sells their home for less than they owe on the mortgage. The original mortgage lender gets all the proceeds from the sale, and then either forgives the difference or gets a deficiency judgment against the former owner.
For a home to qualify for a short sale, two criteria must be met:
The home has to be worth less than what the homeowner owes on it.
The seller must be able to prove financial hardship.
Short sales are subject to approval by the original lending bank. The bank can take months to respond to a short sale offer, so these transactions can take longer than a traditional sale.
Pre-foreclosures
Pre-foreclosures are when the homeowner is behind on their mortgage and the bank has notified them that foreclosure is imminent. This may be the most difficult stage in which to purchase a property.
At this point, the homeowner may not be willing to sell. They may be hoping to pull themselves out of default. They also may be willing to sell the home on their own and therefore avoid foreclosure altogether. It depends entirely on the homeowner.
You can find pre-foreclosure properties through a company like Zillow. You can also check county and city courthouse records for notices of default. Your real estate agent can do it for you, too.
Sheriff's Sale Auctions
A sheriff's sale is when a property that has been repossessed is sold at a public auction. Such auctions are open to the public and usually occur in person on the steps of the local courthouse or at the property itself. The property is auctioned off to the highest bidder.
If you're interested in participating in a sheriff's sale, you should be aware that you won't be allowed to go inside the property to inspect it. Payment is also expected on the day of the auction. Cashier's checks, wire transfers and money orders are accepted forms of payment.
Bank-Owned Properties
If the property fails to sell at the sheriff's auction, ownership reverts to the bank and it becomes a real estate owned property. Websites such as RealtyTrac and Foreclosure.com have many bank-owned properties listed.
Government-Owned Properties
When homes purchased with government-backed loans — such as Federal Housing Administration loans or Department of Veterans Affairs loans — go into foreclosure, they're repossessed by the government.
If you're interested in buying a HUD home — HUD stands for the Department of Housing and Urban Development in the U.S. — you'll need a HUD-approved real estate broker to submit a bid for you. HUD also has listings of such homes on its website.
What Are the Advantages and Pitfalls of Buying a Foreclosed Home?
Anyone considering buying a foreclosed home probably dreams of getting a tremendous bargain. There are pros and cons to buying a foreclosed home.
Pros
Some people purchase a foreclosed property to fix it up and sell it for a profit. If you buy the house below market value, there is the potential for a big profit. Here are the advantages of buying a foreclosed home:
Most foreclosed homes do sell for less than market value.
The potential return on investment is huge.
There can be more room for negotiations with foreclosed properties as the bank has no emotional attachment to the home.
There's less competition from traditional buyers. Most first-time buyers want a house they don't have to work on.
On the other hand, buying a foreclosed property could lead to big headaches.
Cons
People in financial difficulty — so severe that they are losing their homes — probably didn't make repairs or even keep up with routine maintenance. Water damage, plumbing problems, HVAC issues and even cracks in the foundation can cost thousands of dollars to fix. Sewer issues and roofing problems are also expensive.
Some people who are losing their homes due to foreclosure become angry. They're determined to make things as difficult as possible for the bank. This leads them to remove fixtures, countertops, kitchen cabinets and whatever else they can carry. Here are the disadvantages of buying a foreclosed home:
If you buy at auction, you won't be able to inspect the inside of the house beforehand.
The process takes longer than a traditional buying process does.
There may be expensive repairs you need to make.
You may be put in a position where you have to evict the previous residents.
You're buying the home as is. This includes any liens or taxes that are still due.
Some homeowners are deliberately destructive and have done things such as leaving garden hoses running for days and pouring concrete down the pipes. This is illegal, of course, but it does happen.
Purchasing a Foreclosed Property
The pandemic has affected the housing market in myriad ways. Many areas of the country are suffering from low inventory, which includes foreclosed properties. People love a bargain, and if you're looking for a foreclosed property in 2021, you will face fierce competition.
People can purchase foreclosed properties by either working with a real estate agent or going to a public auction. If you're going to an auction, make sure you research the property before you go. You'll want to know how much money is left on the mortgage and if there are any taxes or liens owed on the property.
You can check Zillow's foreclosure estimate to figure out how much the property will likely sell for. Figure out how much you can spend and stick to it. Auctions can be exciting, but don't get caught in a bidding war and pay more than you planned on.
Financing Options for Foreclosed Homes
You can get preapproved for a mortgage, just like you would for a traditional property. There are several types of loans you can apply for.
Fannie Mae HomeStyle Renovation Loan
With this type of loan, you can finance the house and renovation costs at the same time. It's a little more complicated to apply for than a traditional loan, but it does allow you to finance the estimated value of the house once you've completed the renovation. If you're planning to live in the foreclosed home you buy, this can be a good option.
203(k) Loans
This also allows you to purchase the property and make room for renovation costs in a single mortgage. The difference is that a 203(k) loan requires just a 3.5% down payment and you can have a lower credit score than you need for a Fannie Mae loan.
Rates are about a percentage point higher than regular mortgage rates. You'll also need to pony up for mortgage insurance.
HomePath Ready Buyer Loans
These are for first-time homebuyers who want to purchase a foreclosed property owned by Fannie Mae. To qualify, buyers need to take a homebuying education course and move in within 60 days of purchasing the property. In exchange, you can buy a foreclosed property with as little as 3% down and you can get up to 3% in closing costs assistance.
HomeSteps
This is how Freddie Mac sells foreclosed properties. Freddie Mac's goal is to preserve neighborhood home values, so they make sure properties are clean. Sometimes, they even paint and do repair work before selling them. Freddie Mac homes sell for about 95% of market value, and the financing is only available in 10 states:
Alabama
Georgia
Florida
Illinois
Kentucky
North Carolina
South Carolina
Tennessee
Texas
Virginia
Just to be clear, Freddie Mac homes are found all over the country. It's just the financing that's only available in these 10 states, although Freddie Mac says it's expanding to other areas. If you qualify, you can purchase a home with as little as 5% down and no mortgage insurance.
Steps To Take Before Buying a Foreclosed Home
The thought of snagging a bargain by buying a foreclosed home is tempting.
Advice

Make sure you research the home before you jump in. Find out if there are any liens and taxes on the property. Set a budget and stick to it. Don't get in over your head. Budget for repairs, which can often cost more than you anticipated.
If you're prepared and willing to take a risk, you may well get a great bargain.
Our in-house research team and on-site financial experts work together to create content that's accurate, impartial, and up to date. We fact-check every single statistic, quote and fact using trusted primary resources to make sure the information we provide is correct. You can learn more about GOBankingRates' processes and standards in our editorial policy.