Tiny Houses Are Taking Over: A Look at the Pros and Cons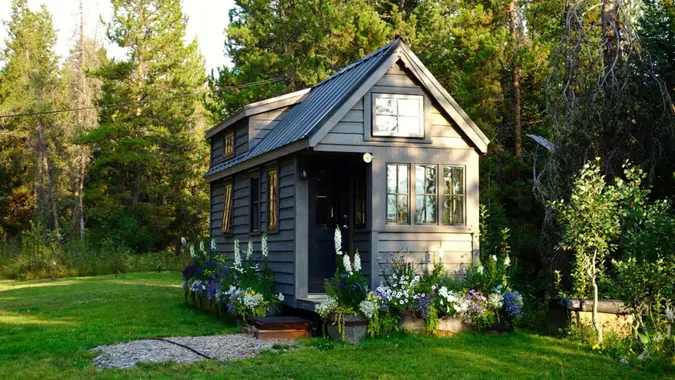 Anyone who's considering the radical downsizing that goes with tiny home living already knows the obvious benefits and drawbacks. The pros are that tiny homes are much cheaper to build, buy, heat, cool, maintain and furnish — and, of course, small spaces are easy to keep clean.
The obvious con is that tiny homes are, well, tiny — 100-400 square feet isn't minimalist, it's minuscule. You'll have to leave most of the physical remnants of your old life behind and it's not a realistic space for the vast majority of families.
Those pros and cons are mostly self-evident. The following is a deeper dive into the benefits and drawbacks of tiny houses, the market for their construction and the laws that govern them.
Pro: They Could Be a Viable Alternative for Struggling Young Buyers
Claire Wells, marketing manager for RUUM Tiny Houses, concedes that "going tiny isn't for everyone," but at the same time, she's convinced that the movement is primed for adoption by today's young adults.
"Tiny houses are cheaper and easier to build than standard houses, making them far more affordable for younger generations who are facing incredible challenges in getting on the property ladder," Wells said. "I think tiny houses are going to revolutionize how the next generation looks at living and housing in general. Couples don't need three-bedroom homes. Young families can't afford three-bedroom homes and in many cases, can't get big enough mortgages to cover the costs of one."
Con: Tiny Home, Enormous Legal and Regulatory Hurdles
While it's true that a three-bedroom home might be out of reach for many financially, at least you're allowed to live in one if you can afford it — tiny homes, not so much.
"The biggest hurdle faced by most tiny house aficionados is figuring out where they can build a tiny house," said Frank Golley, founder and designer of Golley Houses. "Most municipalities have minimum size limits for home construction so having a lot doesn't automatically mean you can build your dream tiny house on it."
The country is a patchwork of confusing and inconsistent laws that can vary dramatically from one state and municipality to the next, according to Insider. Most localities have square-footage requirements that forbid people from living in tiny homes all year long and many others prevent full-time occupancy by classifying them as RVs.
Pro: They Can Offer a Bridge to Stability for the Unhoused
At the end of 2021, Business Insider reported on a Washington-based company called Pallet that was building prefab tiny houses for just $5,500 for use in tiny home villages that serve the unhoused. That same year on the other side of the country, the city council in Bridgeton, New Jersey, approved a plan to house the city's homeless population in a tiny home village, giving them privacy, security, a fixed address and access to social services while they got back on their feet.
It wasn't just one company or municipality. NPR reported in February that communities across the country are experimenting with tiny homes as a solution to homelessness — and it's easy to understand why.
"Standard homeless shelters can be expensive to run and generally don't accommodate the homeless in a very comfortable way," said tiny home enthusiast and woodworking professional Goodell David, founder of WoodWorkingClarity. "Tiny houses, on the other hand, are very cheap to build and maintain, and they will allow the homeless to have their own space. Tiny houses can also be much better for the mental and physical health of the people. Many homeless people don't feel comfortable inside of the shelters because of the noise, the crowds, and the violation of personal space."
Con: The Wealth-Building Mechanisms of Homeownership Don't Scale Down
Homeownership has long been a key to building generational wealth because of equity and appreciation. With tiny homes, you get a roof and four walls, but not necessarily the long-term investment — or even the ability to sell, in many cases.
"From a homeowner's perspective, tiny houses offer a ton of cost savings with the drawback of much less potential to build up home equity," said Martin Orefice, CEO of Rent To Own Labs. "The market for tiny houses is much narrower than for most traditional homes, meaning that finding buyers is going to be a problem. Another issue here is that while some tiny homes are built on foundations like an ordinary building, many others are mounted on trailers or are otherwise mobile. Mobile homes, including this variety, tend to depreciate much more quickly, like vehicles do."
Pro: Tiny Houses Leave Tiny Carbon Footprints
In terms of the structures themselves, the land they occupy and the energy they consume, tiny homes are far greener and more sustainable, according to EcoWatch. "Tiny houses are environmentally friendly simply because of their size," said Daniel Foley of Unagi Scooters. "Less construction material is necessary, wood is frequently used, and huge windows maximize solar heat, lowering heating costs. Furthermore, if your tiny home is mobile, as most are, it may be positioned in the shade in the summer or in the sun in the winter to take advantage of the changing seasons. In the end, if you choose to live in a tiny house as your primary dwelling, you will significantly lessen your environmental footprint."
Con: Good Luck With Financing
If tiny house living is ever truly going to take off, there will have to be a seismic shift in the mortgage industry first.
"It's actually difficult to get a loan for these homes," said William C. of SuperTinyHomes. "Banks are not geared toward doing lump-sum loans for a tiny house. They're also concerned if the house is mobile, so you may see higher interest rates and home insurance."
More From GOBankingRates