I'm a Real Estate Agent: Here's How Much House Gen Z Can Afford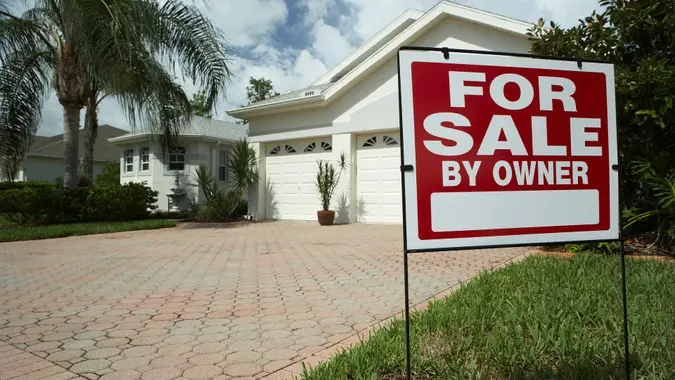 nycshooter / iStock.com
As an increasing number of Gen Zers enter the workforce and start contemplating homeownership, the topic of generational affordability in the real estate market has become a burning issue. Notably, YouTuber Humphrey Yang's video on Gen Z's ideal monthly mortgage budget, aiming to keep it around 30% of their net income, has garnered substantial attention with 1.15 million views.
However, in light of the current real estate landscape and economic conditions, is this YouTuber's mortgage budget realistic? 
Keep reading to hear from real estate agents to hear what percentage of income Gen Z should spend on housing and how this generation can get started buying their first homes. 
What Percentage of Income Should Gen Z Allocate to Housing?
Understanding how affordable housing is for Gen Z is a complex issue, heavily influenced by factors such as location and financial stability. 
"I think it's important to keep in mind that the 30% rule is just a general guideline," said Adam Chahl, real estate agent in Vancouver, B.C. "Many factors can influence the ideal percentage of income that Gen Z should be spending on housing. It could vary depending on their location, earning potential and financial goals."
It's important to remember that the 30% guideline doesn't only apply to aspiring homeowners but encompasses all housing-related expenses for Gen Z. Whether your housing income is going toward a mortgage or a rental, costs vary significantly across the nation — and it is essential for everyone to get a clear picture of how much of their income is going toward home expenses.
"In a high-cost city like New York or San Francisco, they might need to spend more than 30% of their income on housing," Chahl said. "On the other hand, if they have a steady and high-paying job, they could afford to spend less on housing. On average, it should be around 25% to 35% of their income, but this can vary greatly."
If You Live in Cities With High Costs of Living, Prepare for Higher Home Values
It's likely that Gen Zers may not be able to afford housing in high-cost cities and may prefer to live where they can afford housing for less than 20% of their income — until they feel financially secure moving somewhere more expensive.
"The cost of living can vary significantly from one part of the country to another," Chahl said. "For instance, according to data from Zillow, the median home value in San Francisco is around $1.4 million, while it's only $220,000 in Indianapolis. So, it's safe to say that the housing budget for Gen Z might differ depending on where they live."
Tips for Gen Zers Buying Their First Homes
For Gen Zers who are ready to take the plunge into homeownership now and those with plans for the future, the housing market looks far different now than it did last decade. As this fast-changing market evolves, knowing what to expect is essential. 
Research Different Locations
Before committing to homeownership, it's crucial for Gen Z to conduct thorough market research on various neighborhoods. This research should take into account factors such as housing prices, school districts, accessibility and local amenities to identify the area that aligns best with their lifestyle and budget. 
"The cost of housing varies greatly depending on the location," said Alex Locklear, Realtor and founder of NC Cash Homebuyers. "It is essential to research different areas and neighborhoods to find a balance between affordability and amenities." 
Consider Government Programs and Financing Options
In their journey to homeownership, it's wise for Gen Z to explore financing options before deciding to buy a house. These might include an FHA loan, a VA loan or a conventional loan, based on their eligibility. 
"Also, there are various government programs available for first-time homebuyers, such as down payment assistance or lower interest rates," Locklear said. "Research these programs and see if you qualify for any." 
Get Pre-Approved for a Mortgage 
The process of buying a home can be stressful and disheartening. There's nothing worse than falling in love with a house, only to face rejection. However, there's a way to enhance your status as a serious buyer. 
"My advice is to get pre-approved for a mortgage [which] will give you an idea of how much you can borrow from the bank," Locklear said. "This will also show sellers that you are a serious buyer."
Don't Overlook Hidden Costs
Although a home is a significant investment, as steep as the costs are for a down payment and mortgage, there are some additional sneaky expenses that can come alongside buying a home.
"When calculating your budget, don't forget to include additional expenses such as closing costs, moving costs and potential renovations," Locklear said.  
It's wise to pad your emergency savings a bit before purchasing a home because the costs associated with unexpected repairs can add up significantly. For example, the price of a new central air conditioning unit can range from $1,500 to $4,000. 
Seek Professional Advice
Spending 30% of your income on homeownership is an understandably significant and stressful financial decision. Fortunately, Gen Z doesn't have to navigate this intricate journey alone.
Gen Zers should consider seeking professional advice from reputable mortgage lenders, real estate agents or financial advisors. These experts offer invaluable insights, assist with budgeting and provide expert guidance throughout the transaction.  
More From GOBankingRates