I'm a Real Estate Agent: 6 Tips for Selling Your Home This Fall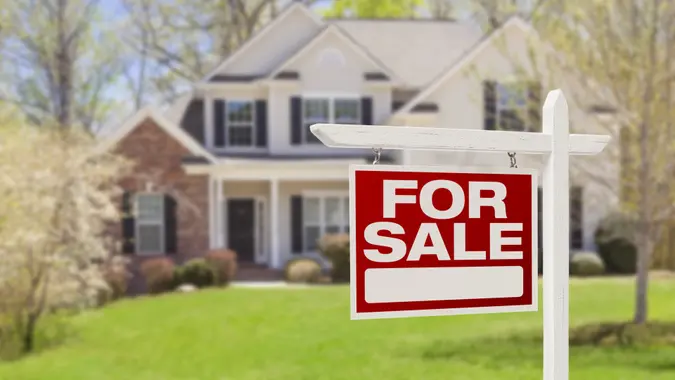 Feverpitched / Getty Images/iStockphoto
If you're thinking about selling your home, there are many factors to consider first, such as the current market conditions and where your home is located. Beyond that, it's also important to think about the timing — that is, when you plan to sell.
During certain times of the year, you might experience higher demand and quicker turnaround times. Other times might have you sitting around for a while as you wait for the buyers to trickle in. For many sellers, fall is the prime time to list — for others, it can be a little tricky.
GOBankingRates spoke with Amy Zuccone, real estate professional at RE/MAX Professionals, and Scott Bergmann, Realtor with Realty ONE Group Sterling at Realty ONE Group, to get their thoughts on listing and selling your home in the fall. Here are some of their biggest tips.
List During the First Weekend of September
"Fall is a great time to sell your home," Zuccone said. "In the Twin Cities market, I have always encouraged sellers to be sure to get their homes listed by the first weekend in September if they are going to take advantage of the fall market. This is when the parade of homes begins in the Twin Cities, as many people are out and about looking at houses. Kids are back in school, so families have more time."
Keep in mind that, depending on where you live, you might have better — or worse — luck with listing your home around this time. Consider the school times and weather conditions of your area when listing your property. If possible, try to time it so your listing goes up right after school starts back up after the summer holiday, but before the holidays or winter season approaches.
Be Patient
In some places, fall can be a tricky time to sell your home, especially compared to other times of the year. According to Zillow's findings, the best time to sell is any time between March and Labor Day, which falls on the first Monday of September. Fall, meanwhile, typically starts around Sept. 22 or 23 every year.
But that shouldn't deter you from putting your home on the market if you're ready to move. After all, many other factors also determine how likely you are to sell your home and at what price point. Just be patient and be prepared to wait a few extra days or weeks when listing in the fall.
"Be prepared to last a little longer on the market," Bergmann said. "The average time spent on [the] market tends to tick upward by a day or two in most areas because the buyer density reduces a bit. However, it is still a better time than listing in the winter."
Don't Wait Too Long To List Your Home
As Bergmann noted, winter's one of the worst times to sell your home. Because of this, it's best not to wait too long to list your property if you're hoping for a fall sale. If you do, you could be waiting a while before you get a bite.
The longer your home sits on the market, the more you're bound to pay in carrying costs like mortgage, property taxes and utilities. Try to list your property before October to avoid carrying costs and a long wait.
"Honestly, the two slowest months of the year tend to be December and July," Zuccone said. "People are always surprised by the fact that July is a slow month, but people have so many family reunions, weddings and vacations. Typically, they begin to get very serious about their home search in September so they can be moved in prior to Thanksgiving."
Stage Your Home Appropriate to the Fall Season
Most sellers know that things like curb appeal and the condition of their home can have a major impact on their property's value in the eyes of prospective buyers. But staging is also important. When selling your home in the fall, you can take advantage of the scents and aesthetics unique to the season to encourage more offers.
"Bring in the fall scents," Bergmann said. "Who doesn't love apple cinnamon candles from Bath & Body Works? Fall staging tends to be a little bit more fun, so don't be afraid to splurge a little on those accent pieces from T.J. Maxx that you have been eyeing."
Set a home staging budget, though. That way, it doesn't eat too much into your profits when your home does sell.
Keep Up on the Home Maintenance
Maintaining your home is key to any successful sale. Depending on the home's condition, you might need to conduct some routine maintenance or do some minor renovations or repairs to keep it in tip-top shape. But the fall can bring some unexpected weather changes that require additional maintenance and care.
"The fall is difficult to plan for when it comes to weather, as you face issues with winterization, AC, yard maintenance, etc.," Bergmann said.
Before and after listing your home, check for any plumbing or electrical problems. While you're at it, clean your gutters, check your roof to see if it needs replacing, and get some of the major home systems inspected — like the furnace or HVAC system. Keep an eye on upcoming weather changes as well; these can influence the type of maintenance your home needs.
Take Advantage of the Lower Buyer Density
Even though you might have to wait a bit longer for a home listed in the fall to sell, you could actually benefit from something you wouldn't get during peak times of the year: lower buyer density.
"I would say the biggest challenge with listing your home in the fall would be: If it does not sell in September or October, you may be waiting for a while," Zuccone said.
This is because fewer people prefer to move during the winter months.
"The one advantage would be that many other sellers don't think they should list in the fall, so there is typically less inventory," Zuccone said. "Less inventory means more buyers for their home."
Take some professional photos of your home, be detailed about things like square footage and the number of rooms, and stage your home so it attracts more buyers.
More From GOBankingRates