I'm a Real Estate Agent: This Is What All Clients Should Know Before They Start Looking for Homes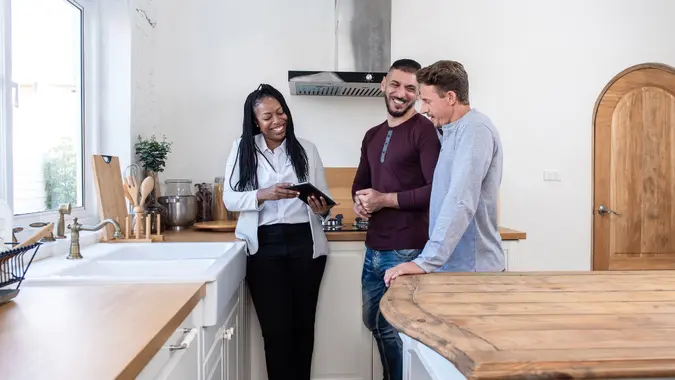 Kritchanut / Getty Images
So you are in the market to buy a home.
While it may be tempting to start setting appointments and jumping into every open house in your market, it's important to understand a bit about the homebuying process and set some parameters for what you actually want.
Plus, you need to know what you're approved for and what you can afford before getting overly excited about a house that isn't a realistic option.
We talked with two real estate agents to get their best tips on buying a home, and what they wish clients knew before they started home shopping.
Set Realistic Expectations
Buying a home is an emotional decision, but it's important to set realistic expectations before you start shopping. You need to know a general idea of what you are looking for, including the most important things you require in a home. Finding the right home with the wrong features will make you miserable, so write down what's important to you.
"Buyers should understand their budget, priorities, and non-negotiables before starting the search. Setting realistic expectations helps focus efforts on finding the right home within the desired parameters," said Ben Gold, real estate agent and founder of Recommended Home Buyers.
Once you have documented what's important, it's much easier to filter through potential homes to only look at the ones you would seriously consider buying.
Get a Mortgage Preapproval
Before you start shopping, it's important to have your mortgage preapproval. This lets you actually shop within an approved budget, and you can quickly make a strong offer if you find the right home.
"Obtaining a mortgage preapproval beforehand streamlines the buying process and provides a clear understanding of the budget range. Preapproval demonstrates seriousness to sellers and strengthens negotiating power," Gold said.
While it may be tempting to go looking at houses before you know what you're approved for, it'll just lead to disappointment if you aren't able to put an offer on one you find.
I'm a Real Estate Agent: Here Are the 6 Cities Where You Should Avoid Buying a Home This Summer
Research Locations Before Touring Homes
While seeing a home within your budget pop up online can be exciting, make sure you know what neighborhoods you are actually willing to live in before going to take a look.
Gold said that "buyers should research and explore potential neighborhoods to ensure they align with their lifestyle, preferences, and future goals. Factors like schools, amenities, commute, and community atmosphere significantly impact long-term satisfaction."
Matt Teifke, a real estate agent and founder of Teifke Real Estate, is also big on research. "Familiarize yourself with the local real estate market so you know what to expect when looking at potential homes. This way, you can avoid being influenced by the seller's opinion," he said.
Know What You Can Afford
Just because you are approved for a large mortgage doesn't mean you should spend every penny of it when buying a home. Before you go look at properties at the top end of your mortgage approval, you should consider what you can realistically afford.
You should "know what you can afford and set a budget that works for you. Don't be tempted to go beyond your means, as this can lead to financial troubles down the road," Teifke said.
Understand the Homebuying Process
Buying a home isn't as simple as making an offer and signing on the dotted line. There are several legal processes that need to take place to purchase a home. Knowing the homebuying process can help you avoid frustration and disappointment.
Teifky said, "Have an understanding of what to expect when you are looking at homes and the steps involved in purchasing one. Don't just focus on the purchase price; also think about things like closing costs, taxes, and insurance." 
The more you know about how the homebuying process works, the better your chances of making the right offer for your situation. Many real estate agents offer homebuying workshops meant to educate new homeowners on the process.
Always Get an Inspection
Even if you fall in love with a home, it is never a good idea to waive the home inspection. While sellers are required to fill out a form stating all known issues of the home, there can always be something they don't know about (or don't tell you) that can cost you thousands of dollars. Hiring a professional home inspector to do a top-to-bottom inspection is non-negotiable.
Teifke makes this a top priority. "Having a professional inspection done on the home is essential prior to buying it. This will give you an idea about the condition of the property and any potential problems that you should be aware of," he said.
And with a home inspection, you get another chance to negotiate the sale. If the inspection finds something costly, you can ask the seller to fix the issue or reduce the sale price of the home.
Bottom Line
Buying a home should be a pleasant experience, and preparing beforehand can make all the difference. Before you start jumping into open houses and booking your real estate agent for showings, make sure to get your finances in order and understand the process from start to finish. This can help reduce the stress involved, and possibly get you a better deal on the perfect home.
More From GOBankingRates