I'm a Real Estate Agent With 20 Properties: Here Are 4 Tips for Earning Rental Income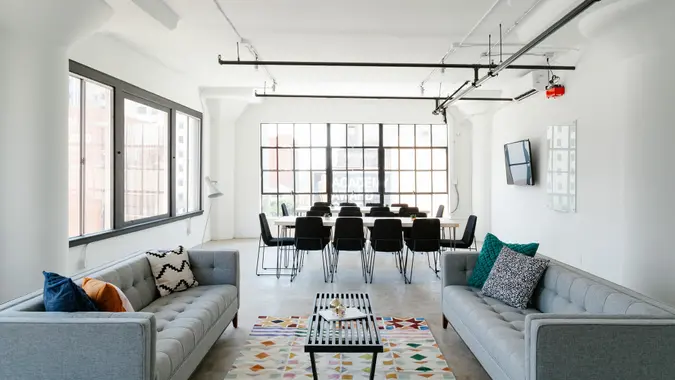 Breather / Unsplash
Real estate agent Kyle Toomey has worked in real estate for over eight years. On TikTok, he uses his expertise to create videos for Gen Zers and others who are interested in homeownership.
GOBankingRates was given the opportunity to speak to Toomey regarding real estate and property management, and he shared his best tips for earning income through these avenues. With these helpful tips, you can create the best course of action to begin earning money via real estate.
Be Prepared for High Costs
Buying a home is a huge financial commitment, but it can definitely pay off.
"Real estate is a long-term game," Toomey said. "Keep good credit, pay your bills, don't spend money on things you don't need to, and buy a house when you can with as little money down as you need."
In addition to saving for a down payment, be prepared to pay for additional costs — both financial and in terms of your time.
"Most of the time the commitment stems from repairs and maintenance," Toomey said.
Try House Hacking
House hacking is a new trend in which someone purchases a home and then rents out rooms to tenants, so essentially, the house is being paid off by the tenants.
"Rent out as many rooms/spaces as you can in your home," Toomey said. "At the end of the day, you get all the benefits of homeownership while someone else is subsidizing your higher monthly mortgage."
House hacking is excellent for first-time homeowners because they can get a lot of their mortgage expenses paid off while still being able to live in their homes. This is an especially popular trend with Gen Z, who has minimal capital but is still looking to invest in real estate.
Be Willing To Make Sacrifices
Buying a property that isn't in an ideal area or needs some fixing up may not feel like a successful purchase, but the long-term benefits are what will make a purchase worthwhile. It's important to keep in mind that you may not be able to get everything you want in your first home.
"Make sacrifices and buy what you can," Toomey said. "Maybe that means your first home is further out from the city. Maybe it needs some work, but you can at least live in it for a while as it is. The sooner you own real estate, the quicker more doors and opportunities will open up for your next home."
Once you purchase a home, you can start saving up for your next property and then rent out your current home.
Avoid Using Airbnb
If you want to use your home for rental income, your first instinct may be to utilize Airbnb; however, Toomey advises against this.
"I would not recommend using Airbnb as a host to a first-time homeowner," he said. "In my opinion, there's a lot to learn about being a homeowner, and furthermore, a regular year-long landlord before you jump into the short-term rental game."
Airbnb is difficult to get into and it requires constant supervision and maintenance on the homeowners' part, which can be especially hard for first-time homeowners.
More From GOBankingRates