We're Real Estate Agents: 7 Costs Home Sellers Often Forget About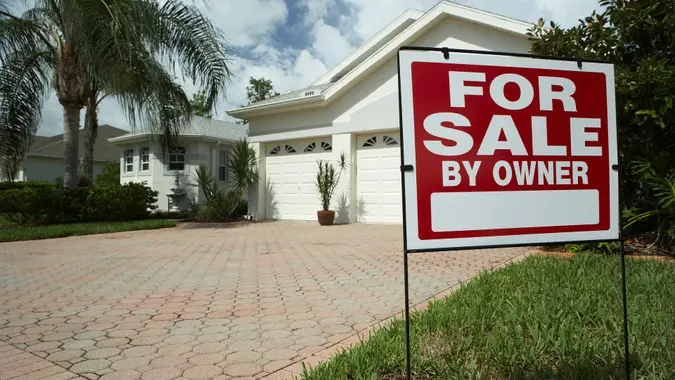 nycshooter / iStock.com
If you're a homeowner, there may come a time when selling your home is the best next step for you. People sell their homes for many reasons, such as to accommodate for a change in family size, relocate for personal or professional reasons, prepare for retirement or simply to cash in on an investment.
Whatever your reasoning might be, it's important to be aware of the true cost of selling your home. That way, you can capitalize on any gains and prepare for any losses.
GOBankingRates spoke with real estate agents Haley Bartlett, Steven Gottlieb and Karen Kostiw about some of the biggest costs that people often forget about when selling their homes.
Closing Costs
Closing costs are fees that the seller and the buyer must pay before finalizing the sale. For the buyer, this includes things like transferring the deed, getting an appraisal and an inspection and insurance fees. For the seller, common closing costs include administration fees, real estate agent commission fees, transfer taxes and related fees.
Karen Kostiw of Coldwell Banker Warburg noted that closing costs are one of the biggest expenses sellers might not account for when selling their homes. But considering the fact that seller's closing costs can be anywhere from 8% to 10% (according to Zillow), these fees can take a significant chunk out of any proceeds and so should be considered.
"As for closing costs," Kostiw said, "spend time with a lender and attorney to ensure you are aware of the total closing cost outlay. Even if you can't necessarily avoid certain fees, being aware of them can keep you from being blindsided down the line."
Moving Costs
Kostiw noted that many sellers forget about or don't fully consider the true cost of moving. While it might seem to be a given that the home seller will have to move, and therefore cover any associated costs, not everyone's as prepared for this as they could be.
But the cost of moving can be much higher than people expect, particularly when you account for hiring movers, purchasing packing supplies and buying furniture or other items for your new place.
To help combat this cost, Kostiw suggested contacting "several movers to understand their process for moving and compare the costs."
Real estate agent Steven Gottlieb of Coldwell Banker Warburg added that certain costs can't be avoided. However, he said, "Planning ahead can help to avoid costs that may be associated with waiting until the last minute. For example, packing up a home is time-consuming. If you wait until the last minute to start packing to move, you may need to hire someone to help you if it comes down to a time crunch. This is maybe a cost that could have been avoided."
Carrying Costs
Carrying costs, or holding costs, are essentially the costs associated with owning property. This includes mortgage payments, property taxes, homeowners insurance, homeowners association (HOA) fees, utilities and general maintenance fees.
The longer a seller holds onto property, the more the seller potentially will have to pay in carrying costs.
"If a closing is delayed because of the seller, attorneys may insist on punitive costs to 'motivate' the seller, for example," Gottlieb said. "In addition, a seller continues to pay carrying costs for the property until it closes. If the seller is ready to close quickly, these costs (real estate taxes, mortgage, etc.) should be able to be avoided.
"Even if sellers do the research to understand the unavoidable costs of selling/moving, they may not understand that there are costs associated with delays, which maybe can be avoided by planning ahead."
Property Taxes
Property taxes are a common cost that comes with homeownership. But what some sellers might not be aware of is that they typically still have to pay taxes for the year they're selling their homes.
"Depending on what time of year they are selling, [sellers] may owe all of the previous year's and part of the current year's taxes. This can be anywhere from $2,000 to $6,000," said Bartlett, of Your Aussie Agent. "Here in Colorado, we pay in arrears, so they have to pay their part of the property taxes for the year they are selling in."
Title Company Fees
Usually part of the buyer's closing costs, title fees are another fee sellers should consider.
"We use title companies in Colorado, and the seller often has to pay their part of the fees," Bartlett said. "This ranges [from] $1,500 to $2,500, depending on when they purchased the home."
Depending on where the seller lives, they might not be responsible for these fees. But it's still a good idea to check and be prepared just in case.
Maintenance and Repairs
Even if your home is in good condition, it might still require basic maintenance, repairs or renovations. Sometimes, even a small upgrade — such as a fresh coat of paint or new faucets — can significantly boost the value of the home. And in some cases, maintenance is essential to getting the best possible deal on your property when you sell.
"We have all just lived with those oddities and problems in our home. However, this doesn't mean a buyer will want to do the same," Bartlett said. "The roof that may start getting holes in it in the next five years is a big one we see all the time. Often, you can get insurance to cover it, but otherwise the seller may be paying $10,000 to $20,000 to replace a roof. Other fixes like plumbing and electrical can also add up."
Miscellaneous Costs
"I think most sellers are relatively informed about the basic friction costs that come with selling property: the broker fee, possibly staging costs, tax implications, possible legal fees and movers," Gottlieb said. "None of these should be a surprise for sellers."
But even sellers who know about these costs might be blindsided by what they add up to.
"These costs differ from market to market, depending on where the property is and maybe the type of property that it is," Gottlieb said, "but any seller should know that there are some large and small costs associated with selling a home."
As a seller, it's important to do your due diligence, get several quotes or estimates, and speak with your real estate agent to ensure you're prepared when selling your home.
More From GOBankingRates