Real Estate: 51% of Americans Would Live With Mom & Dad To Be Able To Buy a House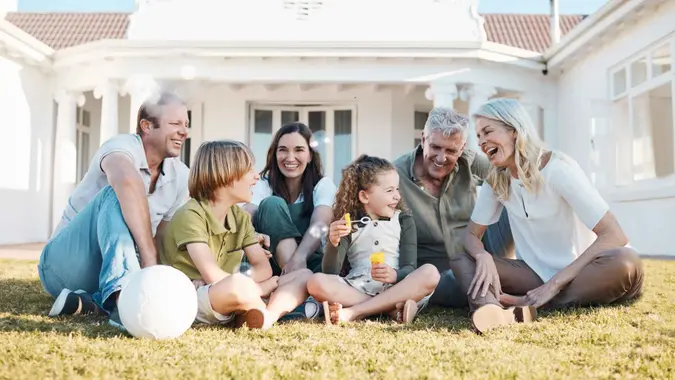 Jacob Wackerhausen / Getty Images
The housing market is showing no signs of easing up. A combination of high prices, low inventory — partly due to homeowners who'd rather stay put due to the low mortgages they secured a few years ago — and exploding mortgage rates are making the road to homeownership almost impossible for many Americans.
One solution? Moving in with mom and dad. A new Realtor.com survey found that 29% of Americans planning to buy a home in the next year have already moved in with their parents to save some money. In addition, another 22% would consider doing so. It isn't the first time that moving in with family has been contemplated as a way to fast-track homeownership.
The survey also noted that younger respondents were more likely to consider moving in with their parents, with a third of them having moved in with other family members and another 24% having considered doing so.
Meanwhile 62% have (or would) consider moving into a smaller rental unit — or moving to a less desirable neighborhood to save some cash for a home purchase.
Buying a First Home Remains a Challenge
"Buying a first home has always been an expensive undertaking, and with home prices near recent highs and mortgage rates at 20+ year peaks, it's even more daunting for today's first-time homebuyers," said Danielle Hale, Realtor.com chief economist. "As a result, households trying to navigate the challenging market are looking to family and friends to help bring down their current housing costs and save up for the future."
According to Hale, given the current context, it's not surprising to see people adapting their behavior.
"When the market poses some extraordinary challenges for home buyers, people will get creative to find ways to navigate around obstacles," she said, noting it's interesting how prevalent these changes in consumer behavior are.
"We already know that the cost of buying a home today is up more than 12% compared to a year ago. This survey data shows us how households are coping with the high costs and optimistically pursuing their dream of ownership by being flexible in their current and future living situations," added Hale.
Will This Trend Continue in the Near Future?
As long as affordability remains a key challenge, Hale said she expects we'll see households turning to friends and family to expand their housing options.
"Mortgage rates hovering well above 7% have eroded buyers' purchasing power at a time when the consistently low number of homes for sale has kept housing markets surprisingly competitive," she said.
And the figures speak for themselves: As of Oct. 12, the 30-year fixed-rate mortgage (FRM) averaged 7.57% — the highest level in 23 years, according to Freddie Mac.
To put this latest figure in context, a year ago at this time (week ending Oct. 12, 2022), the 30-year FRM averaged 6.92%. And for the same time of the year in 2021, it averaged 3.05%.
What Else Can Younger Homebuyers Do?
Lowering housing costs (the biggest budget item for most) is a key way to help save up for a home purchase, per Hale.
Hale added that beyond housing costs, younger homebuyers can also look to make other budget cuts — either in major recurring categories such as transportation, or in more discretionary categories such as entertainment.
"If further budget cuts won't work, younger homebuyers can consider tapping their talents in a side-hustle to earn extra income to reach their saving goal faster," she said.
In addition, she noted that exploring down payment assistance programs that they might qualify for is another way potential homebuyers can reach their goals.
"When they're far enough along to begin searching for homes, tapping market tools like the affordability and mortgage calculators at Realtor.com can help ensure that their search is targeted in a way that keeps their budget on track," she added.
More From GOBankingRates