Real Estate: Millennials Are Using This 'Hack' When Buying a Home — Is It Worthwhile?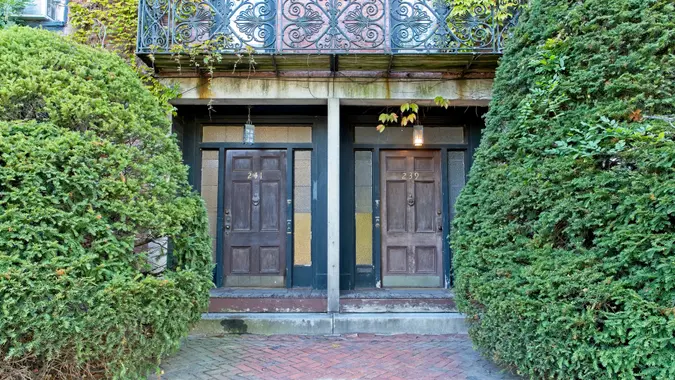 Peter Blottman Photography / Getty Images
Rising mortgage rates, increasing home prices and low inventory are all putting a toll on homebuyers. And when coupled with other factors in the current economic landscape, such as inflation and the resumption of student loans, it's no wonder that some homeowners are looking at ways to alleviate their financial burdens.
One of them, the so-called "house hacking," where you live in one of the multiple units of your property and rent out the others and allows you to generate rental income that can offset your mortgage payments, is on the rise.
Indeed, a new Zillow survey found that more than half of young home buyers consider renting out all or a portion of their homes to produce additional income.
The survey found that a whopping 55% of Millennial buyers find it very or extremely important to have the opportunity to rent out part of their home for extra income while living in it. That's compared to 39% of all homebuyers, which is up eight percentage points in the past two years, according to Zillow.
Manny Garcia, population scientist at Zillow explained that affordability is at its lowest point this century, with mortgage rates near 23-year highs, and faced with that challenging environment, rental income can help Gen Z and Millennial buyers qualify for a mortgage and afford their monthly payments.
"In possible good news, mortgage rates have trended down recently and there are signs inflation is cooling," said Garcia. "I'm not expecting a big affordability improvement any time soon, but we might see just enough of an improvement to get a buyer over that affordability hurdle and into homeownership."
The survey also found that 59% of Millennials say they find the opportunity to rent out their entire home in the future to produce rental income very or extremely important.
Mortgage rates — which had been hovering around 8% for the past few weeks — started to come slightly down.
The Freddie Mac fixed rate for a 30-year mortgage dropped for a third week in a row, declining to 7.44% this week. To put this in context, it was at 6.61% for the corresponding week of 2022 (Nov.17, 2022) and at 3.10% for the corresponding week in 2021 (Nov. 18, 2021) according to Freddie Mac data.
"The combination of continued economic strength, lower inflation and lower mortgage rates should likely bring more potential homebuyers into the market," according to a Freddie Mac release.
Yet, while this is good news for homebuyers, Realtor.com economist Jiayi Xu said that despite mortgage rates dropping below 7.5%, they remain at nearly multi-decade highs.
"An unexpected consequence of this heightened rate environment is the surge in down payments, climbing to a new peak in the third quarter of 2023, as reported by Realtor.com," said Xu.
More From GOBankingRates