8 Real Estate Mistakes To Avoid During a Cooling Market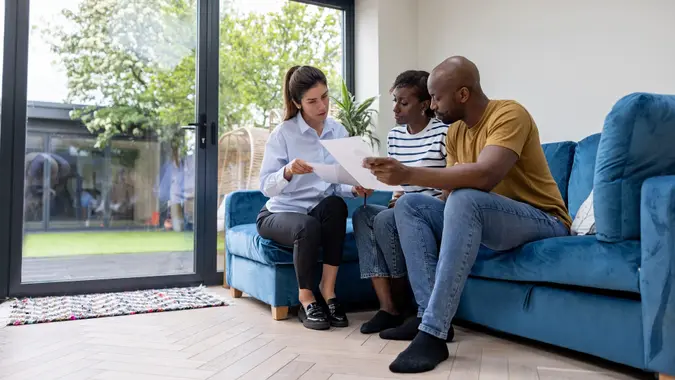 andresr / iStock.com
In many parts of the U.S., the real estate market isn't what it used to be. Previously red hot housing markets are getting pretty chilly, which can be a relief for buyers but a source of stress for sellers.
In February 2023, U.S. home prices were down 1.2% year-over-year, to a median of $386,797, according to Redfin. Additionally, the number of homes sold declined 21.9% over the same time period.
Of course, mortgage rates have also surged in the past year. As of April 6, 2023, the average 30-year fixed-rate mortgage rate was 6.28%, a notable jump from 4.72% on April 7, 2022.
Whether you're a buyer or a seller, navigating a cooling market can require a different strategy than one that's on fire. Since this is a large investment, mistakes can be costly — so it's important to really think before you act.
To help you make the best possible decisions, GOBankingRates spoke with several real estate experts to find out what not to do in a cooling market. Here's their advice for both buyers and sellers.
Mistakes for Buyers
Making Lowball Offers
For the first time in several years, sellers are finally no longer dominating the market — which can make it tempting to see exactly how good of a deal you can get. However, Mindy Price, a luxury real estate agent and broker at eXp Realty, warned not to push your luck too far.
"While it may be tempting to make lowball offers in a cooling market, it can lead to missing out on potential opportunities or causing sellers to reject your offer outright," she said. "It is essential to make a reasonable and competitive offer based on current market conditions."
Not Getting Pre-approved for a Mortgage
In the current climate, you might not think it's necessary to get pre-approved for a mortgage, but Price said failing to do so can cause you to miss out on potential opportunities.
"Sellers are more likely to choose pre-approved buyers," she said. "Getting pre-approved for a mortgage is essential to demonstrate to sellers that you are a serious buyer."
Take Our Poll: Would You Move for a Job That Paid You a $10,000 Signing Bonus?
Failing To Consider the Long-Term Value of the Property
It's easy to get caught up in an attractive purchase price, but Price emphasized the importance of focusing on the big picture.
"In a cooling market, buyers may be tempted to focus on short-term gains, such as a lower purchase price, and overlook the long-term value of the property," she said. "It is crucial to consider the property's long-term value, including location, the potential for appreciation and resale value."
Waiving the Home Inspection
Due to the low levels of inventory on the market, it's possible you could still find yourself competing with other buyers. It can be tempting to make your offer stand out by foregoing a home inspection, but this isn't in your best interest.
"Skipping the home inspection can lead to unforeseen issues and expenses after closing," Price said. "It is essential to have a professional home inspection to identify any potential problems and negotiate repairs or price adjustments with the seller."
Locking in a Sky-High Mortgage Rate
As noted above, the average 30-year fixed-rate mortgage rate was 6.28%, as of April 6, 2023. However, they will likely decrease — at least a little bit — before the end of the year.
Therefore, unless you absolutely must secure a loan now, it might be best to hold off for at least a few months. Doing so can allow you to enjoy a notably lower monthly payment.
Mistakes for Sellers
Settling for Less
If your home has been on the market for an extended period of time, you'll likely need to lower the asking price, said Justin Draplin, CEO at ECLIPSE Cottages. However, he said this can cause you to ultimately part with the property for a price that's too low.
"If you can wait things out and aren't in a hurry to sell, see if you have better luck in six months," he said.  "There's nothing worse than selling way below the asking price — especially if there's no rush to get out of your current living situation."
Over-Pricing Your Property
You shouldn't sell your home for less than it's worth, but Shaun Martin, owner and CEO of We Buy Houses in Denver, said overpricing the property is another big mistake in a cooling market.
"In an ideal market, selling your home at the right price can be an issue, but in a cooling market, it can be disastrous," he said. "When homes are overpriced, they tend to sit on the market for much longer than necessary and may eventually need to be lowered in price."
He said this can cause buyers to think something is wrong with the property or that it isn't properly priced. "Additionally, buyers may wonder if the seller is actually motivated or just testing the waters," he said.
Skimping on Repairs and Upgrades
Now that the market is cooling, sellers can no longer do the minimum and expect to receive a high-priced offer.
"Though it can be tempting to cut corners and not invest the money into necessary repairs or upgrades, doing so could have dire consequences," Martin said. "If a home has been neglected for too long, buyers may be put off by the condition of the home and may be reluctant to pay top dollar."
Whether you're planning to buy a new home, sell your existing home or both, engaging in a real estate transaction is a big deal. Hopefully these tips will help you make the best possible choices for your financial future.
More From GOBankingRates