Real Estate Moves Millennials Regret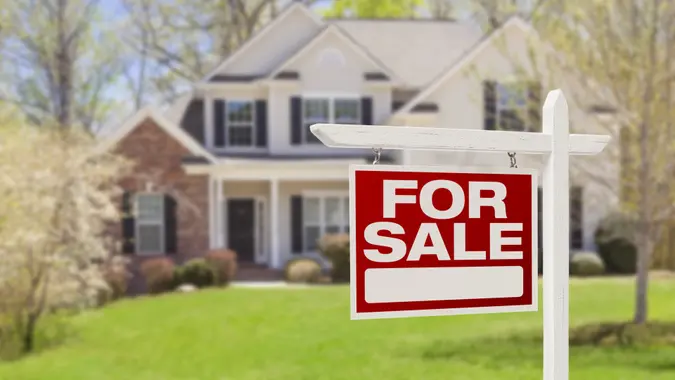 Feverpitched / Getty Images/iStockphoto
If you're a millennial homebuyer with real estate-related regrets, you're not alone. According to Real Estate Witch's Millennial Home Buyer Report: 2023 Edition, 82% of the 1,000 surveyed said they had some form of remorse.
Here's what's causing their heartache.
Also see why millennials aren't buying houses anymore.
Waiting To Buy
More than 80% of survey participants said they wished they had bought homes before interest rates skyrocketed. Real estate agents are seeing their clients experience this pain firsthand.
Nicole Vermillion, a Massachusetts-based Realtor, said, "Amongst millennials, the biggest regret I am seeing is from those who waited to 'time the market' and chose to put off buying a home even though they were financially capable of doing so. Due to many news reports and advice from older family members who may still be scarred from the crash in 2008, many people felt they were going to buy when the market crashed so they could get a good deal.
"The problem with that thinking is that, obviously, we have not seen a crash," Vermillion said. "In fact, inventory for sale was even lower this spring than last spring, causing many multiple-offer situations that have driven home prices up. Pair that with higher interest rates, and buyers are now paying more for homes. 
"The waiting game they have been playing in hopes of a less expensive market did not pan out. Rents also have increased, which [has] left many buyers telling me that they should have bought last spring when rates were better and homes were not as expensive."  
Many millennials don't have a lot of hope for the near future. More than three-quarters said they expect real estate market conditions to get worse. If that's the case, continuing to wait likely won't ease their regrets.
Having a High Mortgage Interest Rate
More than 20% of millennials who purchased homes regret having such high interest rates. Roughly two-thirds plan to refinance their mortgages when it makes financial sense.
Currently, rates are approaching 7%. However, the mortgage interest rate forecast is unclear. Some experts believe the rate will drop below 6% by the end of 2023.
Buying a Fixer-Upper
Usually, buying a fixer-upper means getting a home for a lower price. However, 16% of millennials who did so regretted the move. Renovating a property is hard work and often costs more than expected.
Lacking Knowledge
Millennials are generally first-time homebuyers, so they might not be 100% sure of what they're doing. In fact, 20% said they didn't fully understand the homebuying process, and 30% said they had insufficient knowledge about the mortgage process. Plus, nearly one in five regretted not anticipating their home's future needs, which may have been remedied with additional education.
However, it's impossible to predict and prepare for every circumstance. For instance, Shannyn Allan Block, owner of The Wonder Luster blog, said, "I bought a house in 2017 and sold it in 2021. Not only was it a lemon, but property taxes in Texas went up so fast it made sense to sell. I went from a $1,500 a-month mortgage to around $1,850 in three years, and it was due to property taxes and land value. We are renting now and have decided homeownership is not in the cards for us, maybe ever." 
Owning in a Bad Neighborhood
Nearly 20% of survey participants said they regretted buying a home in a bad neighborhood. Owning a house in a less-than-desirable area could mean a lower property value, a higher crime rate or both.
Buying Sight Unseen
Millennials are more likely to buy a house sight unseen than older generations. Surprisingly, only 8% of those who did so regretted their purchase.
What To Do
If you've got buyer's remorse, take a deep breath and evaluate the source of your regret. Then, reach out to your real estate agent or other people you trust to come up with a plan. 
You may be able to fix the problem easily. For example, if you dislike how your home looks, you can save up to make some cosmetic updates.
But, if you haven't bought your home yet, you can avoid having regrets by:
Identifying what you need and want in a home before you start looking
Taking your time with the homebuying process
Remaining objective and thinking logically — even when your emotions run high
Trusting your gut when something doesn't feel right
Following the course you set, regardless of external factors.
"I always tell buyers to ignore the noise," Vermillion said. "If you can comfortably afford a mortgage payment, it is always better, in my opinion, to buy a home. You are building equity in the safest investment available to us, real estate. Of course, I do not want anyone to become house poor and overextend themselves, but it is impossible to time the market, so if the finances work for you, do it."
More From GOBankingRates