This Former Realtor Flipped Houses With Just a Down Payment — How You Can, Too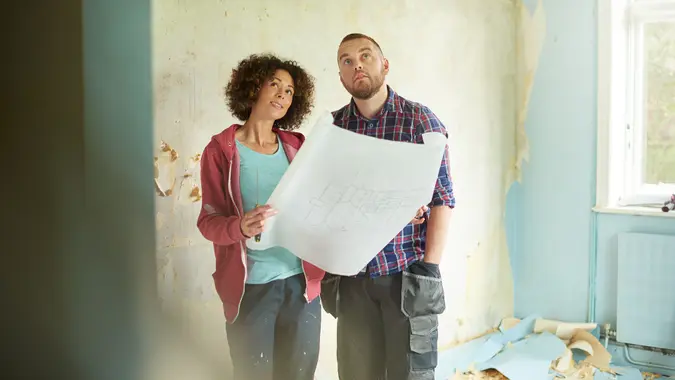 sturti / Getty Images/iStockphoto
If you're interested in flipping houses for a profit but don't have the cash or the means to get a bank loan, you might be interested in this success story. 
Ryan Pineda began his career as a Realtor in 2010 but soon found out it wasn't for him. In 2015, with just $10,000 in the bank, he started flipping houses — but not by using traditional lending methods. Since then, Pineda has successfully flipped hundreds of houses, in addition to his other wealth-building pursuits.
Here's how you can get started flipping houses, too, with just a down payment.
How To Flip Houses With Only a Down Payment
Pineda said that people who find it hard to get started in real estate think they need a bunch of cash or that they need to get 30-year loans to buy properties, and he can identify with them.
"I didn't start my flipping career because I thought there were those only two ways to buy property," he said. "And at the time, I didn't have any money and I didn't qualify for loans … so I was stuck, I didn't know what to do." Pineda said that it took him five years to find out that there were other ways to buy properties.
In his video, Pineda offered two ways to get started buying properties that don't involve having a lot of cash or getting a 30-year mortgage loan. 
Hard-Money Lending
When it comes to hard-money lending, Pineda said that it's not like going to Bank of America or Wells Fargo.  "These guys are people who charge high-interest rates and, you know, the loan is costly — but the money's easy to get," he said.  "As long as the deal is good, and, you know, they're protected that way, they'll give you money. It's not hard to get the money from them. It's really just depending on the deal. They don't care about your credit, they don't really care about your job or any of that. They're not asking for tax returns and all that stuff. They're just going on a deal-by-deal basis."
Pineda said that depending on who the hard-money lender is, they may fund 100% of the deal. "When I first started out, the first one I used wanted 20% down, then the next guy I used only wanted 8% down. Then I got it to just giving me a full 100%, and so that's what allowed me to start flipping houses early on — all I had to do was come up with the down payment. And that's a whole lot easier than having to prove your job and your credit and all this stuff and then wait 30 days to close it. These guys will close it in a week or two, and so they were a great resource starting out."
Pineda said anyone can have access to hard-money lenders and in his opinion, this is the number one way to get started. 
Private Investors
Pineda also said you get started by using private investors, such as a friend or family member with lots of money. "When you're using private money, the options are endless on what you can do," he said. "You guys are the ones who dictate what's fair to each other. So, if it's fair that you find the deal and you manage it and you do everything and all they do [is] provide the money, then figure out what's beneficial for both — is it a 50/50 split, 60/40, whatever."
Pineda said his deals are interest-based. He sets a flat interest rate and however long it takes to complete the property, that's how much interest the investor makes. "They love it because they know I'm gonna do all these properties and they're just gonna get for-sure interest that's gonna kill the stock market, kill the bank and all these other investments," he said. "So it works for them, and it works for me because I can project what it's gonna cost and I get to keep the upside if I get a really good deal." 
Pineda said he prefers interest-based deals over equity splits when dealing with private investors, but he makes it clear that there's not one way that's better than the other. 
"Don't let be money the thing stopping you from making a deal and starting your career," Pineda said. "That's actually the easiest part of this business is to find money. There's a lot more money in the world than there is deals, so remember that."
More From GOBankingRates