I'm a Realtor With 20+ Investment Properties: 6 Tips for Building Wealth Through Real Estate in the Current Market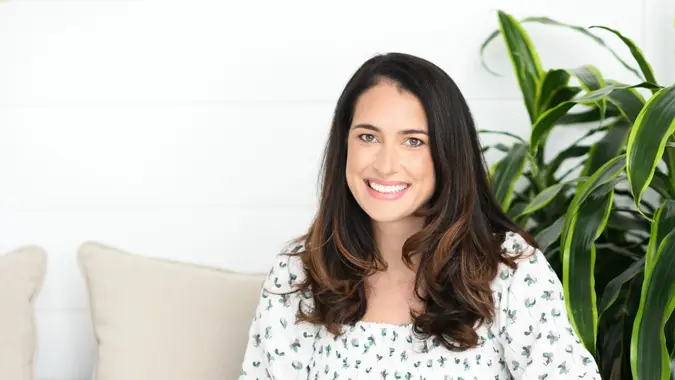 ©Dana Bull
Boston-area realtor Dana Bull bought 10 houses before she was 30 as a way to invest in her future. She now has over 20 investment properties throughout the Boston and North Shore areas of Massachusetts.
With interest rates at record highs and mortgage demand at record lows, it's clear that many buyers are wary about investing in real estate in the current market. But GOBankingRates spoke with Bull about why she still believes that now is a good time to buy, and how you can continue to build wealth through real estate, even in the current market.
Now Is Still a 'Fine Time' To Buy Investment Properties
It may not be the best time to buy a home, but Bull still thinks investing in real estate is a good idea right now, particularly if you are buying rental properties.
"I think it's a fine time — prices are high and interest rates are higher than they have been; however, rents are also high," she said. "I also want to note that consumer confidence in real estate right now is very strong. This makes a big difference."
In addition, there are now more resources than ever for real estate investors who want to build wealth through rentals.
"Airbnb, for example, is a proven model," Bull said. "Airbnb creates an unbelievable opportunity for new investors and it didn't exist 15 years ago. There are also websites like Bigger Pockets with information on how to invest, which also didn't exist 15 years ago. I think there's just a lot of transparency around getting into investing and in previous decades, it was harder to figure out how to do this."
Here are Bull's six tips for investing in real estate right now.
Know Your Market
"There's always opportunity in your local market if you know what to look for," Bull said.
For example, in the Boston area market, classic-style homes make for the best investments.
"Those are the properties that I go after," Bull said. "I focus on the classic homes because they never go out of style — capes, colonials — these are what people think of when they think of New England and the greater Boston area. These are the homes that people are attracted to."
Choose the Location Wisely
When choosing a location, choose a property that's close to desirable amenities. That can include easy access to the main city, or being on a tree-lined street, Bull said.
Look For Properties That You Can Add Value To
"The value-add potential is a huge part of where I think the opportunity lies," Bull said. "If you buy a fixer-upper, you're able to make thoughtful improvements and force the equity."
Bull said that buying a fixer-upper as a rental property comes with a number of financial advantages.
"I love fixer-uppers because when you own rental properties, you can write off or depreciate your improvement, plus, by forcing equity, you can restructure debt, which becomes really powerful," Bull said. "You can leverage the property, tap the equity and go out and buy more property, and grow your real estate business. That's a big piece of how people scale."
Find Properties That Offer Both Cash Flow and Appreciation
"No matter the market conditions, I always think it's important to have both cash flow and appreciation," Bull said. "Most investors will lean towards one or the other."
Bull said that she has tended to favor appreciation because she is buying in a high-priced market, but noted that cash flow is also very important when you are investing in real estate.
"That cash flow needs to be there — you know you need to have a net positive cash flow," she said. "I think that's where people are getting hung up right now. It's harder to get the cash flow numbers to work because of the increase in interest rates."
How To Create a Positive Cash Flow in a High-Rate Environment
"My recommendation for people that are trying to figure out how to make the cash flow numbers work is to identify properties where you can do a short-term or mid-term rental," Bull said. "Usually, the most passive way to hold real estate is with long-term tenants — it's a lower-touch model. However, if you really want to crank on the cash flow, one of the easiest ways to do that is to shorten that rental period so that you can charge a premium."
Bull recommends using Airbnb for short-term rentals, or offering mid-term furnished rentals to professionals who may be working in your location for a set period of time, such as a travel nurse.
"I think that's a great approach for people," Bull said. "While you're building the business and while you are starting out, you need to hustle. Maybe you do that for a couple of years and then transition into something more passive with less [renter] turnover."
Create a Business Plan
"The most important thing that you can do — no matter the [market] conditions — is to create a business plan," Bull said. "Investing in real estate is a business. You want to figure out what your goals are. Are you looking to make a certain dollar amount each year? Is there a certain net profit that you're going after? From there, you can back into things and build out your strategy."
Having a business plan in place can help you identify what kind of financing you may need and what kind of properties to go after in order to achieve your goals.
Maintain a Long-Term Mindset
Bull said that real estate investing is a long-term game, so you shouldn't let current market conditions discourage you.
"You really need to have a long-term lens and mindset when it comes to investing in real estate," she said. "The main advantage is using real estate as a wealth-building tool [through] the combination of having your tenant paying down your mortgage, having that cash flow and having that appreciation."
More From GOBankingRates