Rent-to-Income Ratio Hits Two-Decade High — What States Are Best and Worst?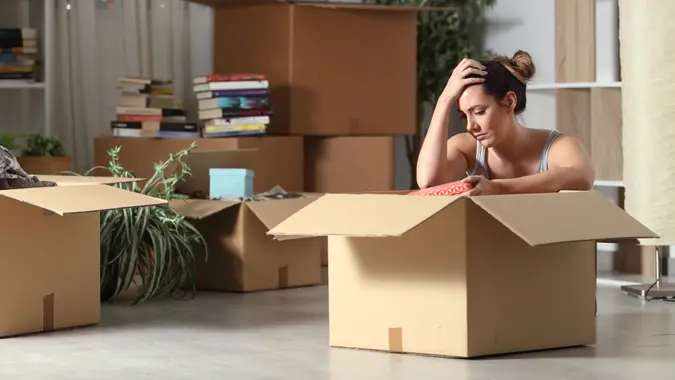 AntonioGuillem / Getty Images/iStockphoto
The U.S. rental market passed a not-so-happy milestone recently when the country as a whole became "rent-burdened" for the first time, according to a new report from Moody's Analytics.
Experts: Here's How Much You Should Have in Your Checking Account
Find: With a Recession Looming, Make These 3 Retirement Moves To Stay On Track
Rent-burdened means individual households direct 30% or more of their income to housing, according to the U.S. Department of Housing and Urban Development. This typically means they "may have difficulty affording necessities such as food, clothing, transportation and medical care."
There are a lot more of these households now than at any time in recent memory. The Moody's Analytics study found that during the 2022 fourth quarter, the national average rent-to-income (RTI) ratio reached 30% for the first time in its 20-plus years of tracking the metric. The Q4 figure was up 1.5% from the previous year and 0.2% from the previous quarter.
As CNBC reported, financial experts have long advised that households not spend more than 30% of their gross income on housing. But that's become a major challenge in many markets, where the increase in rental prices has outpaced increases in income.
"In high-rent cities, in particular, this parameter has become increasingly unattainable," Allia Mohamed, co-founder and CEO of Openigloo, told CNBC.
One of those high-rent cities is New York, where households that earn the city's median income would have to pay nearly 69% of their earnings to rent the average-priced apartment, according to Moody's. In dollar terms, that means your household would need to earn at least $177,000 a year to not be considered rent-burdened in a typical Big Apple apartment.
The problem has become so severe that the Biden administration recently unveiled a new "renters bill of rights" that aims to strengthen tenant protections and encourage rental affordability.
One reason rents continue to rise is that many Americans can't afford to buy homes, which drives up rental demand.
"Rising mortgage rates caused many households to be priced out from home buying and would-be buyers to remain renters," the Moody's report indicated. "Apartment demand surged as a result and drove rates sky high. As the disparity between rent growth and income growth widens, American's wallets feel financial distress as wage growth trails rent growth.
As with most financial matters, the degree of the problem varies considerably depending on where you live. The Southwest and Midwest have the lowest current rent-to-income ratios at 19% and 20.1%, respectively, according to Moody's Analytics. The South Atlantic (24.8%) and West (24.9%) are running neck-and-neck for the next spot, while the Northeast has the highest RTI at 27.9%.
If you live in Massachusetts, Florida or New York, get ready to pay top dollar for your rental. Those three states all topped the 30% rent-burdened threshold during the 2022 fourth quarter.
Take Our Poll: What Are Your Financial Priorities in 2023?
More: 10 Amazing Big Cities for Renters in 2023
States that have seen the highest increase in average rent burden over the past three years are Nevada (+4.9%), Florida (+4.8%), Alabama (+4.2%), South Carolina (+4.2%), Arizona (+4.1%) and New Mexico (4.0%).
If you are looking for bargains, five states saw their average RTIs decline in 2022: Maryland (-0.62%), Oklahoma (-0.49%), Arkansas (-0.16%), Minnesota (-0.08%) and Utah (-0.02%).
More From GOBankingRates