Housing Market Is Overvalued by $237 Billion — Is That a Problem for Homeowners?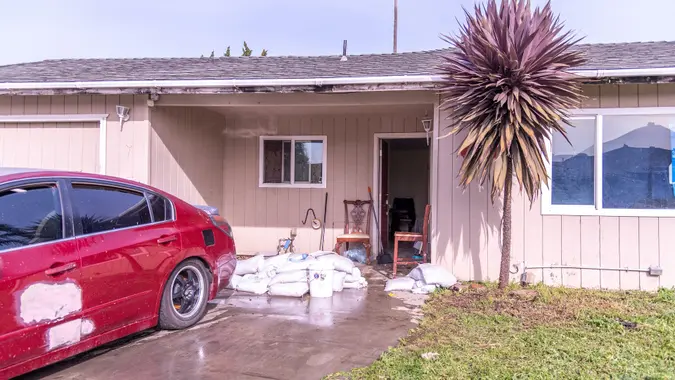 Rosangela Lima / iStock.com
For many people, climate change is an abstract concept that might feed worries about the future of the planet, but can be difficult to gauge on a personal level. That could change if home values suddenly sink due to its effects — which is something that may very well happen, according to a recent study published in the Nature Climate Change scientific journal.
Explore: How To Avoid Buying a Car That Was Damaged In a Flood
Find: 3 Things You Must Do When Your Savings Reach $50,000
The study was published on Feb. 16 by researchers from the Environmental Defense Fund (EDF), the Federal Reserve and other organizations. It analyzed the potential cost of unrealized flood risk in the U.S. real estate market and found that flood zone property prices in the United States could be overvalued by anywhere from $121 billion to $237 billion.
Also examined was how unpriced flood risk throughout the United States could impact communities and local governments. Among its findings was that low-income households are especially vulnerable to home value deflation.
Highly overvalued properties tend to be concentrated in coastal areas with no flood risk disclosure laws and where there is less concern about climate change, the study authors wrote. The financial risk rises in municipalities that rely heavily on property taxes for revenue, making them vulnerable to budgetary shortfalls.
"Increasing flood risk under climate change is creating a bubble that threatens the stability of the U.S. housing market," said Dr. Jesse Gourevitch, a postdoctoral fellow at the EDF and lead author of the study. "As we've seen in California in the last few weeks, these aren't hypotheticals and the risk is more extensive than expected — and that risk carries an enormous cost."
These risks are largely unaccounted for in property transactions, which encourages development in flood-prone areas. "Accurately pricing the costs of flooding in home values can support adaptation to flood risk, but may leave many worse off," Gourevitch added.
In addition to coastal areas, inland areas in northern New England, eastern Tennessee, central Texas, Wisconsin, Idaho and Montana are also impacted by increased flood risk. As a blog on the EDF website pointed out, local governments in these areas might need to adapt their fiscal structures just so they can keep providing essential public goods and services.
See: In Less Than a Decade, You Won't Be Able To Afford a Home in These Cities
More: 7 Florida Cities That Could Be Headed For a Housing Crisis
"This isn't just a problem for anyone who experiences a flood. This is a problem for cities and towns who could struggle financially if property values–and therefore property taxes–take a dive," said Penny Liao, a fellow at Resources for the Future and co-author of the study. "We need to think about flood risk not as a homeowner's problem, but as a problem for our entire community, city and housing market."
More From GOBankingRates