See the Salary You Need To Afford a Starter Home — It's Up 13% From Last Year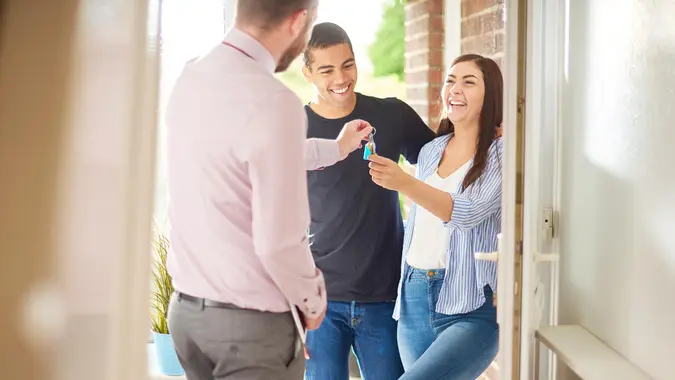 sturti / Getty Images
It's getting more and more difficult to be a first-time homebuyer. According to a recent Redfin report, increasing home prices and rising mortgage rates have pushed the income necessary to buy the typical U.S. starter home up 13% over the last year — the salary needed is now roughly $64,500.
In addition, starter homes are getting harder to come by. New listings of starter homes are down 23%, the biggest decline since the start of the pandemic.
Here's a closer look at why you need more money than ever to buy a starter home and why the idea of a "starter home" as we know it may be permanently disappearing.
See why more Americans can afford to buy homes in these 20 cities.
Why Starter Homes Are Becoming Increasingly Unaffordable
There are two main factors driving the unaffordability of starter homes — home prices and mortgage rates. The average starter home price hit a record $243,000 in June, up 2.1% from a year earlier and up more than 45% from before the pandemic, according to Redfin data.
Meanwhile, mortgage rates hit a 21-year high of 7.09% in August, up from just under 4% before the pandemic.
"Aspiring homebuyers are up against many factors putting downward pressure on their buying power," said Adena Hefets, co-founder and CEO at Divvy Homes. "High-interest rates, home prices that outpace wages and affordability, inflation and investor activity at the starter home price point in many markets is exacerbating the problem.
"We're also seeing most Americans staying put in their current homes and not bringing enough for-sale homes onto the market, keeping the market frozen in place and making it an especially chilly place to be for those looking to buy a starter home," she continued. "It's also never been harder to save for the needed down payment, which has been the long-running issue for aspiring homebuyers looking to get into that very first home."
Hefets notes that even those making slightly above the $64,500 salary needed to afford a starter home are finding it difficult to find any inventory in their price range.
"The housing affordability crisis has priced out nearly all lower-income and most middle-income buyers from a majority of homes on the market," she said. "The U.S. housing market is missing about 320,000 home listings valued up to $256,000, the affordable price range for middle-income buyers (households earning up to $75,000).
"In summer 2023, buyers earning up to $75,000 could only afford 23% of properties listed for sale in the U.S. Five years ago, this income group could afford to buy half of all available homes, so waiting it out hasn't proven to be a great strategy with the current market dynamics at play."
Scott Bergmann, a Realtor with Realty ONE Group Sterling in Omaha, Nebraska, believes that higher mortgage rates are particularly to blame for the high salaries needed to afford a home.
"Every time the interest rate goes up 1%, it reduces a buyer's affordability by around 10%," he said. "With interest rates up from the 3.5% range to the 7% range, if you were pre-approved for $275,000 last year, that would equate to being approved for around $178,000 this year."
The Definition of a 'Starter Home' Is Changing
As starter homes become more expensive, what we think of as a starter home is shifting.
"The concept of a starter home still holds relevance in today's real estate market, although its definition has evolved, and it's ensnared in more complex circumstances," said Joshua Eberly, owner at 717 Home Buyers. "Historically, a starter home referred to a more modest and perhaps run-down property that a first-time buyer could afford and gradually improve. Nowadays, the scarcity of affordable housing inventory and increased competition with real estate investors and flippers has shifted this paradigm."
As the homes we would traditionally consider to be starter homes continue to disappear from the market, Eberly said, many people will not be able to afford a home or else will stretch their finances to buy homes they can't really afford.
"The prevailing high-interest rates, coupled with a general lack of public understanding regarding mortgage refinancing, have created a climate of apprehension and confusion for the average homebuyer," he said. "This confluence of factors leads many first-time buyers to invest in more complete homes, often stretching their financial capabilities. This shift not only redefines what constitutes a starter home but also potentially puts new homeowners in a precarious financial situation, reflecting broader economic and societal trends."
More From GOBankingRates