4 Self-Made Millionaires Reveal How They Got Rich From Real Estate Investing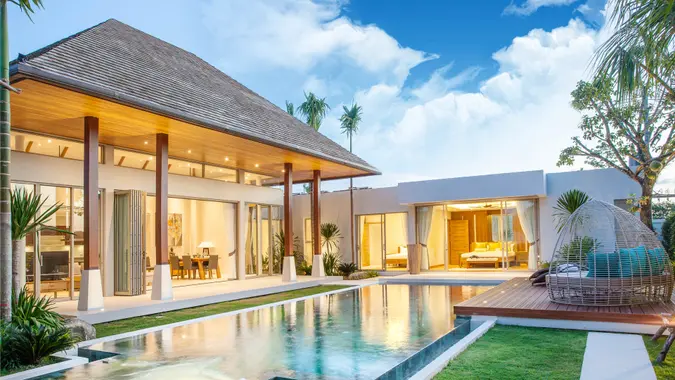 stock_SK / Shutterstock.com
Countless millionaires have built their fortunes through real estate.
Investment properties can earn their owners money through rental income, windfalls from successful flips and capital appreciation. Investors can use their properties as collateral for borrowing to expand their portfolios, leverage their equity and take lucrative tax breaks reserved just for their kind of wealth generation.
But how can an average person get started on the path to real estate riches?
GOBankingRates spoke with four self-made real estate professionals who built seven-figure portfolios from scratch — and they shared their secrets to success.
Develop a Winning Formula and Never Stray From It
Don Chambers, the owner of Double K Property Management and founder of Real Estate Adventurer, has built a portfolio of properties worth $7 million.
He made his fortune buying single-family rental houses well below market value.
"Find a house that no one else wants or no one else knows is for sale," he said.
That, of course, takes expertise, experience and a strategy.
"A widely marketed property with no problems will rarely sell at a bargain price," Chambers said.
Chambers has two formulas for spotting potential properties, one for rentals and one for flips. He's not open to explaining his formulas, but he never veers from them or lets emotion corrupt his decisions.
"If the selling price doesn't match my formula, I don't buy it," he said. "Not buying a house is the easiest thing to do. If it's not a great deal, then don't buy it. Persist. Sometimes there are no deals, so don't buy anything. Don't give up, and the bargains will eventually return."
Learn as Much as You Can, Then Take Calculated Risks
Leslie Anne Morris became a self-made millionaire in just a year and a half by investing in cabins in Eastern Tennessee's Smoky Mountains. The founder and CEO of Invest in the Smoky Mountains and Josh's Cabins, she kept her high-paying job as an SVP commercial banker for SpaceX for three years despite realizing she was a millionaire after 18 months of investing.
"I was able to grow my portfolio to double digits and a value of $7 million," Morris said. "Today, the portfolio consists of 11 cabins and one new construction cabin being built, all from investing in my first deal in 2019."
She took a huge risk to come up with her seed money.
"I got started by robbing a retirement account," she said. "It was an IRA, and I did pay penalties on the cash that I withdrew. But I realize today that if I had never gone against this conventional wisdom, I would definitely not be where I am."
As for tips for those who want to replicate her success, Morris says it's all about putting in an obsessive amount of research.
"Listen to podcasts, read everything, find other people who are doing what you want to be doing," she said. "Hire coaches and mentors. Don't let fear stop you. If you do have fear, analyze it. Ask yourself: Why do you want to invest in the first place? What are your thoughts, feelings and emotions around it?
"Focus more on mindset; the mindset of a real estate investor is different. We are risk takers. But ultimately, you need to jump. Buy a property. Learn by doing."
Start Small and Learn To Scale Up
Grant Cardone, one of the most famous and successful real estate investors in the world, is all about going big. In an exclusive Q&A with GOBankingRates, he said, "More units are easier to buy, finance and manage than a few units. Scale is what makes you into a real investor, not a manager."
Jeremiah Shaw, CEO of Shaw Real Estate Group, used a different philosophy to build his own mini-empire.
"I became a self-made millionaire through real estate by starting small and scaling up," he said. "My first investment was a small duplex that I rented out, and from there I expanded to larger properties and developments. My main strategy has always been to buy properties in up-and-coming areas, revamp them and then either sell for a profit or rent them out for a steady income stream."
His biggest tip for aspiring investors is to work their way up to Cardone's philosophy by starting with his.
"They should start small, perhaps with a rental property, and learn the ropes before diving into larger projects," Shaw said. "It's also crucial to understand that real estate is a long-term investment and patience is key."
Thinking of Flipping? Go Slow
Emanuel Stafilidis, CEO of Capable Home Buyers, used a two-pronged strategy to build his real estate fortune.
"First, I fix and flip houses," Stafilidis said. "And second, I implement the slow-flip method."
The fix-and-flip method is familiar to anyone who watches HGTV — purchase a distressed property, renovate it and sell it quickly for a profit.
"Our company purchases about 50 houses a year to fix and flip," Stafilidis said. "This alone generates about $1 million per year."
That method delivers quick cash, which Stafilidis uses to build true wealth through the second strategy.
"We invest our profits into slow flips," he said.
With traditional flipping, time is not on the investor's side. The longer it takes to renovate and sell the property, the more money the investor loses.
But as the name implies, the slow-flip method drags out by design — and it can be an easier, more practical and more profitable route for beginners. The buyer lives in the property for two to five years while the renovation takes place. According to Nest Realty, slow-flipping also produces tax benefits in the form of mortgage interest deductions while you live there and capital gains taxes never paid upon selling.
More From GOBankingRates