Should You Purchase a House With a Friend?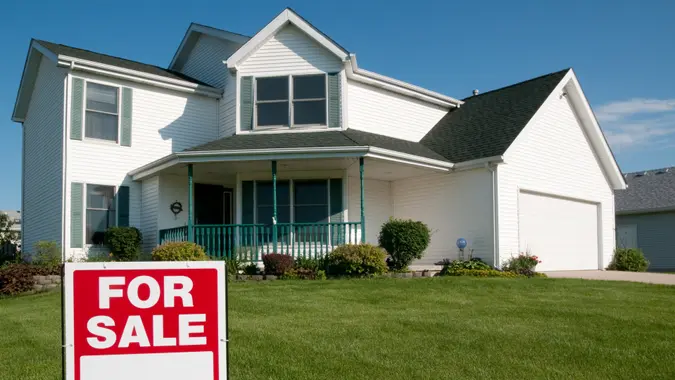 MikeCanada / Getty Images/iStockphoto
House prices in the U.S. are, to put it scientifically, absolutely insane. And though the Federal Reserve is raising interest rates from their rock-bottom lows, it remains unclear as to whether that will cool things down. After all, higher interest rates won't fix the fact that we simply have too many people and not enough houses to meet demand. The shortage is owed in part to a sharp shifting of millennial values. After so many years of preferring to rent, millennials are increasingly looking to seal the deal and purchase a home for the first time. 
How can Americans afford these staggeringly high housing prices? What options do we have? Ideally one would go in on a place with a spouse so as to combine incomes (and tackle that down payment and mortgage together), but marriage is on the decline and people are staying single for longer. If you can't afford a place alone, what is there to do? For some, the answer is to purchase a home with a friend. 
When and why might buying a property with a friend be a good idea?  
"This might be a good idea when there are individuals who would like to purchase a property but simply can't unless they pool their resources with one or more other potential home buyers," said Michelle Tripoldi, a broker associate with Keller Williams. "Not everyone has a family member to help them out or spouse to partner with; so if there's no other road to home ownership it might be a great opportunity for them to explore."
The Perks Include Splitting Costs and Building Equity 
There are clear advantages to owning a home with someone else — especially if it's someone you care for and trust. 
"Advantages include splitting all the typical household expenses like repair and maintenance costs, as well as being able to share in tax write offs, appreciation and equity build up from the principal portion of their monthly payments," Tripoldi said.  
These are opportunities that are sorely missed if two friends are merely renting together.  
"If the individuals are renting, they are contributing to the financial futures of their landlords versus their own," Tripoldi said. "As a real estate broker and a landlord, I understand this well and encourage individuals to consider all the benefits of homeownership." 
The Potential Drawbacks Are Steep: Plan Accordingly 
Though there are obvious perks in co-owning a home with a person you care for and trust, there are also major potential drawbacks and these are arguably bigger than the benefits. Let's start with credit. You both need to have good scores and reports in order to even embark on this journey without problems. Indeed you need to be on exactly the same page with all money matters. 
"It's important that all parties in the purchase have sound credit and have money saved for a down payment, monthly mortgage payments, maintenance, repairs, etc.," said Gina Baker, real estate analyst at Fit Small Business. "If one party has poor credit and not enough liquidity to contribute to the purchase, it can cause a burden on the other parties involved."
Then there's the matter of disagreements. They may feel small at the time, but they can cause real damage to both your housing situation and your friendship. 
"One of the biggest drawbacks is finding a property that everyone agrees on," said Rinal Patel, a licensed realtor and co-founder of We Buy Philly Home. "You may also have different ideas about how to decorate or maintain the home, which can lead to conflict."
Proceed With Caution
So, in all, is purchasing a home with a friend too risky to endeavor? There's no easy answer. 
"To put it simply, this query is very situational," said Aaron Cambden, director at Fairview Estates. "Making sure you have a solid friendship with this person is key in this situation. If you don't know someone that well, owning a house with them could be a recipe for disaster." 
If you know your friend well and you both feel completely confident that you would be compatible homeowners for the long haul, consider the following steps: 
Have Honest Conversations
"You must be able to have straightforward conversations to discuss your financial situations and how you intend to split the home equally," Baker said. "This can include a written calendar or contract to determine when each party will use the house, who and how everyone will be paying certain bills and expenses, and what will happen in the event that one party does not want to be involved in the home anymore. If you cannot do this, it would not be in your best interest to purchase with your friend(s)." 
Set the Terms in a Legal Co-Ownership Contract
"It must be clear from the outset how much each one owns under what terms, and what happens should any of you want to sell," said Kris Lippi, a real estate broker and the CEO of ISoldMyHouse. "The co-ownership 'prenup' must also address financial inequalities such as how much each party gets out of the equity gain if one contributed more to the deposit than the other.
"Formally documenting everything is key," Lippi stresses. "Friendly verbal agreements just don't work here. Both parties must lay down the terms of their co-ownership by deciding whether they are tenants in common who own a set share of the property or joint tenants who both own the whole thing."
Get a Lawyer
"Getting the help of a lawyer for drafting written agreements is non-negotiable," Lippi said. 
Create a Joint Account
"You may want to create a joint account where you and your friend contribute a specified amount of money on a monthly basis," said Sandy Yong, aka, The Money Master. "This fund will help to cover any expenses that may occur such as fixing the roof, replacing a water heater, or buying a new appliance. This way both parties are sharing ownership of the home maintenance."
Be Total Equals
"These types of arrangements work best when friends are bringing equal resources to the purchasing equation — ie, you are splitting the down payment equally, and each paying exactly half of all property costs," said Rebecca Awram, mortgage advisor at Community Lending Centre. 
Have a Plan for What To Do When You Disagree (Because You Will)
"Working out potentially confrontation situations in advance, before there are any hard feelings, and before you know what side of that dispute you might be on, means a more equitable and pleasant outcome should it arise," Awram said. 
More From GOBankingRates