Should You Wait It Out If You Can't Find a House You Like in Your Price Range?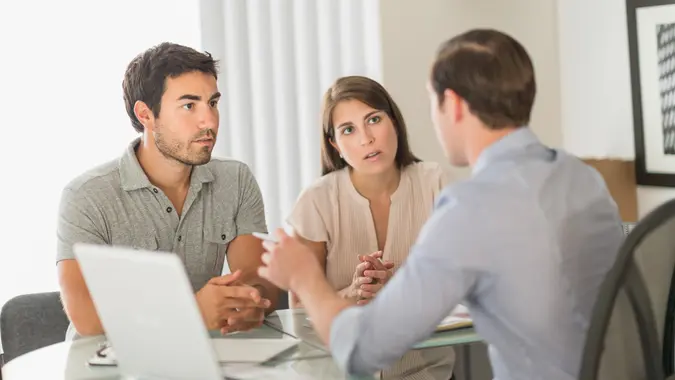 Tetra Images / Getty Images
What's currently holding Americans back from buying a house? According to GOBankingRates' 2023 real estate survey polling 1,004 Americans, 27% of all respondents said they struggled to find a home they liked in their price range.
While it's understandable to want to buy the perfect home, is waiting until you find your dream home a savvy decision to make in today's competitive housing market? Should you wait it out if you can't find a house you like in your price range?
Should You Wait Until You Can Buy Your Dream Home?
While there isn't a one-size-fits-all answer to this question, the consensus among the real estate community is that it isn't a smart decision for anyone to attempt to time the real estate market. 
Mack Dudayev, owner and realtor at Chance Realty LLC, said the housing market has too many variables at play. No one knows for sure where the market will end up. Instead of trying to time the market, buyers must ask themselves if they need a home. 
"The need for a home is pretty clear-cut, particularly if you already have a down payment saved up and are preapproved for a loan," said Dudayev. "If you're in a position where you need a home, then you should purchase a home whether or not it's the ideal one. Things can shift unexpectedly, and you wouldn't want to miss out on an opportunity to become a homeowner just because it may not have all the features you're looking for."
Owning a Home = Building Equity Now
If you can afford to buy a home, it is advised you make this purchase immediately. Doing so gives buyers the chance to begin building equity. 
Scott J. Wheeler, realtor at Posh Properties, knows several people who put off buying a home at the start of the COVID-19 pandemic. Wheeler, who is based out of Florida, said these same people are kicking themselves now that housing prices have practically doubled since in Palm Beach County.
"If you keep waiting to find the perfect home at the perfect price, you may be waiting forever," said Wheeler. "I would advise finding a home in the area you want to be in and livable. You will be able to do home improvements over time and you could turn it into your dream home!"
Pro Tip: Look For a Home With Potential To Be Great
Many buyers find themselves getting bogged down in the details of how the home they can afford to buy now might not look like what they imagined for themselves. 
It's important to remember your first home purchase does not need to be your forever home. Purchasing a home, Wheeler said, allows buyers to get into the market and build equity. They can then use this equity to purchase a better home in the future.
With the current housing inventory a bit tight, Janice B. Leis, associate broker at Berkshire Hathaway Fox Roach, recommends buyers be realistic about reassessing their wants and needs in a home.
"Look for something with potential to be great," said Leis. "Is there room for an addition? Can you live there, fix it up and perhaps consider it an income investment property and buy a 'forever' home down the road? Keep in mind, forever is a long time. We are a much more mobile society than our parents. Sometimes less is more."
More From GOBankingRates