Buying a Home? 4 Surprising Ways To Save Money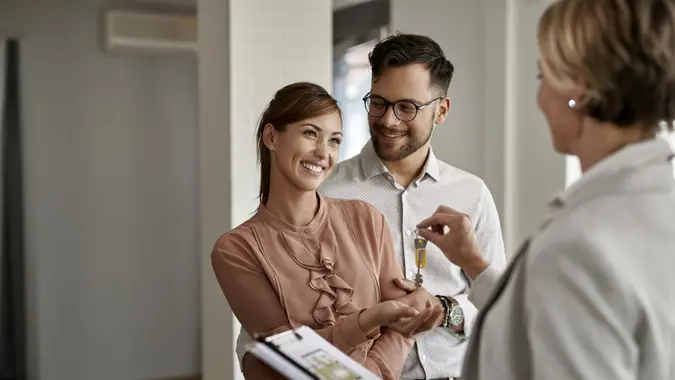 Drazen Zigic / Getty Images/iStockphoto
With winter in the rearview mirror and the traditional hot housing markets of spring and summer fast approaching, many potential buyers may be wondering how to get the best deal on their next home. Purchasing real estate can be tricky, particularly if you are a first-time buyer. It is likely the largest transaction you have ever completed and will put you in debt for the next 15 to 30 years. 
So, before you take the leap, you should probably investigate ways to cut costs. With low inventory expected to continue through the next year, home prices may still be relatively high. We asked Clare Trapasso, the executive news editor of Realtor.com, for advice on how people can save money when looking to buy a home. Here are her four surprising tips that may help you get into the home of your dreams for significantly less. 
Don't Accept That Home Prices Are Fixed
Just about everything is negotiable. "If a property has been sitting on the market for a while, the sellers may be more amenable to a lowball offer. If they're not willing to lower the price, they may contribute to a buyer's closing costs, make expensive repairs, or even buy down the mortgage interest rate of the buyer. The latter, called a buy-down, works by temporarily lowering a buyer's mortgage rates typically for the first two or three years of their mortgage loan," Trapasso said.
But if you want to negotiate, you should be prepared to either not get what you want or even lose out on the house entirely. "The downside to this is sellers may not accept these offers or requirements and buyers could lose out on these properties. Also, move-in ready homes with curb appeal in desirable neighborhoods are still selling in bidding wars and often receiving offers over the asking price. So this strategy is more likely to work for fixer-uppers, homes located in areas with less competition from buyers, and properties that have been lingering on the market," Trapasso added.
?
Consider New Construction
Although you might have concerns about a new construction, there are some perks to going this way. "Many first-time and other buyers shy away from new construction because of the generally higher price tags," Trapasso said. "But builders have less of an emotional attachment to their properties than homeowners and may be more willing to lower prices, buy down rates, and offer creative financing that can reduce a buyer's monthly housing bills. It doesn't hurt to see what's available."
However, she cautioned, "The cons to this approach is buyers may wind up paying more for new construction than they would for an existing home that a homeowner is selling. That's why it's important for buyers to do the math to figure out exactly how much they can afford and compare various options."
Negotiate With Mortgage Lenders
Trapasso said her best advice may be for potential homebuyers to negotiate with lenders. "A lender's first offer, which should lay out your mortgage rate and fees, is not set in stone. Borrowers should shop around and see if they can find loans with lower fees and mortgage rates. Those with high credit scores, low debt, and larger down payments are in especially good positions to negotiate. Those who find better deals elsewhere may even be able to get their original lenders to match those other offers."
She does note, "The downside to this approach is that it can take a little time to shop around and get counter offers from various lenders, and mortgage rates are moving swiftly. Buyers want to be careful they don't miss out on a lower rate, which can go up within hours because they haven't gotten a rate lock with a lender."
Consider a Larger Down Payment
In the case of a down payment, bigger is always better. "Buyers may also want to consider putting down larger down payments, which brings down the balance of the loan and how much they owe their mortgage company each month. They may also want to purchase mortgage points. This is essentially buying down your mortgage rate, generally in 0.25% increments." Trapasso said.
She added, "The pros of larger down payments and buying points are that borrowers have lower monthly mortgage payments. The cons are that this can be expensive and buyers may not have the extra cash to do so."
More From GOBankingRates