Top 9 American Tranquil Cities Where Peace of Mind Meets Cost Savings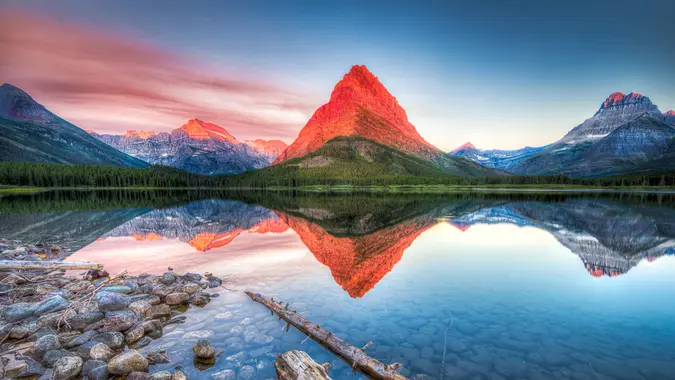 Dean_Fikar / Getty Images/iStockphoto
Cabin in the mountains? Lakehouse peace of mind? If you're seeking a soothing living environment like this it doesn't mean you have to compromise on cost savings. Across the United States, there are cities where tranquility and affordability go hand in hand. These hidden gems offer residents serene living conditions without the hefty price tag of bustling metropolises.
1. Bozeman, Montana
Mountain Solitude without the High Costs: Bozeman, nestled in the Rocky Mountains, is a haven for those seeking a peaceful outdoor lifestyle. The city's cost of living is relatively lower than other mountain towns, offering residents a chance to enjoy nature's beauty without breaking the bank.
2. Eau Claire, Wisconsin
Lakeside Tranquility Meets Midwest Affordability: Eau Claire's charming riverside setting and laid-back vibe are coupled with a surprisingly affordable cost of living. Its small-town feel provides a peaceful retreat while still offering all the necessary amenities.
3. Bend, Oregon
Outdoor Paradise with Reasonable Living Costs: Bend is known for its stunning natural landscapes and outdoor activities. While Oregon can be expensive, Bend offers a more affordable alternative with a high quality of life, ideal for nature lovers and peace-seekers.
4. Fort Collins, Colorado
Quiet Living with a Vibrant Community: Fort Collins offers the tranquility of a smaller town with the benefits of a larger city. Its vibrant cultural scene and proximity to nature trails make it a peaceful yet engaging place to live, all at a reasonable cost.
5. Greenville, South Carolina
Southern Charm without the High Price Tag: Greenville combines the allure of southern living with affordability. Its downtown area is filled with tranquil green spaces, and the cost of housing remains lower than in many Southern cities.
6. Fayetteville, Arkansas
Serene Living in the Ozarks: Nestled in the Ozark Mountains, Fayetteville provides a peaceful setting with a low cost of living. The city is known for its friendly community, cultural events, and natural beauty.
7. Asheville, North Carolina
Arts and Nature without the Expense: Asheville is a hub for arts and culture, surrounded by the stunning Blue Ridge Mountains. It offers a peaceful lifestyle with a lower cost of living compared to other cultural centers.
8. Rochester, Minnesota
Tranquil City with a Focus on Well-being: Known for the Mayo Clinic, Rochester is centered around health and well-being. The city boasts a peaceful environment, low crime rates, and affordable living, making it a great place for a stress-free life.
9. Olympia, Washington
Pacific Northwest Serenity on a Budget: Olympia, the capital of Washington, offers residents a peaceful, community-oriented lifestyle amidst lush natural surroundings. Its cost of living is more reasonable compared to nearby Seattle, making it an attractive option for those seeking tranquility.
These tranquil cities offer an escape from the hustle and bustle of busy urban centers without compromising on affordability. They prove that you can have both peace of mind and cost savings, providing an ideal balance for a serene yet economically sensible lifestyle. Whether it's the mountains of Montana or the historic charm of South Carolina, these cities cater to those seeking a peaceful existence without the financial strain of expensive urban living.
Editor's note: This article was produced via automated technology and then fine-tuned and verified for accuracy by a member of GOBankingRates' editorial team.
More From GOBankingRates